There was an Andy Capp cartoon where Flo was talking about her husband to a friend and said, ​"For someone who can't either read or write, ​'e gets very worked up over the boat race." Well, to a certain extent, I can identify with Andy because while I was still learning to read and write I, too, got very worked up about the boat race, possibly because, in the mid-1950s, it was one of only a very few sporting events that was shown live on TV, albeit in black and white.
My father, brother and I all supported Cambridge while my mother and sister rooted for Oxford. This clear allegiance according to gender led me to the erroneous conclusion that Cambridge was an all-male institution while Oxford was exclusively for women. Although of course wrong, I was partially right in that women were admitted to what is called ​'full membership' at Oxford 28 years before Cambridge eventually followed suit. And, what is more, in this academic year, more women than men were admitted to Oxford whereas men still predominate at Cambridge. My family's boat race allegiances were clearly inspired.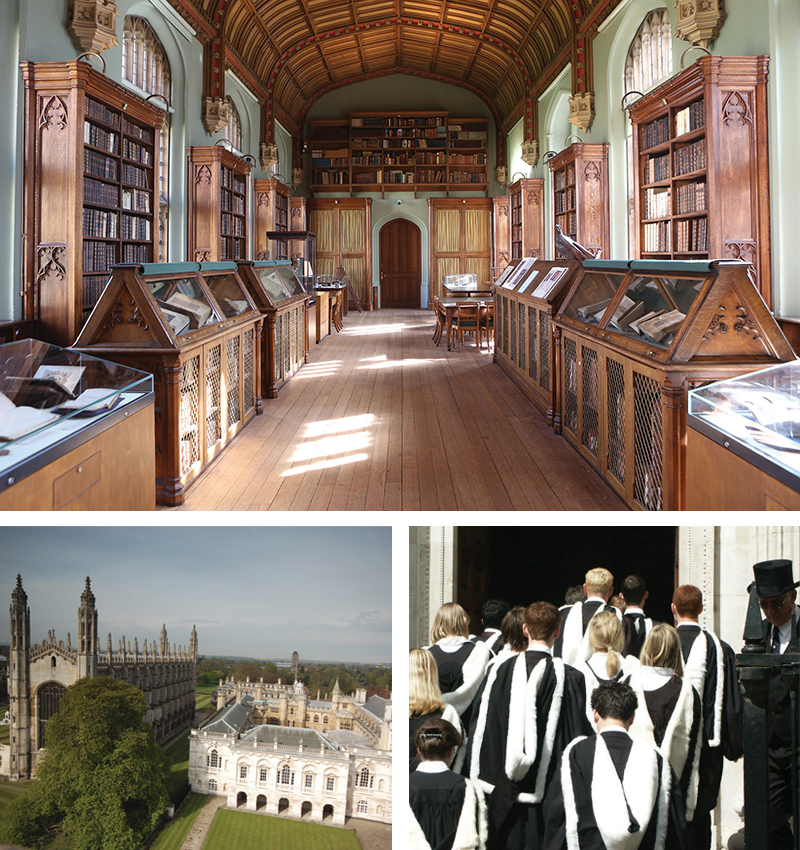 Clockwise: RMG Parker Library King's College and Senate House Graduation Day
Sadly, I went to neither Oxford nor Cambridge. Their loss was Leicester University's gain. Perhaps we'll explore Oxford another time but for now let's concentrate on Cambridge. A seething resentment of such an overtly elitist establishment to which I was never admitted may have sub-consciously discouraged me from visiting it before but, with Cambridge winning both the men's and women's boat race this year, now is the time to pay it a long overdue visit.
Although a combination of the M25 and then the M11 render it easily reachable from anywhere in the south-east by car, that same car can become an expensive liability when you arrive. On-street parking places are at a premium anywhere near the centre and the public car parks are frequently full, especially in the summer months, and so ​'park and ride' is perhaps the most sensible option. Alternatively, and the locals will hate me for mentioning this, you might find a spot in a residential street roughly three-quarters of a mile from the centre.
One of the lovely things about Cambridge is that all the principal colleges and most beautiful buildings are concentrated in a comparatively small area. Although a number of open-top tourist buses are available to hop on and off, walking is the best way to get around and see most of what is worth seeing. Irritatingly, because free access seems an inalienable human right to me, all the colleges appear to charge admission to their grounds. You can try blagging your way in by saying you're considering applying to whichever college it is and want to have a butcher's but, at nearly 70, that wasn't a credible option for me.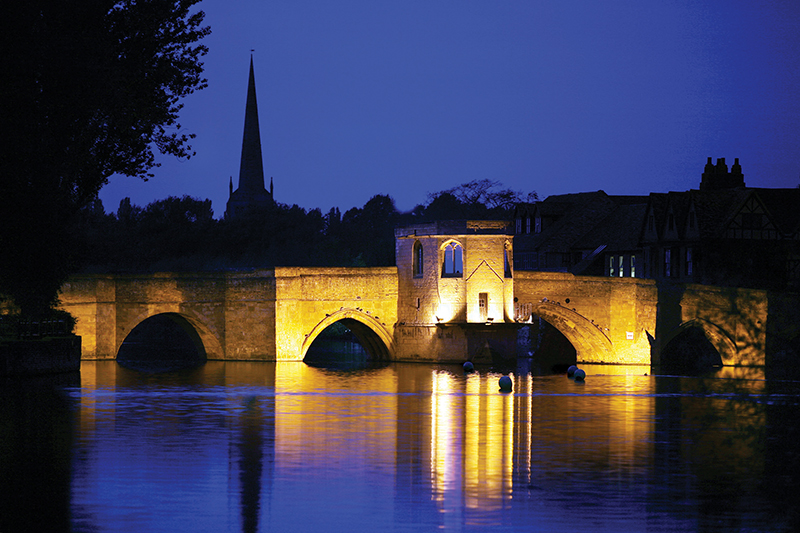 Shelling out a few quid, albeit grudgingly, is well worth it just to soak up the academic atmosphere and admire the historic quads and immaculate lawns. It* ​'s also a bit of a buzz to think you're treading in the footsteps of Charles Darwin, John Milton, Christopher Marlowe, Rupert Brooke, John Maynard Keynes, Alan Turing, William Wordsworth, Oliver Cromwell, AA Milne and Prince Charles. Whatever you do, don't walk on the grass! That's a privilege reserved for the Fellows. Typically elitist and undemocratic, the rule nevertheless fits in neatly with Cambridge's quirky character.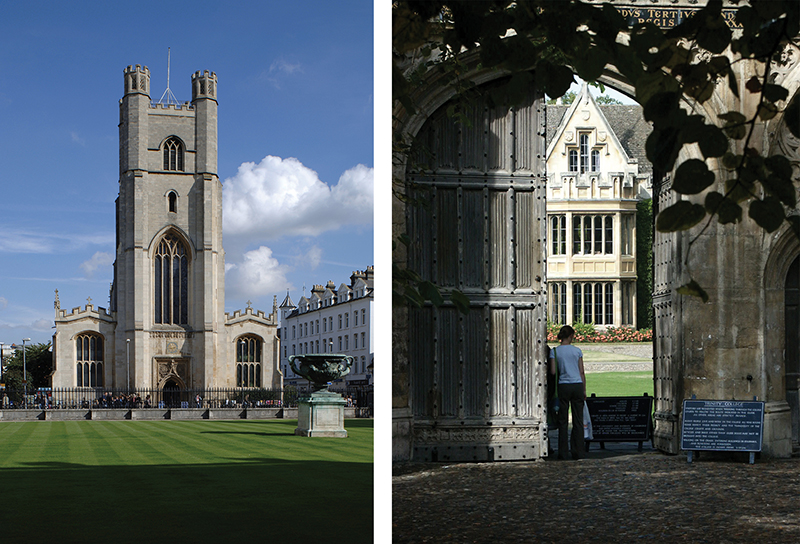 The wonderful buildings are more than just old, they're ancient with some dating from the 13th century. Thanks to University Challenge, the names are familiar even if the differences between the 31 colleges isn't. Undergraduates attend lectures centrally but live, eat, socialise and are tutored in their colleges.
Kings College is the most expensive to visit but is also the most worthwhile. The £9 charge includes entry into the famous chapel, which is one of the architectural wonders of the world. It's very nearly 100 yards long and is just under 100 feet high. It's worth suffering a crick in the neck just to stare up at the spectacular ceiling, which is the largest fan-vaulted ceiling in the world. Which reminds me, Watson and Crick discovered DNA somewhere around here and drank beer in the Eagle, which is the pub just over the road.
Almost as impressive as Kings College Chapel, but completely free, is the Fitzwilliam Museum. Stuffed with over 500,000 artefacts and art from around the world, you could quite happily kill a whole day wandering around it.
Just along the road from the museum and also blissfully free is the spectacular but rather disturbing Corpus Clock. At street level on the outside of the Taylor Library at Corpus Christi College, it's a huge gold-plated disc with what looks like a grasshopper on top – it might be a locust – which open its mouth and appears to be eating time. It's a rather dramatic way of illustrating the relentless passage of time.
Similarly remorseless is the River Cam, which forever flows through the middle of the city providing an attractive natural focus. Walking along its banks and admiring the many interesting bridges including the Mathematical Bridge, the Bridge of Sighs and Magdalene (pronounced Maudling) Bridge, is fun but rather frustrating in that some stretches are inaccessible because they cut through the grounds of the colleges. Therefore, in order not to miss out on the glorious views of the backs of the colleges that face away from the high street, you should have a punt. This is not the gamble it sounds since it involves taking a boat not backing a horse.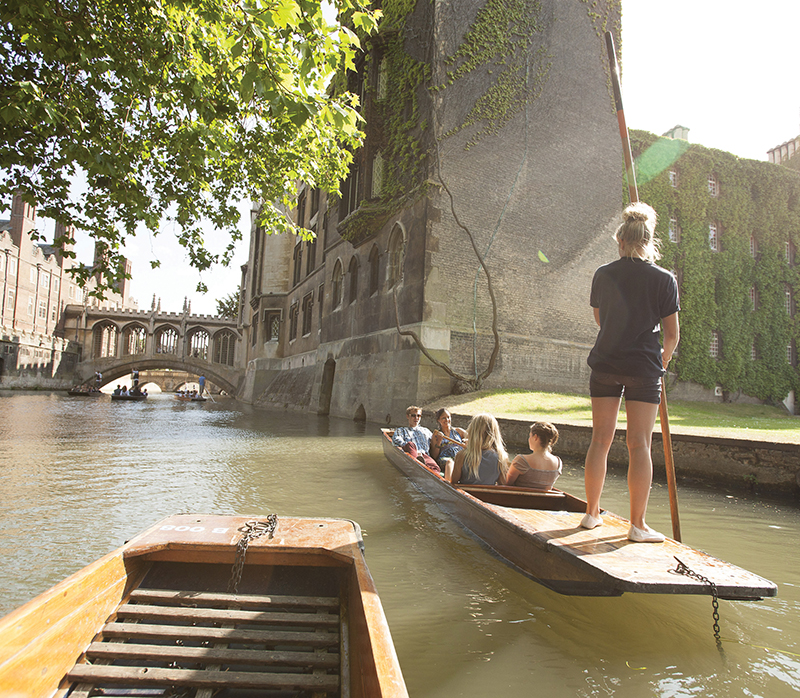 Punting on The Backs
Punts are propelled by shoving a long pole through the shallow waters of the Cam into the river bed and pushing. If you fancy having a go yourself, you can hire a punt for about £40 for 90 minutes. The appealing alternative is to sit back, relax and let a pro do the hard work. This lazy option costs around £15 for a 45-minute trip up and down the one-mile section of the river known as the College Backs. Your ​'chauffeur' will explain the history, regale you with stories and answer any questions. For example, what's the best hotel in Cambridge? Well, I stayed in the Hotel du Vin, which is wonderfully comfortable and right in the heart of town just a couple of hundred yards from the Fitzwilliam Museum.
After your visit, the next time you're asked, you can honestly say you went to Cambridge.
Written by Clive Agran. Photography by
www​.vis​it​cam​bridge​.org
&

Visit England/Iain Lewis.