Antiquing in Pas-de-Calais
If you like ferreting about at flea markets and antique shops for that unusual find and don't shy away from digging into the boxes under the tables, then antiquing in France is for you.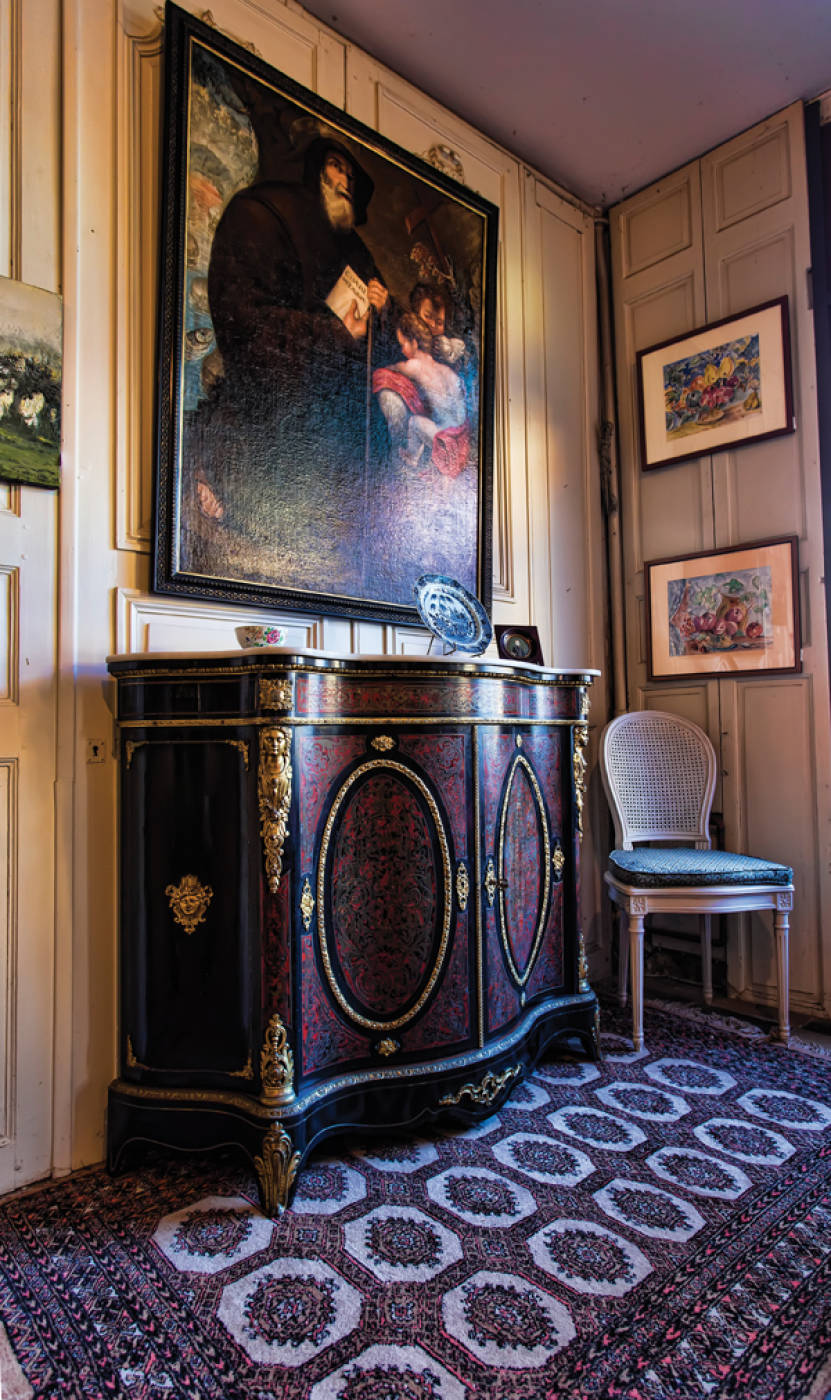 A stuffed antelope head stares blankly down a narrow corridor stacked to the ceiling with antiquities in a village Brocante (an upscale flea-market type set-up) in Echinghen; a dozen or so Art Deco chandeliers hang from the ceiling; a trombone lamp sits beside a battered twenties cinema chair and next to that is a Napoleonic dresser in desperate need of waxing. All over the country you'll find barns, small shops, fairs and village sales full of antiques – from old oak farm tables to church pews, farm tools to linen. This is antique shopping, French-style, and the challenge is to know what to look at first.
Investing in a statement antique piece requires expert assurance, which is why I'm in Saint Omer – at Naninck and Lengaigne (www​.antiq​ui​tesnl​.com), an influential family-run antiques dealer on Rue François Ringot, who specialise in 12th, 13th and 14th centuries antiques. It's run by Philippe and his son Jean-Luc Lengaigne. The ground floor of the shop consists of a number of rooms showcasing not only their impressive collection of antique furniture but also silverware, ceramics, tapestries and oils on canvas. On another floor, through a number of dark and dusty rooms and behind a large metal door on wheels is a hidden staircase leading to a restoration workshop where an upholsterer painstakingly restores a 14th century chair, respecting traditional methods. Elsewhere in the massive building are rooms filled with rolls of period fabric another with embellishments and accessories to tszuj up drapes and upholstery.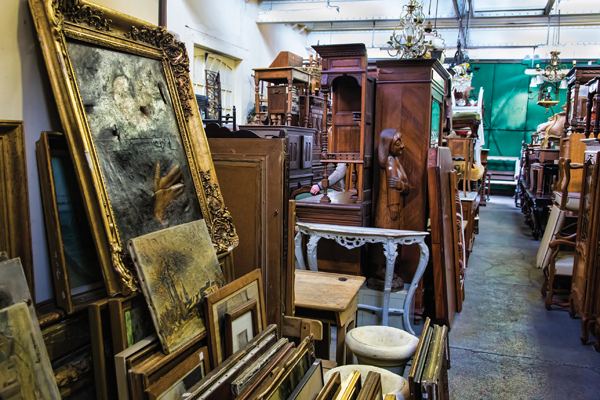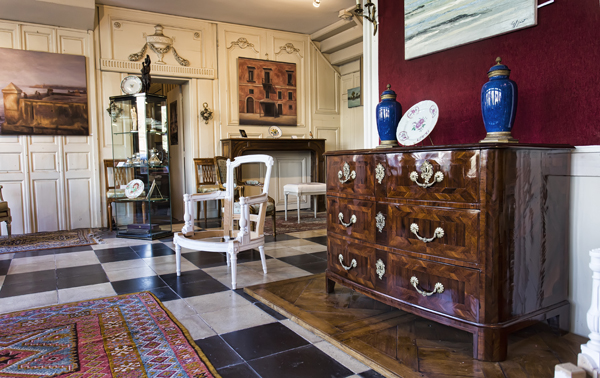 Walking from room to room Mr Lengaigne (Snr) shares antiquing secrets. ​'Mirrors and glassware in French markets offer far better value than their British counterparts,' he says. ​'But avoid buying silver as it's more expensive in France. Also Wedgwood is a tourist trap: it's out of fashion and overpriced. Drinking glasses might cost £50 in Britain, they would only set you back £10 in France. If you are buying glass for investment purposes, look out for pre-war Lalique items, as this means they have been designed and overseen by René Lalique himself.'
He continues, suggesting that when buying antique jewellery its best to stick with big name jewellery designers and that should budget allow, go for signed pieces by major designers like Cartier, Tiffany or Van Cleef & Arpels.
'Rather than being tempted by what's popular now, try to spot the next big thing; natural pearls went up dramatically a few years ago, now it's the turn of Mediterranean coral.'
'You need to time your visit to an antiques market, as well as the stall you chose to shop at – this is vital. If you're on the lookout for something like silver or china don't buy from the specialist stall as they'll be more expensive; and buy off-peak to get a better deal – lights, lamps, fireguards in the summer and garden furniture in the winter. But for real bargains, it pays to head to the French coast, hunting out the brocantes and vide-greniers which is a cross between a community garage sale and a flea market.'
Mr Lengaigne confides that Naninck and Lengaigne are winding down the business and gradually marking their goods down for sale. He then continues to advise me on antiquing.
'Invest only in things you like and are happy to have in your home for years to come,' Mr Lengaigne suggests. ​'Look for small, useful pieces with provenance such as Georgian and Regency desks – original untouched furniture that hasn't been restored. Armoires are a good bet too. Many are given a shabby chic treatment where they are stripped back and whitewashed – but stronger, primary colours are now more fashionable. As is Art Deco – you can find some lovely clocks and tea sets; and mid-century modern furniture too as their value is rising – but it has to be the real thing.'
Meandering through an Emmaus (a charitable movement represented across France) I found myself in a veritable treasure trove of recycled second-hand goods – furniture, bric-à-brac, records, books and clothes, wedding dresses, cookers, fridges, electrical goods, French antiques, bicycles – I even spotted a pair of false teeth (www​.emmaus​-france​.org).
My brother once told me that buying antiques is all about what is available and what is accessible and outsmarting the seller. Should you have your eye on something special, remain blasé – and don't look at the price. First, try to figure it out in your mind and think of a figure that you'd be prepared to pay. For instance, if it turned out to cost €100 you'd buy it, if it were €150 you'd wait till payday, if its €300 you'll walk away. Keep your poker face on then ask for their best price before you reveal your hand. To seal the deal get the seller to reduce the price before you start negotiations. Above all, have a laugh – if you can haggle with grace you can halve the price.
I recall these words of advice at Antiquites Falik in Pont-de-Briques (near Boulogne). I was ogling a door-sized mirror, circa 1910, which has an Edwardian look and a Rococo top to it. Falik's house a variety of goods and do brocante yet keep to current industrial trends in everything from furniture to chandeliers (like the immense Murano chandelier with touches of green, pink and yellow on display). But the mirror still held my attention – with its bevelled glass edges and a few speckled spots, which is good as it shows it's an original. The most important part of the mirror is where you see your face; if that's damaged, it kills the value. I estimate the price around €500 and the seller asks €400. I walk away and return ten minutes later offering €350.
Antiquing introduces you to a diversity of objects – objects of authenticity and rarity; each piece with its own backstory, a history that needs to be preserved and remembered. Buying antiques is recycling at its best.
Eat Saint-Omer
Le Sept de Coeur (7 Rue Saint Sépulcre) is a tiny restaurant in the heart of Saint-Omer offering a limited menu of family-style cooking from France's Ardèche region. www​.lesept​de​coeur​.fr
Getting there
Make the 90-minute return journey via P&O Ferries from Dover to France's Calais – £38 buys boarding for one car and up to nine passengers. Book priority boarding for an additional £12; and for peaceful surrounds and special treatment get Club Lounge access at £14pp.
www​.pofer​ries​.com
Getting around
Antiquing in France is an art in itself. Speaking the language and knowing the local lifestyle helps when perusing the French countryside for antiques. Contact the local tourism board to arrange a specialist guide. Saint-Omer www​.tourisme​-sain​tomer​.com, Pas-de-Calais region www​.uk​.pas​-de​-calais​.com