Barcelona is a 2000-year old city that invites you to stroll and enjoy its climate, the Mediterranean light, its streets filled with life and an intense atmosphere. The Gothic quarter for instance, where past and present live side-by-side, jewel-boxed boutiques in bohemian cobbled streets, ancient squares and centuries old buildings.
As one would expect of a country soaked in sunshine and sea air, there are numerous overpriced temples to sophisticated cuisine. So, if it's local food you want head to where Barcelona's new generation dine – the tapas bars – in particular the Piscolabis chain of restaurants. Their menus is impressive (available in English), the food is good, as are their prices – a plate each of cheese croquettes, small fried fish in a tempura batter and fresh anchovies in vinegar, comes in at under EU12.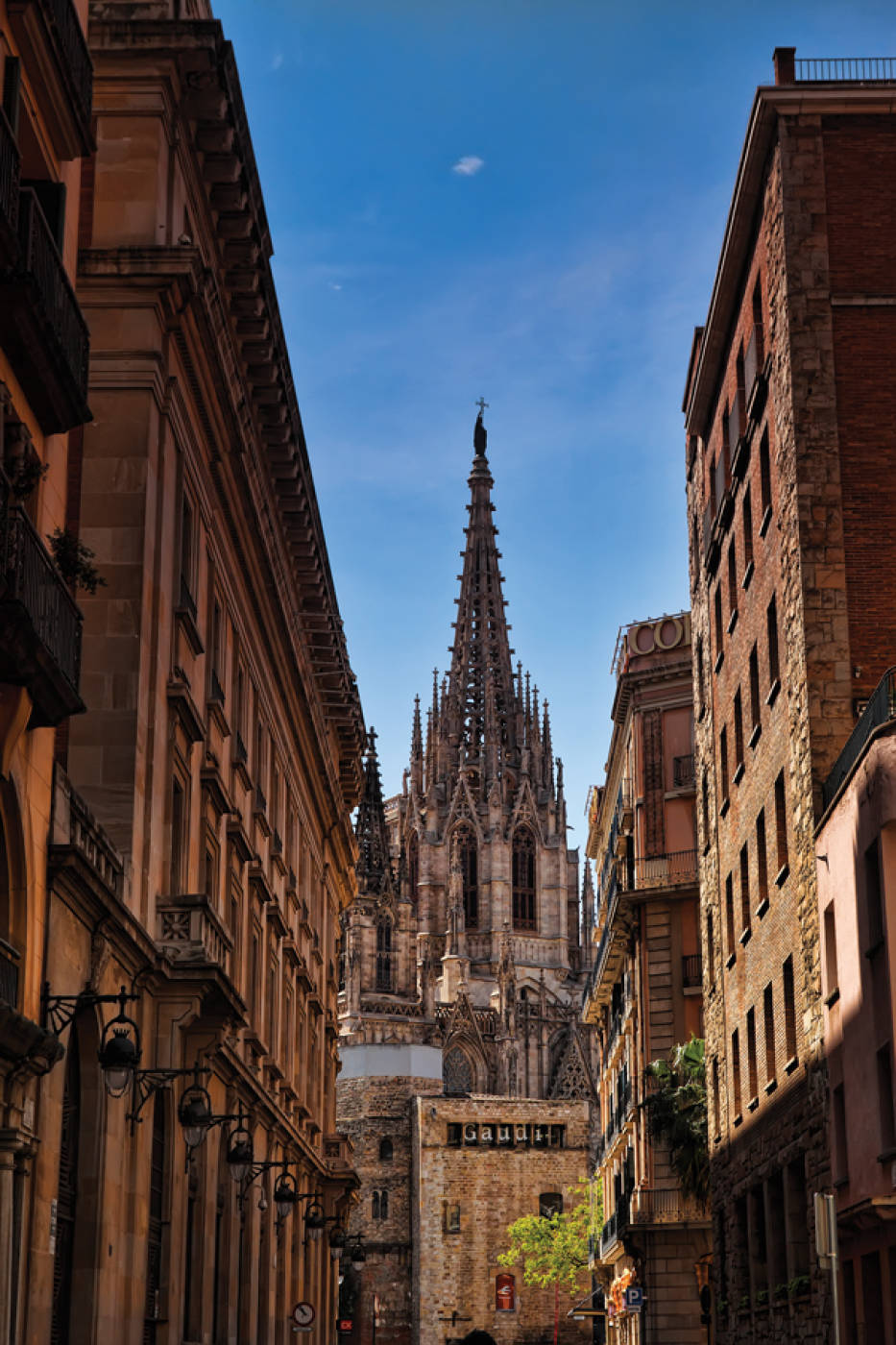 I'll skim over the historical landmarks, like the famous Picasso museum and the architecture of Golden Square in the Eixample District – their details can found on Barcelona Tourism's website. Instead, I'd like to tell you about two unique experiences that could turn your Barcelona trip into something unforgettable.
Being somewhat partial to a drop of wine, I was recommended to visit Vila Viniteca, one of Barcelona's leading specialist wine shops and one of Spain's main purveyors of wine to restaurants and retailers. Vila Viniteca stock more than 7,500 wines and are the sole representative for more than 200 wineries from around the world. More importantly, they offer wine tastings, hosted by Maxime Blais, formerly one of Raymond Blanc's sommeliers'. Beside the wine shop they have a delicatessen, considered to be the best in the city, brimming with more than 350 artisan cheeses and premium quality iberic ham.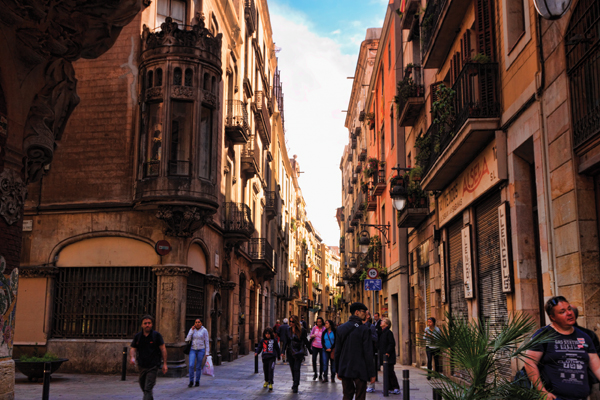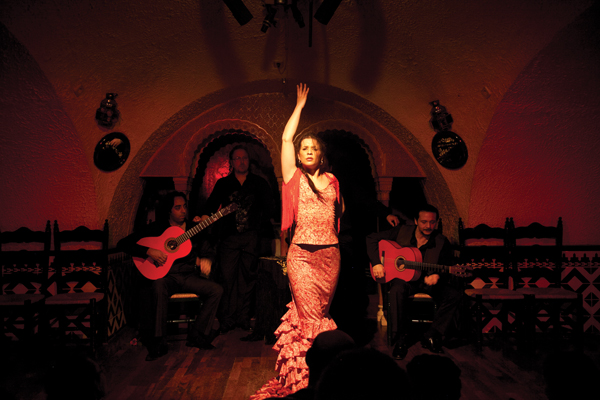 But the pièce de résistance is to be found along the famous mile-long tree-lined market boulevard of La Ramblas – Tablao El Cordobés. Here a team of Flamenco dancers, considered by critics as one of Spain's best Flamenco theatres, is to be found. With roots in Indian, Arabic and Spanish cultures, Flamenco dance is known for its sweeping arm movements and rhythmic feet stamping. Perhaps the greatest joy of Flamenco dancing is watching the expressions of the dancer, as they continually change throughout a performance which incorporates intricate guitar work, emotive singing and some serious dance moves. It's one of the most characteristic elements of Spain's culture – a dazzling result of diverse cultures stitched together over centuries.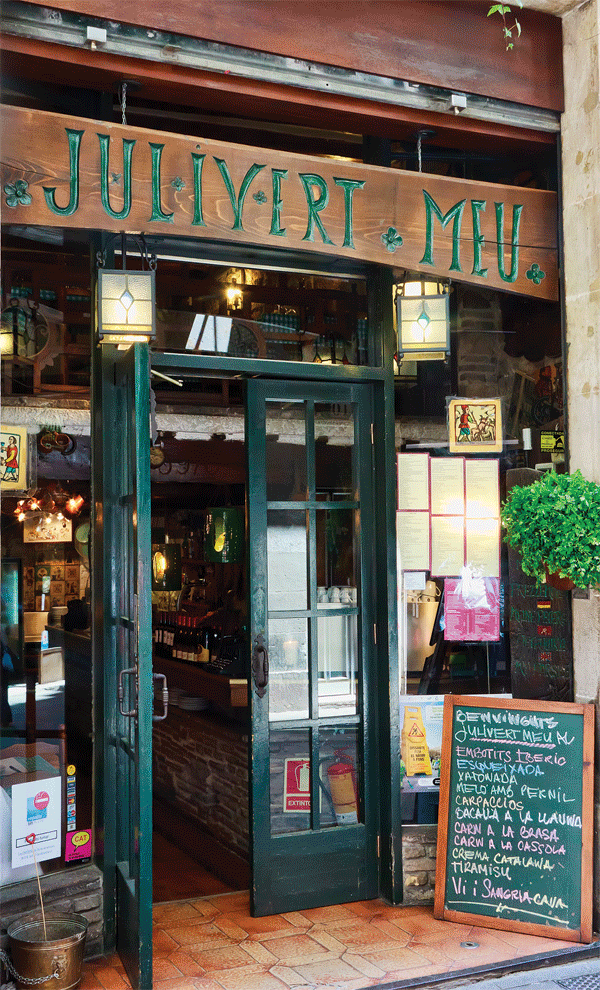 I was ushered into the dimly lit Moorish-inspired Tabloa whose stone pillars and vaulted ceilings allowed no more than 180 seats to be crammed around the low stage. Soon three Flamenco guitarists, two singers and six handsome Flamenco dancers – four women and two men – trooped onto the stage. The cave-like interiors began pulsating with the bold rhythm and stomping of Flamenco which, for ninety minutes, had the audience captivated. The colour, intensity and drama of it all is exciting and had me sitting motionless, watching the graceful movements of the long skirted, multi-frilled female dancers, who wove in and out of their ornate shawls to the hypnotic sounds of the flamenco guitars.
The role of the flamenco dancer is essentially to physically interpret the words being sung with fluid arm movements that contrast the reverberating steps as feet drill into the floor with a bewildering intensity. Duets, performed by a man and a woman, are often the most vivid Flamenco dances. The dancers keep their eyes firmly locked onto each other, constantly and aggressively building off one another in what becomes competition of passion, sexual tension, and emotion.
A white spotlight fell on a male dancer who stood motionless and free of expression for a few moments absorbing the strums of the guitars, the clapping, and the singing until the inspiration hit him. As he began to feel the throb of the music, he clapped his hands loudly above his head then, as the tempo built, he started to move, slowly at first then with a little more urgency, launching into a Flamenco dance every bit as passionate as the cantaor's song. His rendition culminated in what sounded like a stampede which had rivulets of sweat streaming down his face. Many in the audience were overcome with the emotion his performance evoked. I found my heart racing and was glad to see I was not the only person with tears coursing down my cheeks. The passion of this art is raw, in-you-face and utterly exciting and leaves you with a sudden and overwhelming urge for one Vila Viniteca's liquid refreshments. Olé.
Barcelona Tourism – barcelona​tur​isme​.com
There are numerous Piscolabis restaurants throughout Barcelona – see their website for details
angrup​.com
See Vila Viniteca's website for wine tasting details – vilavinite​ca​.es
Tablao El Cordobés – there are three shows a night (all with a dinner options). Prices start at EU42 tablao​cor​dobes​.com
Do a 4‑hour ​'Barcelona à la Carte' walk through the city with a licensed guide EU220 barcelon​aguide​bu​reau​.com
If you're planning on using much public transport, invest in a T‑10 which is a travel pass costing s9.80 and allows ten journeys. Validate your ticket at either the metro barrier or on the machine on board bus or tram. Should you need to get another train, bus or tram within 75 minutes of your first validation, onward travel counts as one journey.