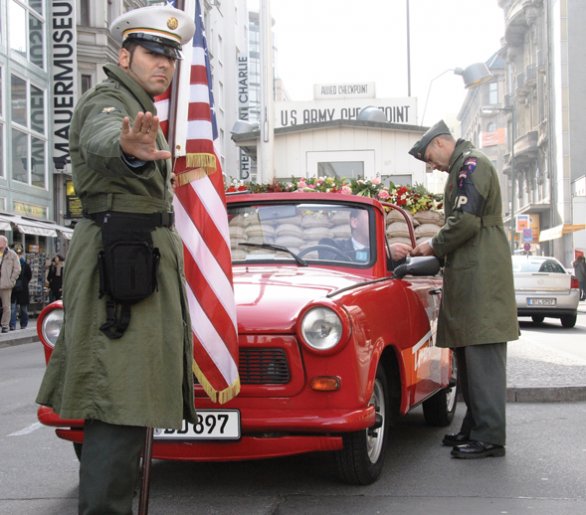 It was at about the time the Berlin Wall went up that East Germany started producing Trabant cars, the automotive joke of the Cold War. We sent our intrepid editor, Cindy-Lou Dale, to the once-divided city to road test a surviving Trabant Cabriole.
While Saabs were born from jets and Jaguars were born to perform, Trabants were born out of desperation. From 1957 to 1991 as West Germany made BMWs, Porsches and Mercedes-Benzes, East Germany took the road less travelled in vehicles manufactured of plastic and a 26-horsepowered 2‑stroke engine.
I found myself folded into the backseat of a Trabant convertible, being propelled along Ebertstrasse with Eicke, my kindly and differential guide from Trabi-Safaris behind the wheel.
"The life expectancy of a Trabi was around 28 years," Eicke claimed. ​"This baby is a modest performing Trabant 601, built around 1967 and is one of the faster models. It takes 21-seconds to reach 60-miles per hour and her top speed is about 75," he announced proudly, then unexpectedly lunged down a side-street.
The features of the Trabant (which was in production without any significant changes for nearly 30 years) that most impressed East Germans was that it had room for four adults, a little luggage and was light and hard-wearing – additionally it could be delivered within a few short years of placing the order! Its styling was very simple, its interior frugal, and its body was made entirely from Duraplast – a plastic resin containing wool or cotton – which East Germany considered sufficient material to build a car. It may not have faired too well in crash tests but actually proved to be superior to some modern-day hatchbacks.
That said, Green Peace can't get too upset as although this two cylinder, two-stroke motor, with only five moving parts, spews out more clouds of CO2 that a jet liner, it is the first car with a body made entirely of recycled material.
Eicke took me into the east side of the formerly divided capital, along the way driving by the Gendarmenmarkt, Palace Square and Alexander Square. We spluttered along Karl-Marx to the trendy Friedrichshain, past the East-Side-Gallery to Red Townhall. From there we continued to Berlin Cathedral and Museum Island, via Ebertstrasse, past the Memorial dedicated to the Murdered Jews of Europe, pressing on to the city's most famous landmark – the Brandenburg Gate – a monument comprising of Athenian-like stone columns topped by a statue of the goddess Victoria driving a chariot of four horses towards the city centre. We parked up for a while watching a free-spirited individual prancing between the columns in his fairy costume, until the local constabulary encouraged us to move along.
We continued through the government district, past the imposing Reichstag and the Federal Chancellery into hip Scheunenviertel with the golden domed New Synagogue on Scheimannstrasse. We valiantly coughed our way along Dirksenstrasse, each mile taking us further away from the internet cafes, designer stores and the usual tourist haunts. Eventually the city gave way to grey apartment blocks and essentially local traffic.
On Heinrich Heinestrasse, Eicke pointed out a dilapidated building just about ready for the wrecking ball. He claimed it to be a notorious nighttime haunt frequented by the city's darker side.
Eicke and I spoke at length about Trabant's. In 1991 when near 4,000,000 Trabant's had been built, production stopped. The factory where they were produced in Zwickau is now a car museum.
We stopped off at the Trabi-Safari office in order to take a few photographs of their fleet. Stepping into the warehouse charged me with an unfocused electric buzz of energy. It felt as if I had uncovered a squadron of Cold War time machines.
Evidently my admiration was etched on my face as Eicke enquired if I would like to take custody of the steering wheel. He ran through the series of temperamental quirks in getting the world's simplest car going. Turn the fuel tap to A, pull out the choke, step on the accelerator, start the engine, depress the clutch, put it into first gear, then slowly release the clutch pedal. It took a moment for the little car to gather the energy required to inch forward. Initially the movement was glacially slow and I found it difficult to find a gear I particularly liked on the column shift. Then a smoky bang from the exhaust thrust us forward ten feet, paused and then with the aid of a fresh explosion took off with a velocity seldom seen outside a Road Runner cartoon. Shrieking hysterically we flew down Oraniestrasse like an Exorcist Missile, creating scenes reminiscent of the streets of Pamploma when the bulls are running. Motorists and pedestrians alike fled in terror before me as I inadvertently chased a flock of tourists off a zebra crossing.
Somewhat wild of hair and in an extremely animated state Eicke urged me to pull over.
"Meine Liebe Gott," he gasped.
​"Well, they were jay-walking," I observed helpfully.
Eicke fixed me with a final threatening scowl and suggested that perhaps he should drive.
Checkpoint Charlie was our next stop; a former border crossing for the Allies, and icon of the Cold War with its small wooden guard house on the West side, a white border-line across the cobblestones, a guard tower and a much photographed sign warning in several languages that ​'You are now leaving the American sector.' When the Wall went up, ​'Charlie' was the trouble spot of international concern when several American tanks rolled onto the Soviet Sector and parked several yards into East Berlin, facing off Soviet tanks. Kennedy visited Charlie on his famous Berlin trip and Charlie is where Reagan stuck his foot across the border-line, mocking the communists, daring them to shoot; this was also the border-point where John Le Carré brought his spy in from the cold. To keep the dark days of the Cold War fresh in our minds, a manned reconstructed guardhouse remains.
Eicke considered the historical urban site before him – gleaming new architecture standing side-by-side with relics from the past.
"The history of Berlin will determine its future more than in other cities – something new will always follow," he observed thoughtfully.
Book your Trabi-Safaris tour via their website tra​bi​-safari​.de
Where to eat:
A block from where the Berlin Wall once stood is Fassbender & Rausch, a heavenly chocolate shop with a renowned chocolate restaurant on the floor above, where the likes of Clint Eastwood prefer to dine. Austrian born Executive Chef, Walden Markus, continually recreates his delectable menu which currently includes gastronomic wonders such as smoked garlic soup, chocolate, potato dumplings with ground cocoa beans, sole fillets roasted in cocoa butter, and saddle of venison basted in chocolate. fass​ben​der​-rausch​.com
Trabi's are everywhere
• The rock group U2 used Trabant's as props on their Zoo TV Tour, including several vehicles suspended from the ceilings of concert halls. These cars can now be seen suspended from the ceiling at the Rock and Roll Hall of Fame in Cleveland, Ohio.
• A feature film about the Trabant, Go Trabbi Go, a comedy about an East German family making their way across Europe released shortly after reunification. In it, they highlight the performance gap between it and newer models, but it was regardless a film laced with admiration.
• A bright blue Trabi features in Good Bye Lenin!, the award-winning German film made in 2003 about the fall of the wall.
• A scene in the movie Black Cat, White Cat by Emir Kusturica shows a Trabant being eaten slowly by pigs. This is referred to by the Serbian rock group Atheist Rap (Ateist Rep), which has a song named ​"Wartburg limuzina" in which they mention that pigs ate a half of their ​"Trabant". They also have a separate song, ​"Blue Trabant".
• In the 1996 Czech film Kolja, the protagonist is ecstatic at finally getting a Trabant.
• The American movie Spy Game (2001) features a car chase involving a Trabant being driven by the spy Tom Bishop (Brad Pitt), who is trying to smuggle an East German from East Berlin over to West Berlin.
• The name of the Czech band Trabant is an obvious pun, also name of Icelandic electro-rock band Trabant, just like the Polish rock band Los Trabantos.
• The Trabant can also be seen several times in the videogame Half-Life 2 produced by Valve Corporation.
• The Trabant also appears in the videogame Interstate ​'82 as a secret car, the Stein PappKarton. According to the game, the PappKarton was made in an East German refrigerator factory. The German word Pappkarton translates to cardboard box.
• A long-running parody in the U.S. automotive magazine Car and Driver in the late 1980s (before the Berlin Wall opened) showed its competitor Motor Trend fawning over the Trabant and declaring it Car of the Year.