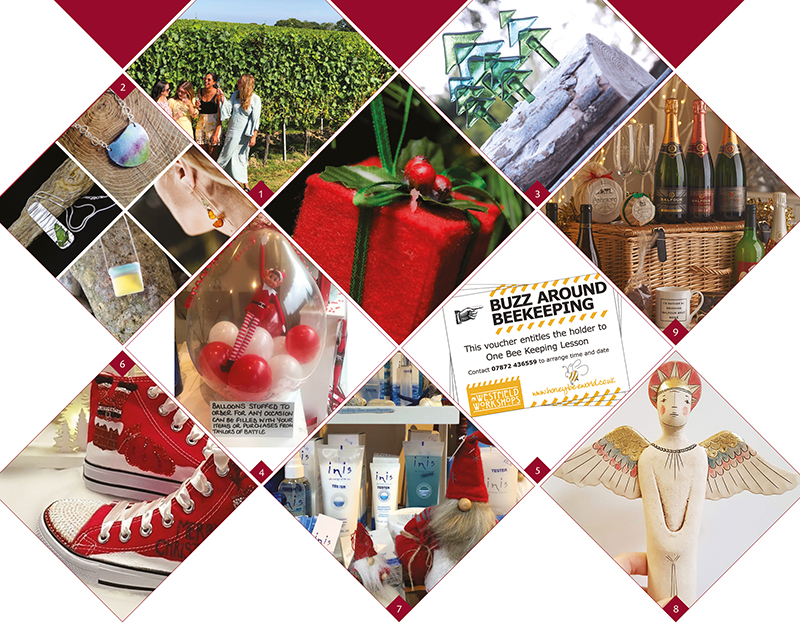 1

.

5 easy ways for a STRESS-FREE Christmas from Vine + Country Tours…
Tour the Vineyards this winter and warm yourself with a bespoke WINE & FOOD DAY-OUT discovering the outstanding wines of Kent & Sussex. Weather outside is frightful?? But an at HOME WINE TOUR is so delightful! Perfect for your Christmas party. Challenging gift decisions? Don't stress! A GIFT VOUCHER will have you covered to be enjoyed any time of the year!

Hosting a party at home? Whatever your event, we'll create a PERFECT MENU of fresh regional delights www​.vine​and​coun​try​tours​.co​.uk
2

.

Looking for Christmas gift ideas?
Visit ArtSpring Gallery at 167 High Street in Tonbridge to browse for unique gifts by contemporary artists and makers. You'll find plenty to choose from fine art as well as ceramics, glass, jewellery and artisan decorations. Or visit Diverse range of artisan jewellery by Anne McArdle, Camilla West & Hildegard Pax, Charlotte Tabor (clockwise from top left) Prices from £45.
www​.art​spring​gallery​.co​.uk
3

.

'Tannenwald' by Paul Chave, Fused Glass on timber log, available in two different sizes, Prices from £22
www​.art​spring​gallery​.co​.uk
4

.

Balloons filled with your choice of gifts with a wide range of modern and traditional gifts for Christmas. For a most personal gift visit Taylors of Battle. 52a High Street, Battle.
Telephone 01424 777000. Facebook & Instagram.
5

.

Looking for a special gift for your loved ones? What about a practical hands on taster session in Kent . Vouchers available
Call Clare on 07872 436557or Go to www​.hon​ey​bee​world​.co​.uk
for more information.
6

.

Sparkles By Charlie: A family run business, offering handmade craftmanship and outstanding on-off pieces . If you have an idea or would just love to have sparkle in your life then get in touch.
www​.sparkles​by​char​lie​.com
7

.

White Sails Boutique and nice things: Inis Fragrance is a clean, light yet lasting fragrance with notes of lemon, marine and lily of the valley. Cologne from just £14.00!
All the Gnomes are looking for good ​"Gnomes" for Christmas!!
Telephone 01424 777333. 51 High street, Battle, East Sussex
8

.

Unique festive gifts? Ooh How Lovely at Hawkhurst crossroads offer a great selection. Open late Thursday until 7pm;
call on 01580 848303⁄07400522081 or Instagram and
www​.oohhowlove​ly​.co​.uk
9

.

The Hush Heath Estate Christmas shop is open from Saturday 30th November till Tuesday 24th December, offering a host of gifts including their Hush Heath Hampers. They are also offering 25% discount on selected mixed cases of wine throughout the festive period. www​.hush​heath​.com