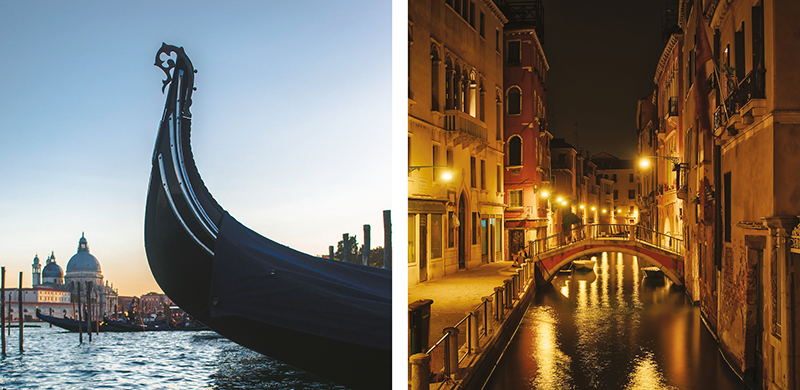 Perhaps because the situation had all the classic elements of an Agatha Christie novel, the significant ​'pop' from behind my shoulder came as something of a shock. ​'Death in Venice' would have made the perfect title had it not already been taken. Who was the first victim? Was it either of the elderly American couple from Washington State? Or the charming woman from Sydney travelling on her own? Surely not one of the retired couple from Queensland or the extrovert bloke from Cumbria? My mind raced as I whirled round only to discover a charming lady offering me the first of countless glasses of Prosecco.
Reassured by her broad smile, rather than sniffing it suspiciously, I took a generous swig and was already starting to relax at the start of what would prove to be a wonderfully restful and enjoyable week.
Accompanied by my wife (Rose), I was at the ​'welcome' party aboard ​'La Bella Vita', a 140-foot long former working barge that was converted eight years ago into a truly luxurious vessel. Although it could comfortably accommodate 20 passengers in its eight state rooms and two suites, there were just eight of us and we were outnumbered by the crew.
As we chugged the few nautical miles from where we boarded the boat on the less glamorous side of town to the heart of magnificent Venice, Rose and I unpacked in ​'Canaletto', our comfy en-suite room, before climbing onto the sun deck to admire the very familiar view that our man Canaletto had captured on canvas.
We parked… oops, I mean ​'moored', just a few hundred yards from St Mark's Square and were able to enjoy that famous panorama from the comfort of our boat for another day.
Dinner on board that evening was a real treat and the first in a week-long series of gourmet extravaganzas held in the spacious dining area on the main deck. At this point I could really do with the breathless voice of that woman on ​'Master Chef' to talk you through the menu of monkfish and green asparagus, scampi and tomato ravioli, tuna cube Milanese style, caramelised dried fruit and fresh and mature Asiago cheese. Instead of the Master Chef lady, we had Andrea, our talented chef, who before every lunch and dinner would describe the delights we had in store.
To complement all this great grub was a whole host of quality Italian wines carefully selected to accompany each course. The region from whence they came and the particular character of each wine was beautifully explained to us by either Francesca or Isabella. More than just waitresses, these two ladies were a truly delightful duo whose charm, wit and laughter contributed enormously to everyone's enjoyment of the trip.
The only downside to eating so well was the worry my wife and I had that we might put on too much weight and so after each meal we looked through our cabin window to monitor how much further the boat had sunk into the water.
Prices for a six-night cruise aboard La Bella Vita start at £
2

,

590

pp based on double occupancy and include all gourmet meals, fine wines, daily guided excursions, private chauffeured transfers and an open bar for the duration of the cruise.
www​.euro​pean​wa​ter​ways​.com,

01753

598555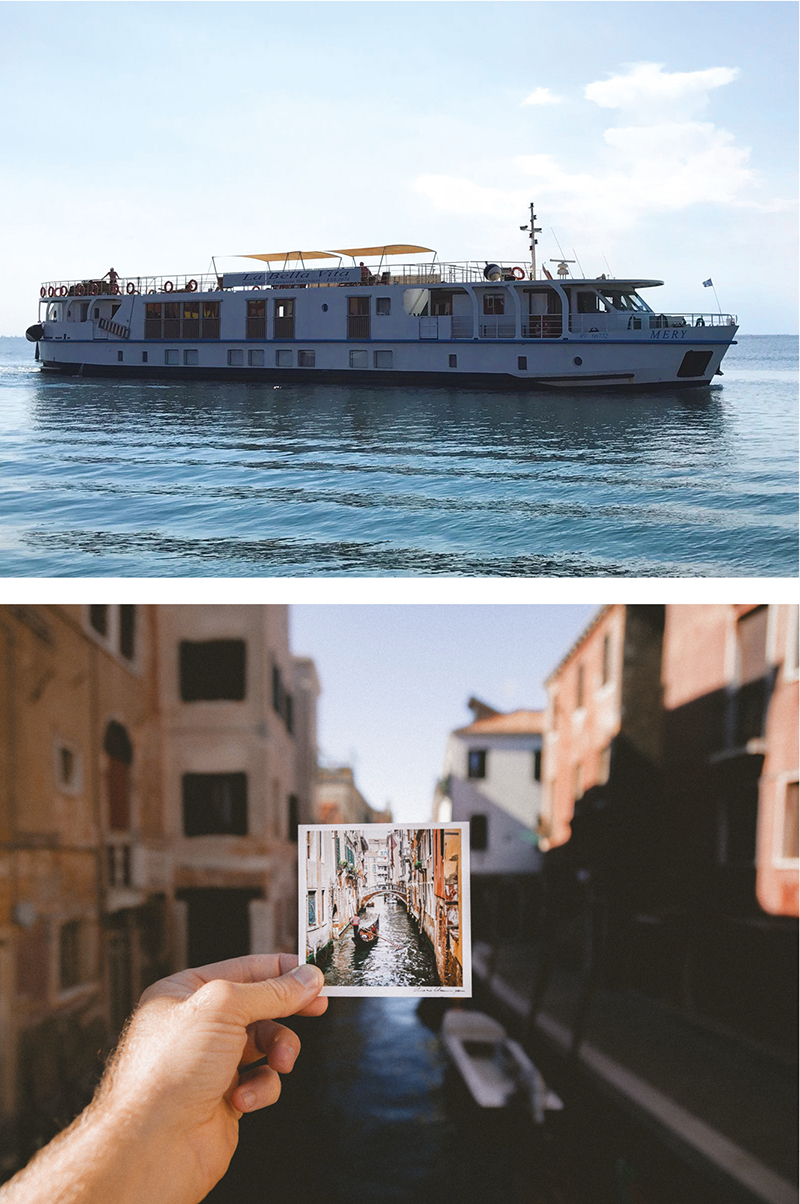 To mitigate the worst of our excesses, which were exacerbated by an open bar, there were regular walking excursions that burnt off a few hundred calories. In Venice, for example, we were treated to a guided tour of the remarkable Doge's Palace, which was both fascinating and enlightening. These ​'official' outings were supplemented by a number of informal strolls that Rose and I took during ​'free time'.
Much of the rest of the time was, of course, spent peacefully cruising along; firstly through the calm waters of the lovely Venetian lagoon and then up the mighty River Po. Just sitting on the sun deck with a book in one hand (preferably not an Agatha Christie) and a drink in the other while watching the world slip by was extremely pleasant. We moved during the day and were tied up at night; the boat that is, not the passengers.
Our skipper was Diego, an affable Italian. There were two other blokes to help him who would suddenly appear whenever we passed under a bridge, through a lock or were about to tie up or cast off. I effectively managed to suppress whatever feelings of guilt I may have had about letting others do all the work. In any case, I had to save my energy for the excursions.
These had all been masterminded by our extremely charming and efficient on-board Cruise Director, Elisa. Something was arranged for every day. A quaint town here, a fish market there and a church or two seemingly everywhere. We were transported to wherever it was we were going by our very own minibus, which furtively shadowed the boat.
Among the best excursions was one to a rambling old estate called Ca' Zen. Here we had the only meal away from ​'La Bella Vita'. It was excellent as was listening to the stories of naughty Lord Byron who, allegedly, had an affair with the wife of a previous owner. Lord Byron left his mark, and possibly a few illegitimate children, in the area.
Another fun trip was to Dominio Bagnoli, a lovely vineyard and winery where we enjoyed wandering around the glorious gardens before sampling a range of wines. However, as with all the trips, returning ​'home' to ​'La Bella Vita' afterwards was always a pleasure.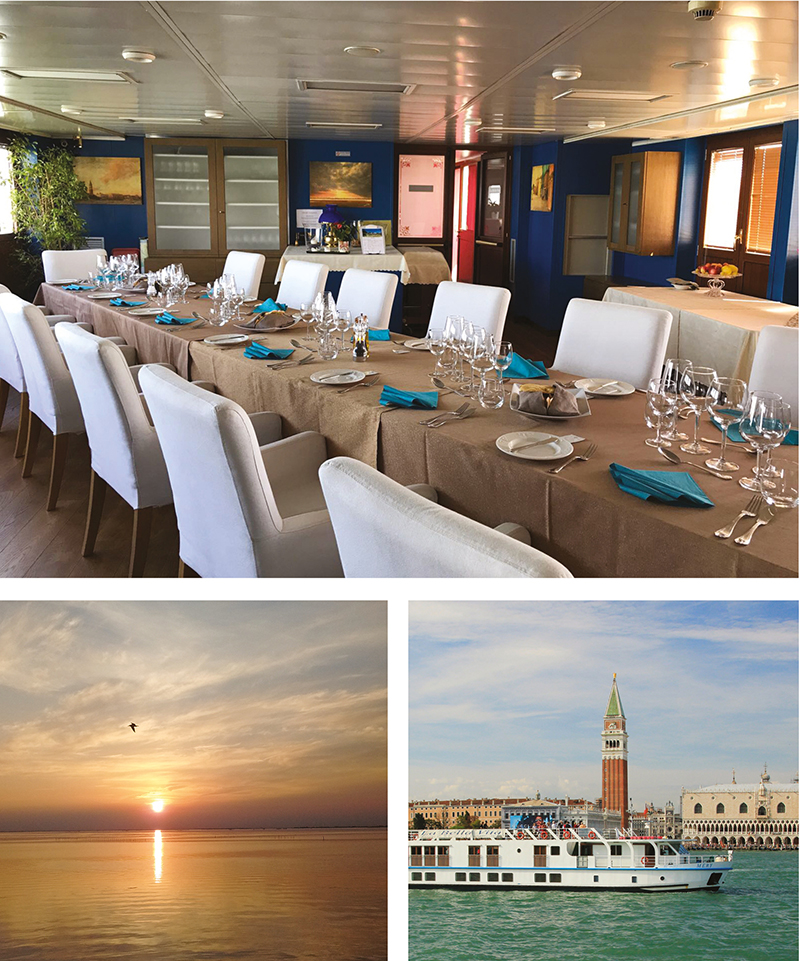 One undoubted highlight was a ​'surprise' that Elisa had arranged on our penultimate night on board. After dinner we were joined by three talented singers and were treated to a delightful operatic concert that featured a number of familiar classics. Emboldened by the wine and to the dismay of my wife, I accepted the soprano's invitation to join the trio ​'on stage' for a full-bloodied rendition of ​'O Sole Mio', better known to many of us as ​'Just One Cornetto'.
Our final stop was the lovely lakeside city of Mantua. From where we moored, it was a short stroll to the city centre, the Ducal Palace and, not a church this time, but a magnificent cathedral. I should reveal that there were bicycles on board that we were welcome to borrow but, maybe through fear of being breathalysed, no one availed themselves of this facility.
On our final night there was a special ​'Captain's Farewell Dinner'. It was yet another fabulous meal but this time Captain Diego joined us. Apart from breakfast on our final morning, it was our last meal together. During the course of what felt like a floating house party, we had all got to know one another rather well and were now good friends. So what had started as a possible murder mystery finished up an emotional last supper.
Among the topics of conversation on that final night was where to go next. As well as Italy, European Waterways have luxury barges floating about in England, Scotland, Ireland, Belgium, Luxembourg, Germany, the Netherlands and, more than anywhere else, France.
Our minibus took a little under an hour and a half to drive us back to Venice, which is significantly quicker than the near week it had taken to go the other way. Mind you, we were against the current and were in less of a hurry than my wife and I are to go barging about again.
Written by Clive Agran