Cruising in the style of the millionaire
Instead of envying the super-rich captains of industry, movie stars and rock legends with their billionaire lifestyles, you can now emulate them by chartering a magnificent motoryacht. From as little as £1800, you can taste the high-life, cruise up the Medway
or the Thames and see how well suited you are to a life of luxury.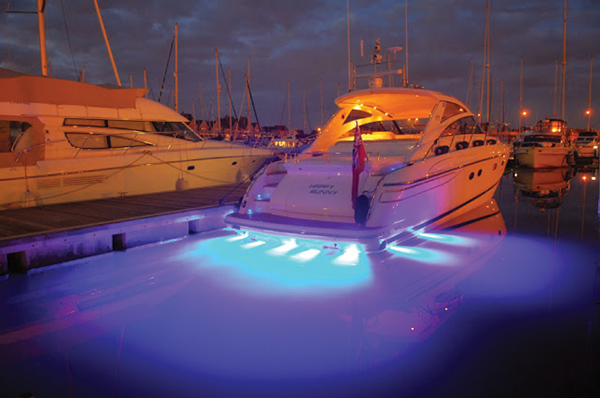 In doing so you would be following in the famous footprints of Adele, Duffy, Mike Myers (Austin Powers), Cheryl Baker (Bucks Fizz) and Jeff Wayne (War of the Worlds), all of whom have taken trips in the luxurious Happy Bunny. Moored at Chatham Marina, it's owned and run by Linton Charters, who do whatever it takes to ensure their guests – genuine celebrities or aspiring members of the public – enjoy an unforgettable day.
Can you think of a more glamorous way to celebrate a significant birthday, anniversary or special occasion? And you can take as many as ten friends or family along with you.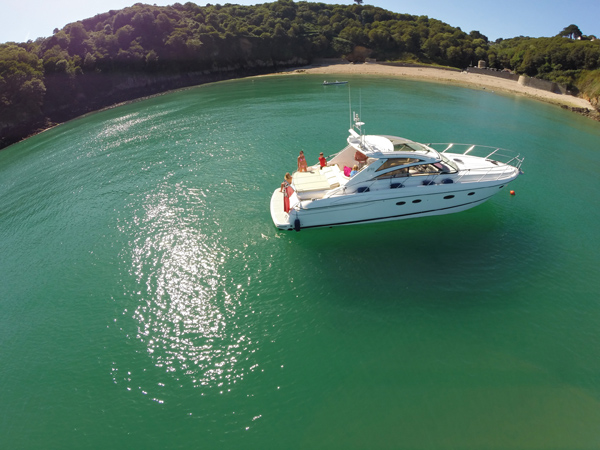 The vessel, a Princess V48 with a top speed of 44 mph and worth just over half a million pounds, is extraordinarily luxurious and well appointed. The open-plan cockpit provides plenty of sociable seating and a large dining table for alfresco dining. The food served on board is whatever you want and ranges from Canapes through to the finest of fine dining. And the drinks' menu extends all the way up to top-of-the-range Champagnes.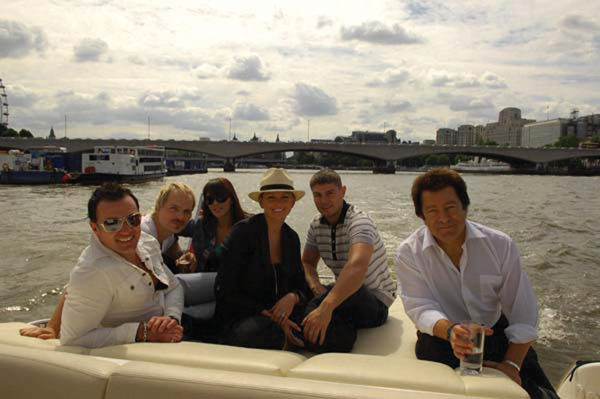 There are two dedicated sun-bed decks, one at the front… oops, er, bow of the boat and the other on the aft. The main cockpit has an electrically operated sunroof which opens in a few seconds to provide further sun or shade as required.
Down in the living area there is a spacious lounge with a large cream leather sofa, dining table, TV, DVD player and an open-plan galley finished in light cherry wood.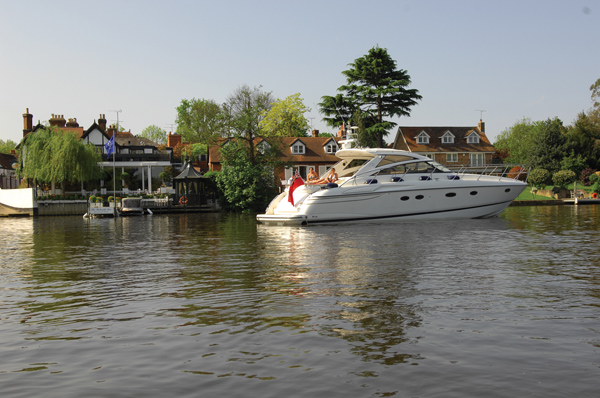 The luxurious double master cabin has a large double bed and beautiful en-suite bathroom with black granite worktops, electric flush toilet and separate shower cubicle. There is also a large wardrobe and plenty of storage space. The twin berth aft cabin has a wardrobe, dressing table and luxury en-suite bathroom. The salon sofa converts to a double bed, thus providing sleeping accommodation for six, if required.
The state-of-the-art sound system which provides a simply stunning sound experience which music fans will particularly appreciate.
At the rear of the boat there is a low-level deck which not only gives easy access when boarding but also serves as a great swimming platform. Under the aft sun deck is an electrically opening garage which houses a jet rib. Remarkably manoeuvrable and with a top speed in excess of 55 mph, it's great for water skiing, wake or knee boarding. All the necessary wetsuits, skis and equipment are provided but if you prefer to stay in the rib, a high-speed blast around the creeks will provide more than enough of an adrenaline rush. And if you're brave enough to take the plunge and go swimming, there's a hot shower on the rear deck of Happy Bunny for washing down and warming up afterwards.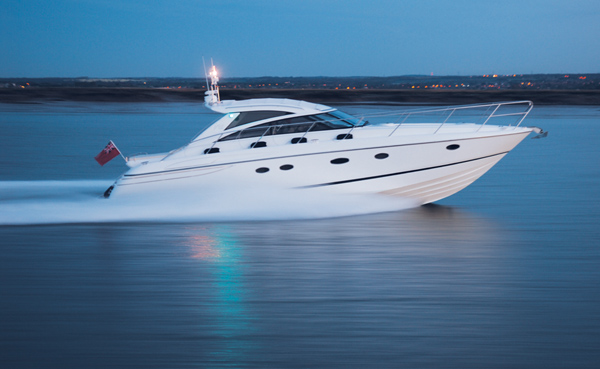 So where do you want to go? Although you can hop over to France, the cost of fuel – the boat burns 100 litres an hour – might make that a bit pricey for all but the genuinely super-rich and so are more modest, but no less elegant, glide up a river might be preferable.
Cruising the Medway, you will enjoy the glorious Kent countryside and might choose to anchor at picturesque Sharfleet Creek, a notable bird sanctuary, to enjoy a delicious alfresco lunch. And if you think that sounds a tad too leisurely, don't worry, as you will experience the high-speed, full-throttle thrill of what the Happy Bunny can do when you approach the entrance to the Thames.
If you prefer the Thames itself, there's a three-hour cruise which takes in all the major attractions including the Thames Barrier, Greenwich, Tower Bridge and the London Eye. And there's the option of continuing towards Teddington Lock and enjoying an altogether quieter stretch of the river.
Basically, you can go anywhere you want as Linton Charters are more than happy to tailor a trip that perfectly suit your needs. But wherever you go, you will certainly travel in style.
www​.lin​ton​mo​to​ry​achtchar​ters​.co​.uk
Linton Motor Yacht Charters, Linton House,
12 Linton Road, Loose,Kent. ME15 0AB.
M: 07990 505598
T: 01622 962015