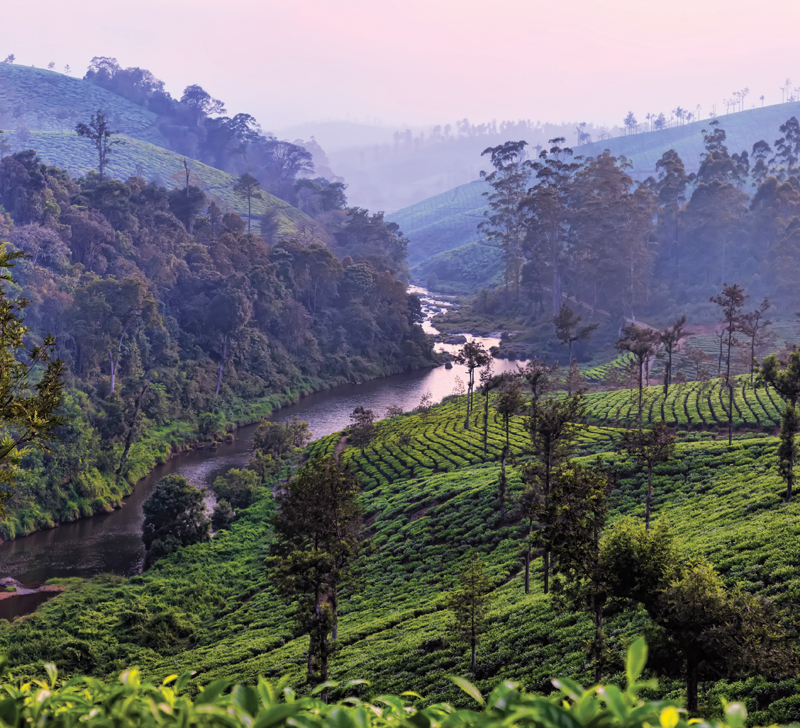 Living the Indian Dream
On a tea plantation in southern India
Sitting on the veranda of my hillside bungalow, I wait for the Western Ghats to stir to wakefulness. Before me is a deep valley lathered with emerald velvet tea bushes, over the next hill is the Jungle Book world of Valparai. The first golden rays of dawn lazily poke at the dewy plantations shimmering mint coloured tea bushes – all as trim as urban hedgerows. The poised yet slightly stooped silhouettes of early morning tea pickers, draped in turquoise and orange coloured saris, merge with the ground mist.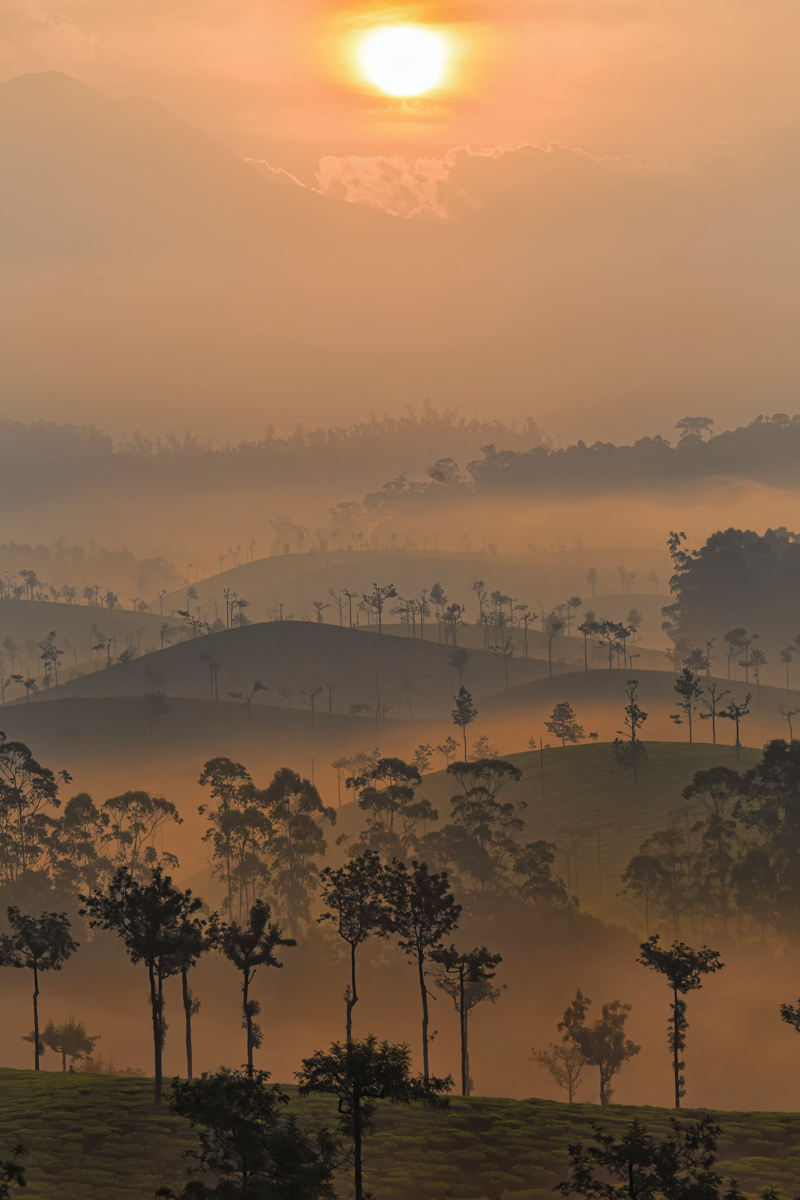 I've been up since midnight – something big gave an audible deep throated grunt directly beneath my stilted accommodations, precluding any further thought of sleep.
The in-room phone of my bungalow trilled quietly. ​"It's Vivek, madam. You must hurry," he says, ​"my foreman, he tells that elephants are in the valley."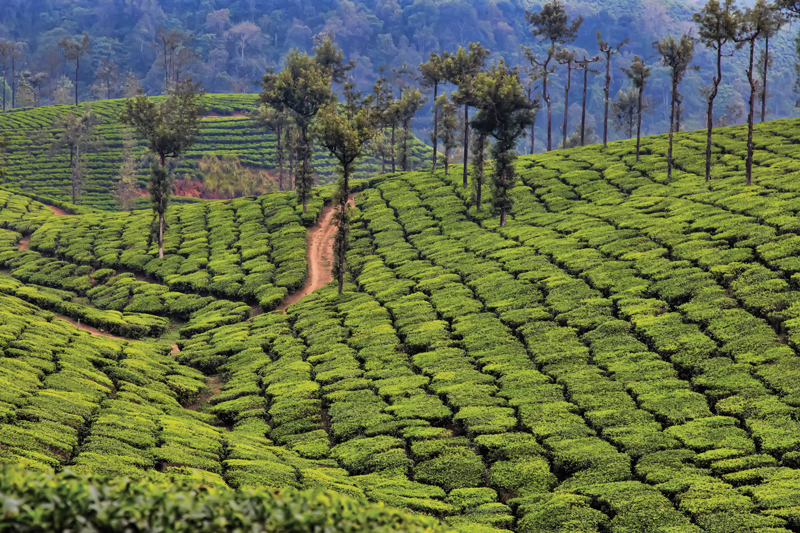 Minutes later Stanmore's estate manager, and his 150cc motorcycle, are outside my bungalow door. With only enough time to put on my hiking boots and grab my camera, I jump on the back and bounce along a corrugated track heading into the still to break dawn, dressed in my silk Marks & Spencer's kitty motif pyjamas.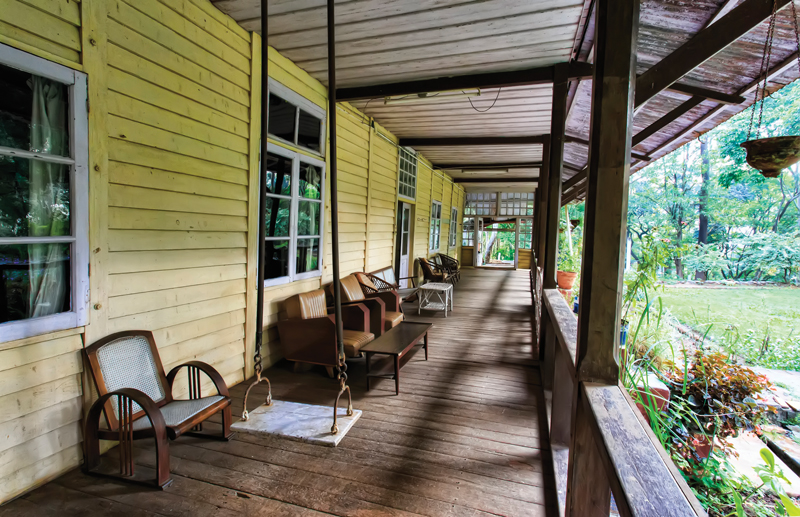 We reach the agreed rendezvous point deep in the valley. Mist swirls around our ankles and a light breeze dances with my already excited hair. I survey before me a mystic valley in merging shades of blue and lavender, stitched with wisps of silver mist. I half expected a winged dragon to swoop out of a hidden cave but instead found the branches about me hung heavy with birds who sought a suitable vantage point from which to drink in the timelessly fetching dawn.
Shadowy men appeared out from amongst the tea bushes and in silence pointed us further along. Vivek was behind me and hesitant to move ahead. ​"These are dangerous creatures", he whispered hoarsely. ​"They will attack." I ignored him and quickened my pace. He reluctantly followed pleading that I desist in my pursuit. Eventually his protestations ceased, and he reluctantly walked beside me, muttering something about a formal rebuke from his line manager when word got out.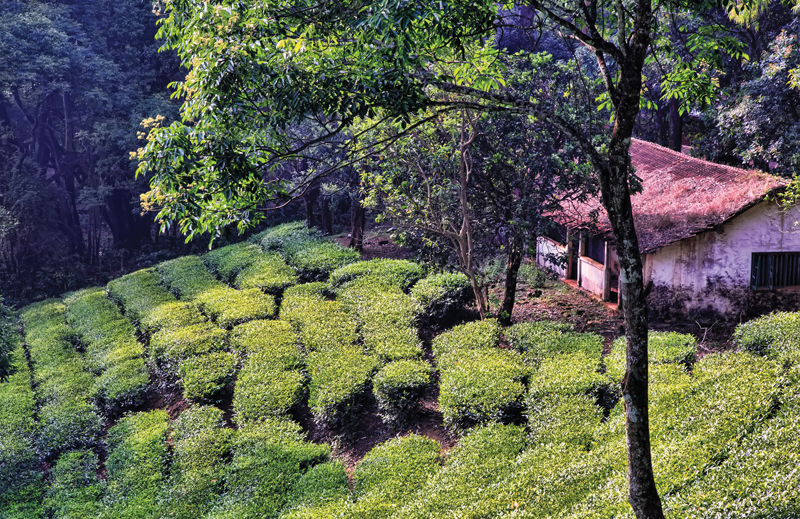 I'm not certain what it was that alerted me, maybe the sudden cessation of bird song – which usually indicates the presence of a predator, but then I heard it again – an out of place ​'huff'. I shot my right forearm up into the air, indicating Vivek was to fall in directly behind me. We moved off to the left in a crab-like trajectory, then hunched down. No less than 50-feet away several large shapes loomed. They were slowly moving off the very path we were walking along, venturing instead into the tea plantation.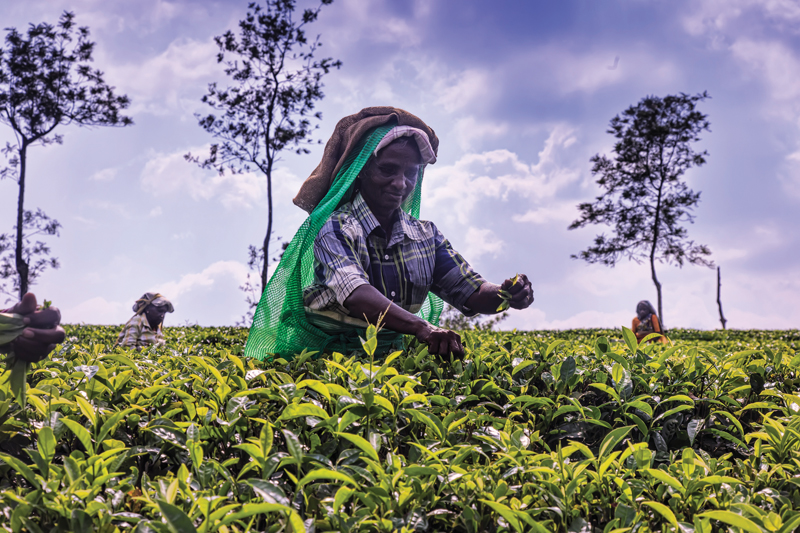 We sat hunched like this for several minutes, until we were certain they had left the immediate area, then we slowly stood and surveyed the terrain and spotted the elephants some way off, heading down to the Injipara River. We high-fived then headed back to Stanmore – where another pot of Masala Chai was waiting.
Spread across 23,000 acres of lush tea, coffee, pepper and cardamom plantations, the colonial Briar Tea Bungalows, which date back to the early 1900s, are found on four further locations:
Sirukundra (meaning ​'Small Hillock') is a large 6,000 sq ft bungalow with three huge bedrooms, sprawling lawns and rose gardens, plus a swimming pool. Sirukundra houses one of the world's largest tea bushes, be sure to ask after its location. Visit their tea factory, the Sholayar Dam, the Balaji Temple and go for an early morning plantation walk or cycle in the picturesque Murugan Estate.
Monica is surrounded by dense wilderness which is populated by Indian bison, elephants and antelope. This is where wildlife enthusiasts, birders and photographers head. Apart from the 4,000 sq ft plantation house, there are also tree-houses and tents.
Talayar Valley is a magnificent tea bungalow with manicured gardens in the remote Idukki district of Munnar. Partake in heritage walks, wilderness treks and bird watching with expert local guides; then create your own tea at the Talayar factory.
Meghamalai resembles plantation houses built during the British Raj era. Immense windows, sprawling lawns and a colonial way of life. Sharing a common boundary with Periyar Tiger Reserve, the surrounds is teaming with wildlife.
At Briar Tea factories the kettle is always on, so be sure to book a factory visit and watch how the tender twin buds get rolled and dried, then finally become a cup of hot chai – which is what you get in the Briar Tea Lounge alongside the best cookies and pastries imaginable.