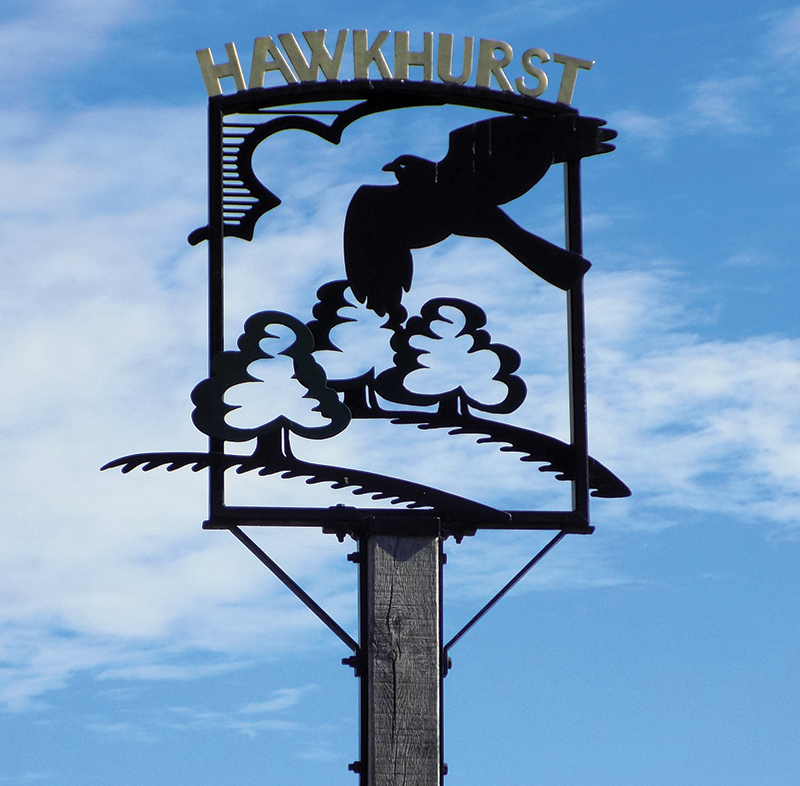 Hawkhurst lies around 12 miles south-east of Royal Tunbridge Wells and sits within the High Weald, an area of outstanding natural beauty. It has over 1,000 years of recorded history, the oldest known settlement being the Saxon manor of Conghurst.
The name Hawkhurst is derived from the Old English heafoc hyrst, meaning a wooded hill frequented by hawks – ​'Hawk Wood'. Hurst (Hyrst) in a place name refers to a wood or wooded area – there are several in West Kent and East Sussex. The 11th Century Domesday Monachorum refers to it as Hawkashyrst, belonging to Battle Abbey.
Hawkhurst today is really two villages: The Moor, to the south, consists mainly of cottages clustered around a large triangular green, while Highgate, to the north, features a colonnade of independent shops, two country pubs/hotels, a digital cinema in a converted lecture hall, and Waitrose and Tesco supermarkets.

The historic Tongswood Estate Walled Garden and its incumbent glasshouses are now owned by Emma and Monty Davies and operate as The Walled Nursery. Since 2010 Emma and Monty have worked tirelessly to restore the garden and glasshouses to their former glory. Thanks to their efforts, their team and an unexpected donation enabling restoration of several glasshouses, the Walled Garden today is home to a thriving plant nursery, Vinery café and kitchen and plays host to several special events during the year.
Forthcoming events include Christmas wreath workshops, children's making workshops and Christmas party nights. Father Christmas will also be in residence on 14th and 22nd December. See website for full details and booking: www​.the​walled​nurs​ery​.com/​k​e​n​t​_​n​u​r​s​e​r​y​/​f​i​l​e​/​w​h​a​t​s​o​n.php
Although more notorious than notable, it would be remiss not to give a mention to the Hawkhurst Gang, a criminal organisation involved in smuggling throughout the southeast between c. 1735 and 1749. One of the more infamous gangs of the early 18th century, they extended their influence from Hawkhurst along the South coast to Dorset, where they successfully raided the customs house at Poole. After they were defeated in a battle with the Goudhurst militia in 1747, two of their leaders, Arthur Gray and Thomas Kingsmill, were executed in 1748 and 1749.
To find out more and follow the Smugglers Trail:
www​.vis​ithawkhurst​.org​.uk/​d​i​r​e​c​t​o​r​y​/​4​4​1​7​8​/​s​m​u​g​g​l​e​r​s​-​t​r​a​i​l​-2011
Notable people from Hawkhurst
The 19th-century astronomer Sir John Herschel (1792 – 1871) lived in Hawkhurst for thirty years. Sir John named the planet Uranus, which had been discovered by his father, Sir William Herschel. He was also a mentor and inspiration to a young Charles Darwin. Herschel lived at Collingwood House in Hawkhurst.
Hawkhurst also lays claim to being the birthplace of the Rootes car empire. William Rootes set up shop in the village as a cycle trader before moving into the production of cars, including Singer, Hillman, Humber and Sunbeam, eventually becoming Chrysler Europe
Another leading local businessman was Charles Gunther, who made his fortune as chairman of the Leipzig Meat Extract Company, later known as Oxo. Charles and his wife Leonie bought the Tongswood Estate on Water Lane in 1903. They set about extending the main Tongswood house, which now operates as Saint Ronan's School and Helen Bell, Charles' second wife, undertook extensive work on the grounds and gardens, to much acclaim. In 1927 for example, Tongswood Gardens were considered among the top 50 in the country and in 1930, the Rockery was featured in Country Life Magazine!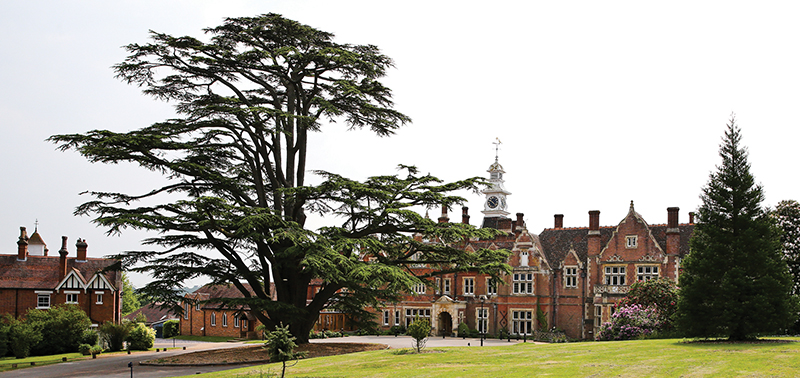 Recipients of the prestigious Tatler Prep School of the Year award 2018 and shortlisted for an award by the Independent Schools of the Year 2018 (www​.inde​pen​dentschool​soft​heyear​.co​.uk), Saint Ronan's School is an independent co-educational preparatory school for boys and girls aged between 3 to 13 years. It is essentially a day school, however weekly boarding is available for pupils from Year 4 upwards and this is becoming more popular. The School has a reputation for achieving excellent results at common entrance, with many pupils achieving scholarships into some of the most prestigious senior schools in the country, including Kings Canterbury, Eton and Harrow. William Trelawny-Vernon has been headmaster of the School since 2003.
Notable Old Ronians include:
• Raymond Bonham Carter (1929 – 2004), banker.
• Nick Brown (born 1950), MP.
• Richard Bridgeman (born 1947), peer and restaurateur.
• Frank Gardner (born 1961), journalist.
• Philip Langridge (1939 – 2010), musician.
• John Palmer (born 1940), hereditary peer
• Christie Samms (born 1997), daughter of writer, currently studying for a degree in Business Management with Marketing.
To learn more about the school and its history, please visit their website. www​.sain​tro​nans​.co​.uk
Things to do in or near Hawkhurst:
Bedgebury Pinetum
The Forestry Commission acquired Bedgebury Pinetum in 1919. The Pinetum was formalised in 1925 when Kew's conifers were relocated to Bedgebury to escape London's air pollution.
Today the 320 acre Pinetum is considered to be the largest and most complete collection of conifers in the world, with over 12,000 trees across 1,800 species, many of which are rare or endangered or both.
This amazing tree collection is also home to an equally interesting range of wildlife. Bedgebury's beautiful landscape, made up of breathtaking views and extensive natural and man-made waterways, provides a unique and biodiverse environment for them to grow and thrive.
bedge​buryp​ine​tum​.org​.uk
Kino Cinema
Kino is a state-of-the-art digital cinema and stylish café-bar located in Victoria Hall on the Rye Road, opposite the Colonnade.
https://​www​.kin​odig​i​tal​.co​.uk
Bodiam Castle
Now operated by the National Trust, Bodiam Castle is a 14th century moated castle. It was built in 1385 by Sir Edward Dalyngrigge, a former knight of Edward III, with the permission of Richard II, ostensibly to defend the area against French invasion during the Hundred Years' War.
Of quadrangular plan, Bodiam Castle has no keep, having its various chambers built around the outer defensive walls and inner courts, with its corners and entrance marked by towers. The Castle still retains its original wooden portcullis, an extremely rare example of its kind.
www​.nation​al​trust​.org​.uk/​b​o​d​i​a​m​-​c​a​s​t​l​e​#​O​v​e​rview
Hawkhurst Fish Farm
Fishing complex featuring seven lakes, waterside café and range of complimentary shops and workshops.
hawkhurst​fish​farm​.co​.uk
Merriments Gardens Centre
Merriments in Hurst Green is a four-acre garden, nursery, restaurant and garden centre, which also offers landscaping services.
The four-acre RHS partner garden features herbaceous borders, unusual plants and water gardens and is a real hidden gem.
www​.mer​ri​ments​.co​.uk
The Weald Smokery
Another hidden gem is the Weald Smokery, which is located just outside Hawkhurst at Mount Farm, Flimwell. Since 1990, the Smokery has been owned and operated by husband and wife team Andrew and Corinne, both of whom have an absolute passion for authenticity, taste and perfection, which has led to the multi-award winning business you see today.
The Kiln Room Café is part of the recently refurbished shop, serving the full range of Weald Smokery products, as well as fine food and drink from the local area, and further afield. There's plenty of parking so ideal for that impromptu coffee or lunchtime meet up with friends.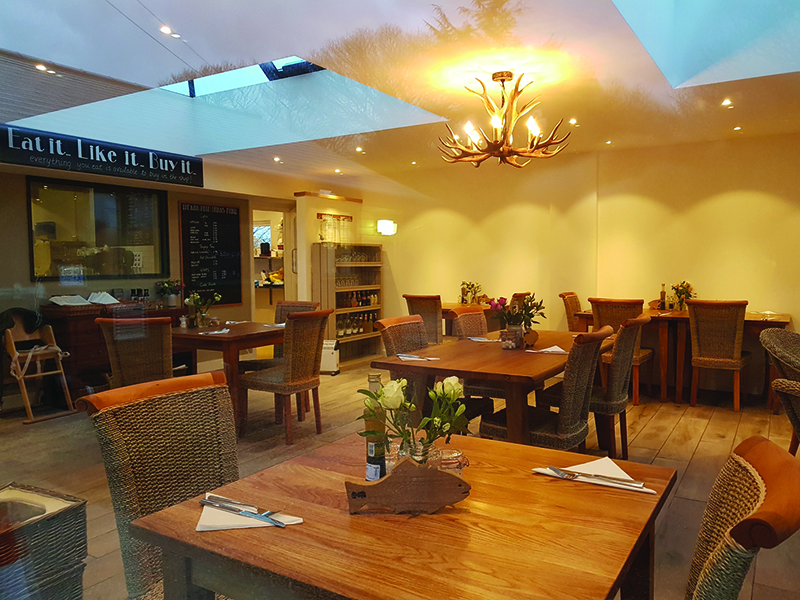 Visit the website for full details and to
order from their full range, including gifts and hampers:
www​.wealdsmok​ery​.co​.uk
Shopping at Highgate Colonnade
Cordelia James
Cordelia James is run by mother and daughter, Cordelia and Megan, with help from Cordelia's partner, Jamie (James). With a background in interior and garden design, Cordelia has a good eye when it comes to buying and merchandising clothing and accessories.
The shop on the Colonnade in Hawkhurst is their flagship store, with other stores located in Lewes and Rye.
cordeli​a​james​.com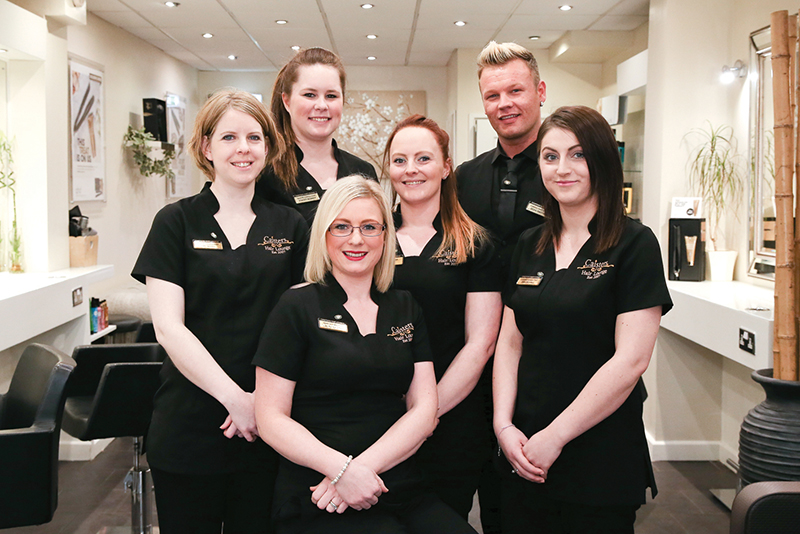 Caisters Hair Lounge
Laura and Darren Caister opened Caisters Hair Lounge in July 2007 with a commitment to offering a friendly and relaxed environment, with soft colours and subtle lighting, together with friendly smiles for all.
Since 2012 they have been consistently awarded the 5 Star Good Salon Guide rating and are a destination Salon for Matrix and GHD, validating their commitment and making them one of the most popular salons for many miles. Advance booking recommended!
To find out more or book a consultation:
www​.cais​ter​shair​lounge​.com
Park Farm Butchers
Andrew and Anne Clarke opened Park Farm butchers in Hawkhurst in 2001. It is a traditional village butchers with a commitment to offering local genuine free range, grass fed, quality stock. ​"Traceability" is the guarantee they give their customers. A large blackboard informs customers about where the meat on display comes from; the herd/flock and the address of the farm.
Andrew and Anne Clarke farm some 300 acres of typical Wealden farmland in the parish of Hawkhurst. It has always been their ethos to farm as much as possible in a way that supports and enhances the surrounding countryside whilst producing fully traceable, quality beef, pork and lamb.
www​.park​farm​butch​ers​.co​.uk
Written by Lesley Samms