Luxury London on Ice!
Ice skating is one of London's favourite winter pastimes, especially in the run-up to Christmas.
There are several permanent indoor ice skating rinks in London, but in winter you'll find many more indoor and outdoor ice rinks popping up across the capital.
You can get your ice skates on this winter at iconic London locations, such as the historic Hampton Court Palace, the beautiful Somerset House and the majestic Natural History Museum. Shopping destinations such as WestField London and Canary Wharf also feature seasonal indoor and outdoor rinks, often accompanied by Christmas Markets and seasonal pop up eateries.
If you're seeking the Christmas Ice experience closer to home, the rink in front of the iconic Brighton Pavilion is definitely worth a look, together with the rink in Calverley Grounds, Royal Tunbridge Wells.

Hampton Court Palace, until 8th January 2017
This 1,040-square-metre (11,194-square-feet) outdoor ice rink offers spectacular views of the magnificent Tudor palace where Henry VIII once lived.
www​.hamp​ton​court​pala​ce​icerink​.co​.uk
Somerset House, until 15th January 2017
Set against a stunning neoclassical façade, Skate at Somerset House in partnership with Fortnum & Mason is open all day and well into the evening, when you can skate to live DJs.
You can learn to skate or perfect your skills at the weekend skate school and little ones get to enjoy their very own section of the ice where they can practise with specially-designed bear skating aids.
After your session, drop by Fortnum & Mason's pop-up shop brimming with gifts and festive goodies in Somerset House's West Wing and warm up with wintry food and drinks in Fortnum & Mason's Lodge.
Ice skating sessions generally run between 10am and 10.15pm daily, with shorter opening times on Christmas Eve, Boxing Day, New Year's Eve and New Year's Day, as well as extended opening hours on selected dates. The ice rink is closed on Christmas Day.
www​.som​er​set​house​.org​.uk/​w​h​a​t​s​-​o​n​/​s​k​a​t​e​-​s​o​m​e​r​s​e​t​-​house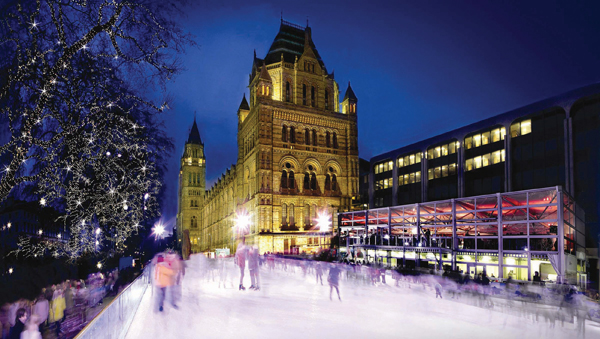 National History Museum, until 8th January 2017
(Main picture.) This spectacular 950-square-metre (10,225-square-feet) rink is nestled in front of the iconic South Kensington museum and surrounded by 76,000 glittering fairy lights.
Visit the museum's Café Bar for winter warmers and watch the skaters glide on the ice from the café's balcony.
Opening times vary, but most ice skating sessions run between 10am and 10pm, with extended opening hours on weekends and in the days leading up to Christmas, as well as on New Year's Eve when the rink opens until 12.30am (late-night New Year's Eve tickets go on sale in November). The ice rink is closed on Christmas Day.
www​.nhm​.ac​.uk/​v​i​s​i​t​/​e​x​h​i​b​i​t​i​o​n​s​/​i​c​e​-​r​i​n​k​.html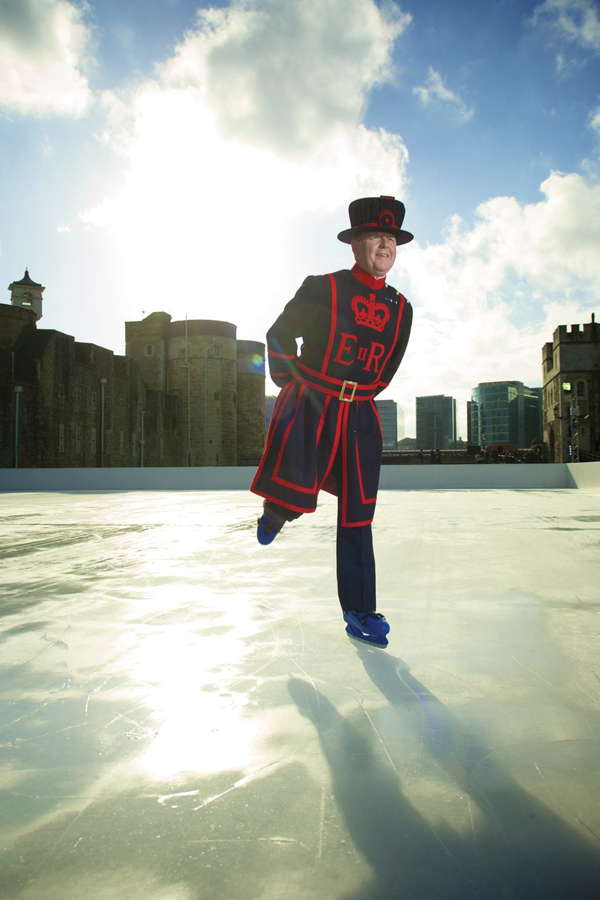 Tower of London, until 3rd January 2017
The Tower of London ice rink returns this winter, offering day and evening ice skating sessions in the setting of the historic London landmark. Catch up with friends and family on the ice or enjoy a romantic skate under the starry sky, as hundreds of snowflakes light up the wall of the fortress after dark.
Cool down after your session with a visit to the Eis Haus. Wrapped up in one of the insulated coats provided, step inside the pop-up bar and lounge, made entirely of ice and enjoy a drink in a chilled ice glass surrounded by crystal-clear ice sculptures.
For something cosier, the Dip-Dunk Lodge serves up delicious winter food including fondue, baked goods and warming drinks with a view over the ice rink. Ice skating sessions run between 11am and 10pm daily, except Christmas Day.
toweroflon​don​icerink​.co​.uk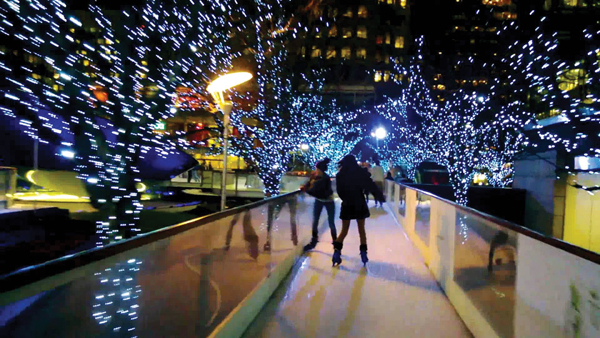 Canary Wharf Canada Square, until 25th Feb 2017
Located in the centre of Canary Wharf, LUMINOCITY @ Ice Rink Canary Wharf will brighten up Canada Square Park this winter with more than 8km of LED lights laid beneath the ice. LUMINOCITY will showcase more than 16 million different colours every session and swathe skaters in an abundance of magical light to create a truly immersive skating experience.
The ice rink is also fully covered by a clear roof to guarantee skating sessions whatever the weather.
Canary Wharf also offers an abundance of shopping and eating experiences. A beautiful and modern part of London, Canary Wharf's iconic skyline is an integral part of the landscape and, with the recent addition of Crossrail Place, has become a premier shopping and leisure destination offering new restaurants, a cinema, plus one of London's biggest roof gardens. From small boutiques to designer labels, spanning beauty, fashion, fitness and homeware, more than 120 stores span five malls together with eateries to suit all tastes, occasions and budgets.
www​.icerinkca​nary​wharf​.co​.uk or canary​wharf​.com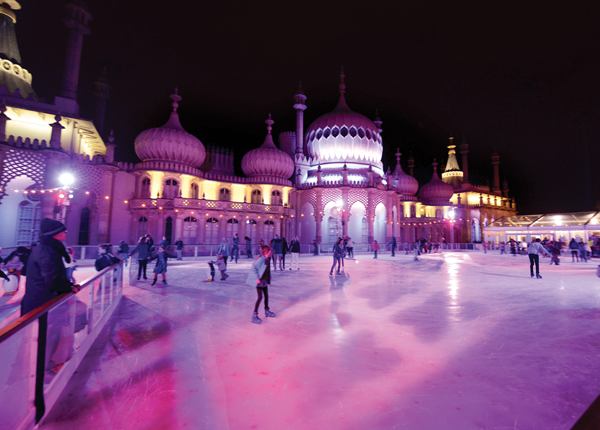 Brighton Pavilion, until 15th January 2017
Brighton's Royal Pavilion rink, with the ornate Regency pleasure palace as its backdrop, is open every day, and is a great way to round off a day of Christmas shopping in the famous surrounding lanes. This year, the rink side Bar & Kitchen is serving up warming soups, mulled wine and marshmallow-topped hot chocolate.
​"www​.roy​al​pavil​ion​icerink​.co​.uk"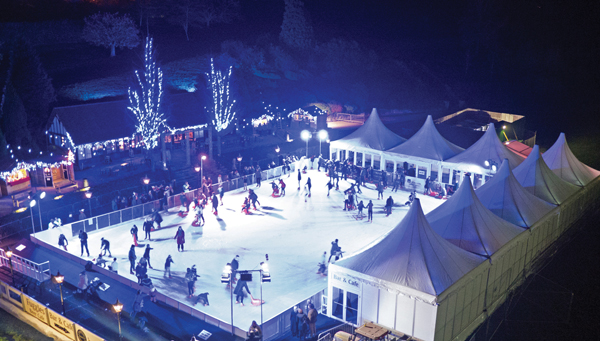 Royal Tunbridge Wells, until 2nd January 2017
Set in the beautiful splendour of Calverley Grounds' amphitheatre and bathed in twinkling festive lights, the Royal Tunbridge Wells ice rink is back, bigger and better than ever this year!
Father Christmas will also be visiting the rink on certain days and meeting children in his cosy, warm log cabin set amongst the trees. Check the website for full details.
www​.tun​bridgewell​satchrist​mas​.com