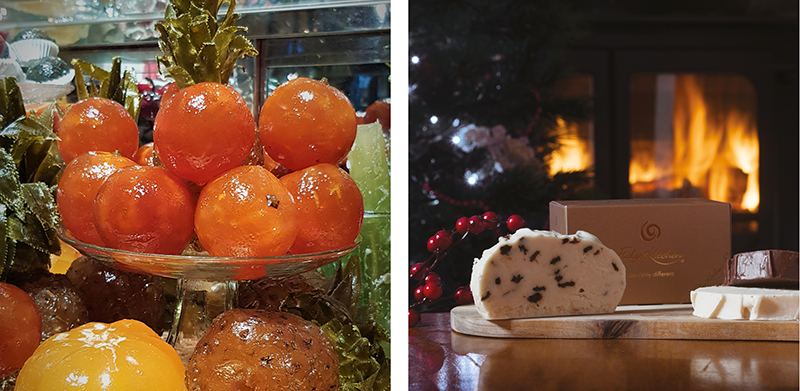 If you have conflicting thoughts about the celebration of Christmas and all that it supposedly stands for these days, then maybe I can imbue not only a little excitement, but an equal smidgen of scepticism along with a dollop of London shopping reality.
Overall, I do want to enjoy Christmas-time, but when I weigh up the over-indulgence, over-spending and the overly shameful waste, I find that I struggle with the way we should appreciate and celebrate Christmas.
Don't worry, I won't be imposing too much of a ​'bah humbug' viewpoint as I hope that maybe I can present some fun ideas, no matter what your opinion of this time of year and impart some practicality, some stoic prudence, or maybe a guilt free shopping spree.
If you choose London for your holiday season shopping, then one great way to reduce the stress of hunting around for a splendid gift, or colour specific bauble, is to not worry about congestion charge, parking and traffic. Just leave your car behind and travel by bus as this is a rather enjoyable getting around London on a red double-decker at this time of year. It is particularly fun as darkness draws in so early now, and the beauty of the decorative street lights come in to their own.
There is so much to see from the top deck as my bus works its way through the rather busy roads of central London, and when I'm not in a rush it offers a great place to enjoy a birds eye view of beautifully designed shop windows, overhead Christmas lights and a splendidly secret look at people scurrying around, oblivious to my scrutiny. It's a super way to people-watch while getting to your destination.
For my shopping experience I decided to visit some well-known stores that offer anything and everything we could desire this Christmas – from decorations to food, as well as gifts to admire and ideas to savour.
No matter what your religious stance or belief on the Christmas nativity, most of us cannot help but like a festive tree, some scrummy food and whether we admit it or not, it is rather special to give and receive a well-chosen and thoughtful present.
Whether you are on a tight budget or extravagance is your thing, then you will enjoy this sneak preview of destination stores, where you can browse around for your Christmas purchases or just appreciate the elegance of it all.
My first port of call had to be Oxford Street and that icon of British stores, Selfridges. I had read about the ridiculously early opening this year of its famous Christmas department – can you believe they started selling Christmas decorations and gifts in August! Well, it had to be worth a visit; my expectations were high.
Sadly, I was rather disappointed. It was not much more than a toy department with some baubles and trees on display. Yes it was a large area with a huge choice of gifts and other décor items, so even I had to concede that this is a practical place to select a toy for a child, or fun gift for an adult. But, honestly, it did not inspire me.
I remember the days when the Christmas department of Selfridges was truly a delight for the eyes, a stunning winter wonderland of décor. Not anymore. So, in a slightly despondent mood, I walked down to Piccadilly to the famous Fortnum and Mason store. I must admit I was not expecting to find a dedicated Christmas décor hall, but I was hoping to find some rather exciting food choices and maybe a rather unusual gift.
The store was beautiful, spacious and had a welcoming openness with wide stairs and giant decorations. Once in this wonderous emporium I ventured up to the main Christmas room, where I was greeted with a large selection of decorations and an amazing advent calendars, intriguing boxes of crackers and rather old-world ornaments.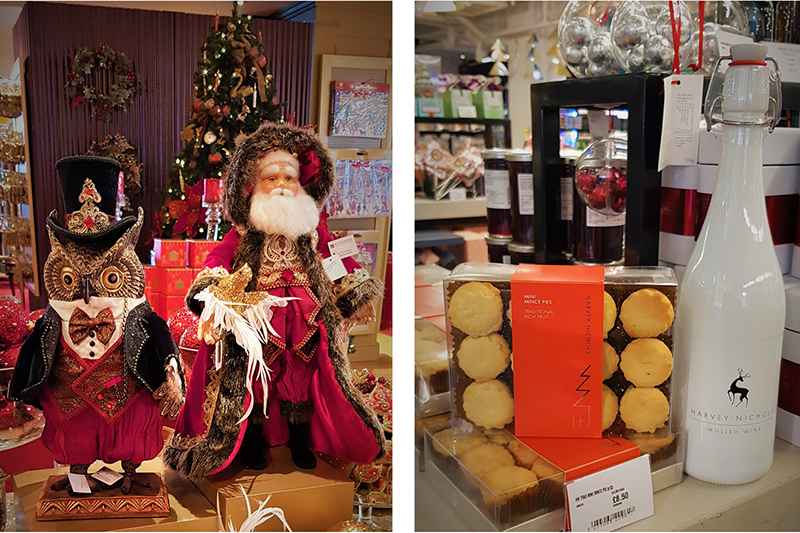 It seems that the trend this year in décor is to use giant baubles in all displays and the ​'framing' of rooms and spaces with garlands of baubles and winter greenery is especially popular. Moving from floor to floor uncovered fun surprises, from a funky teapot and crockery to beautifully crafted sweets.
I have to say that it always feels appropriate to give a gift of food at Christmas and I feel confident that most of my family and friends will be happy with my choice for them, so an unusual present from Fortnum's covers a lot of bases for me. Even if it is a tiny box of hand-crafted biscuits or beautifully boxed tea, or if feeling rather extravagant, I can even buy a teapot for brewing those special leaves.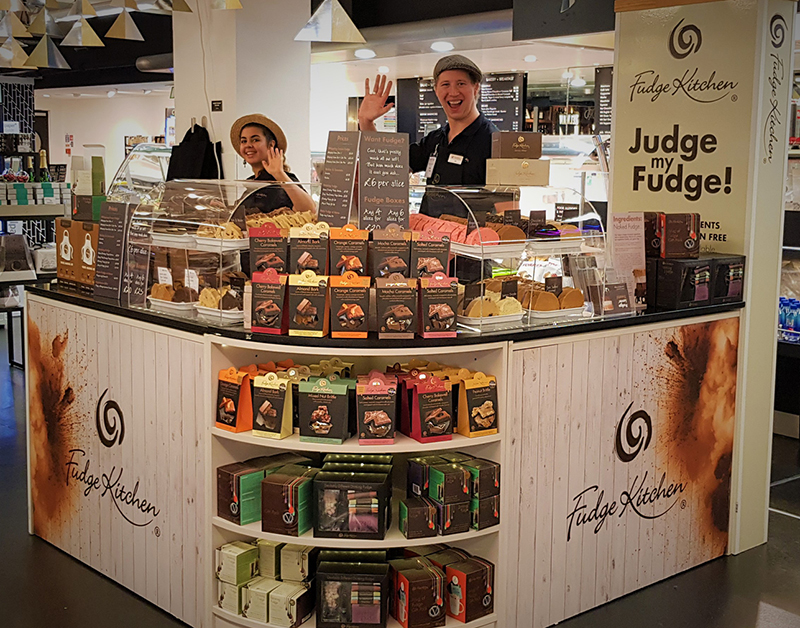 But the best for me was the lower ground floor, full of cheeses, alcohol and splendid foods and drinks, all perfect for adding some special treats to my entertaining list.
I am always up for a bit of competition and I do like to price compare, so after the wonderful ideas at Forntum & Masons, I sped further along the road to Harvey Nichols. I popped up to the 5th Floor, not just for a spot of lunch or sparking pick-me-up, but for the delights from the famous food hall. I was greeted with a very Christmassy feel, so although there is not a dedicated Christmas department here, there are fabulous ideas for gifts, from colourfully wrapped boxes of chocolates to the latest pop-up Fudge Kitchen, in situ for seven weeks. The Harvey Nichols Festive Fudge has been made exclusively for ​'Christmas on the 5th Floor' by the Fudge Kitchen.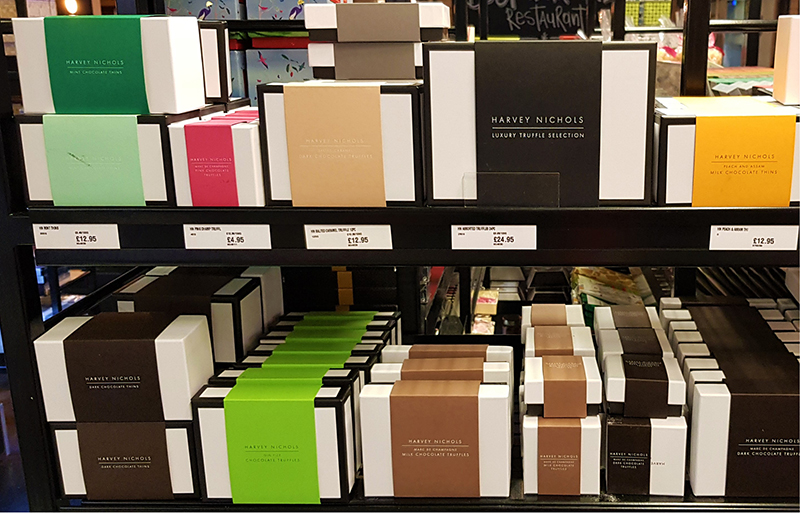 There is something for everyone who has a sweet tooth – from gift boxes of scrumptious flavours, to slices of fudge for taking away. You can even watch fudge being made! Perhaps go one step further, why not buy your own fudge making kit. Such a great treat for kids and even us grown-ups wanting to impress! Simple but exceedingly enjoyable and inexpensive. Probably the most indulgent thing to be found at this pop up of sweet delights is the shamelessly decadent fudge drink! Oh dear, I can even feel the calories piling on (but it's Christmas, so who's counting?).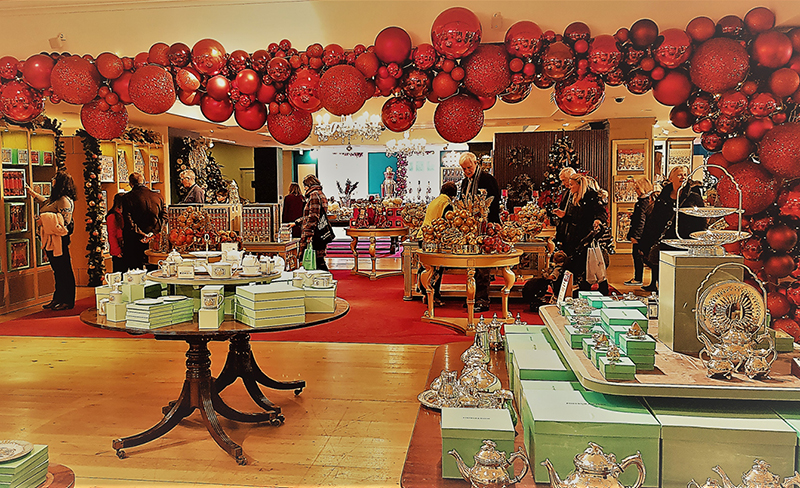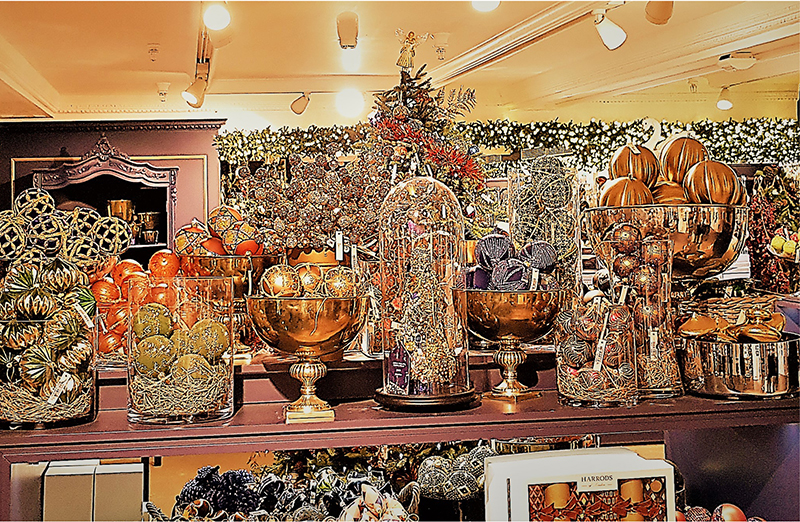 One more store left to visit. I did not have high hopes for my trip to Harrods as I tend to get lost in this goliath of department stores and therefore rather irritated. Nevertheless I took a deep breath and ventured in, immediately asking someone for clear directions to the Christmas Hall. Amazingly I found it straight away. I was greeted with a rather opulent room, full of colour and style. Not cheap at all – but decadent and inspiring with abundant displays. Baubles are definitely on-trend this year, and gosh what an incredible selection, but I also found inspiring room displays, such as this fireplace, set up as a real living room. And this gallery wall design, what an unusual way to show your Christmas decorations! How tidy. How stunning. And don't you just love the reindeer? But again, I have to be impressed by the …..yes, you guessed it…..baubles! I think overall, I was rather smug that I succeeded in finding some super ideas, and if I was on a very tight budget, I could still select a little something very special. The choices were abundant.
I hope you feel a little inspired to have a Christmas you can remember in 2018, no matter your religion, budget, style or even if you have family with you or just one or two precious friends. Make time to buy a special purchase for yourself, your home, or someone who deserves a little thought.
Have a very Merry Christmas and see you next year.
Tiby Tristram
www​.tibytris​tram​.com
social media @tibytristram