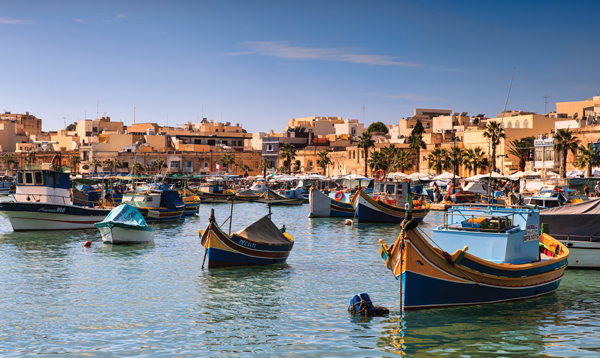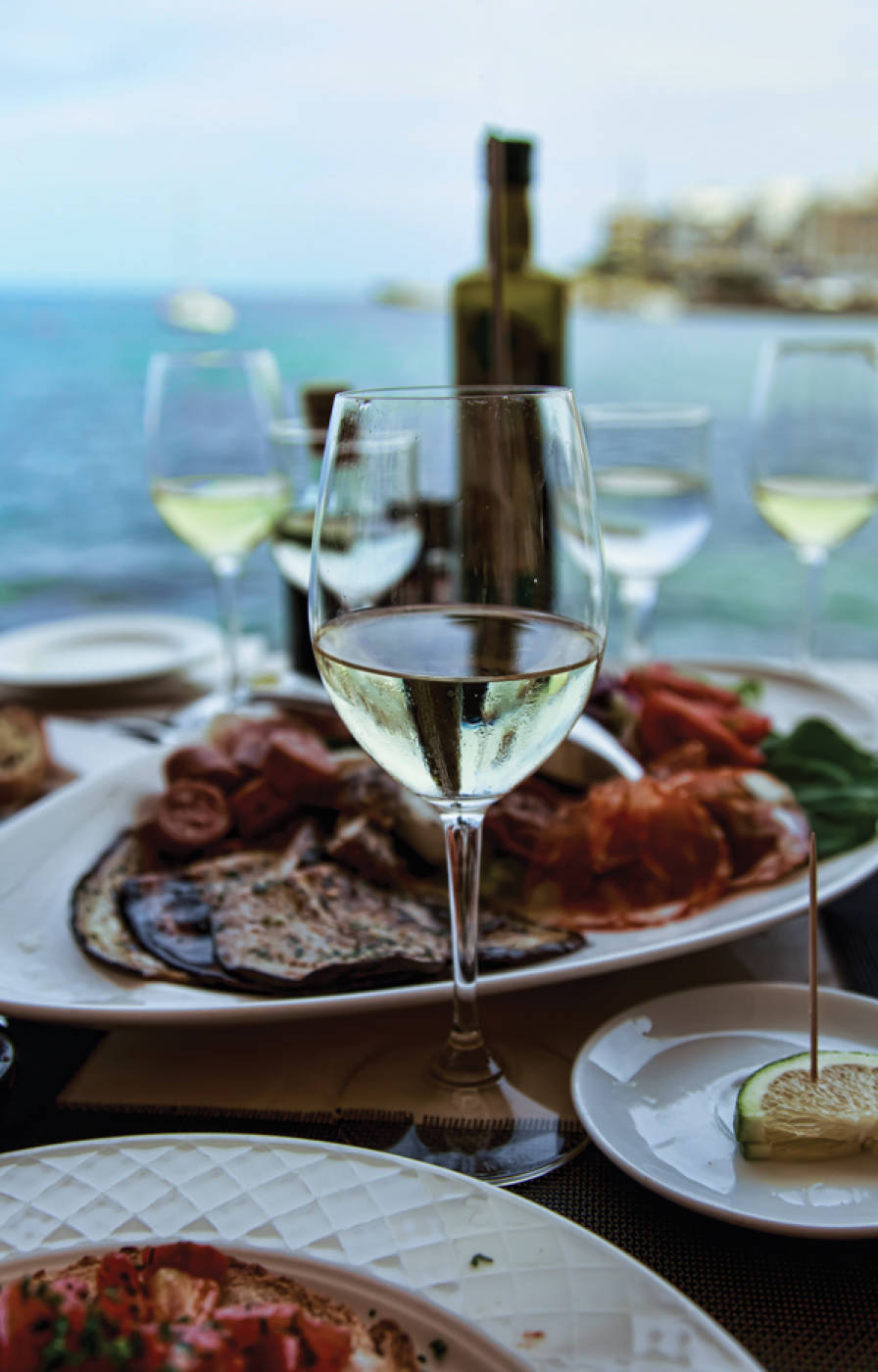 Maltese Cuisine – eat your heart out
At the ethnic crosshairs between Libya and Sicily, with influences from North Africa and the Middle East, is the Maltese Islands of Malta, Comino and Gozo – visually rich islands that smell of crusty bread, salt and tomatoes; a culture whose heritage is ploughed into its very soil.
The farmer's wife
In Malta's northern regions is Dingli, a small remote village whose 3,000 inhabitants live off their home-grown produce and make a living selling their harvest at local markets. The village itself sits on a plateau overlooking the majestic Dingli Cliffs, with the terraced fields and the bright blue cobalt blue sea beyond.
Amongst the gnarled olive trees and low-hanging carob branches of Dingli is a family run farm set in an idyllic valley, producing some of the Mediterranean's finest foods. Diar il-Bniet is an agri-farm concept comprising of three major components: a farm based in Dingli, fresh produce and the Diar il-Bniet restaurant. Their humble beginnings are at the heart of their philosophy; loyal to their origins and inspired by the teachings of their elders – which goes a long way to making their cuisine nothing short of a family legacy.
Brimming with farmhouse character, the small restaurant has just nine tables and is best described as a well-stocked kitchen pantry, every work surface, shelf and window sill packed with home-made produce. Making your way towards the open kitchen you'll pass Kiwi jams, bottled olives and capers, wicker baskets of luscious oranges and plump lemons, pumpkins, ornate olive wood carvings, fat bunches of garlic hang from corner hooks, wire baskets of pomegranates, fresh mint propped up in a lemonade glass, photos of purveyors of food encased in distressed frames, fig compote, sun dried tomatoes, pickles, a selection seasonal cakes and Maltese bakes. Even the cheese is from the few well cared for sheep that graze on the farm. Dining at Diar il-Bniet is a pioneering opportunity to taste traditional Maltese cuisine at source. This rural authenticity is reflected in every aspect of the eatery; the interior design, the product packaging, the staff uniforms, even the traditional menu, all which is further fortified by the substantial portions served.
"At the core of Diar il-Bniet is the passion for the food we produce," says Dorianne Mifsud-Kurtcu. ​"Just 200m away is our +600 acre estate, covered in dark, rich soil that we religiously til, producing the freshest of fruit and vegetables. We use traditional methods which have been passed down through the Mifsud family for many generations. Prepared, preserved, pickled or dried, or like our honey and olive oil, just packaged in their purest form."
The family were bequeathed a 12th century organic olive grove, the produce of which is bottled on the estate and sold in the shop. Their vineyard produces Girgentina and Gellewza (grape varietals indigenous to Malta) which go on to produce their smooth house wines, for which they often hold tasting events.
"The fruits from our groves are used as the main ingredient for many of our dishes," Dorianne continues. ​"We also soak them in delicious syrup and sell them in our farm shop. You'll find them amongst our large array of jams and floral honey which come from the hives that hang at Dingli's cliffs. www​.diar​ilb​ni​et​.com
The cheese man
On Gozo, an island steeped in myth and legend, life moves at a slower pace, the island's rhythm is dictated by the seasons. Here I learnt about a local cheese – Gbejniet, made daily by small-scale farmers like Rikardu, who's farm in Marsalforn has 200 sheep and goats which he milks by hand daily. ​"Then I make the fresh cheese with the unpasteurised milk while she is still warm," he announced.
Goats and sheep do well in warm and semi-arid climates and as a result, their cheese is another staple of traditional Maltese food. Rikardu gives a cheese-making demonstration and speaks about adding rennet which speeds up the curdling process. He makes his cheese by combining sheep and goats' milk and admits there to be an abundance of sheep milk in his cheese as he has more of them as their milk yield is higher.
"The cheese she is left to set for 20 minutes, then I pour her into individual moulds," which he ably demonstrates. Watching Rikardu create his Mozzarella-type cheese with such care is a joy. ​"Then I leave her to drain before turning. In a few hours we eat." Gbejniet is served with olive oil, flavoured with crushed peppercorns and salt and is best eaten with hobz – a crispy sourdough Gozitan bread.
Other than fresh cheese Rikardu also serves his cheese dried which is prepared in the traditional air-drying manner by utilising the north wind. The result is a tangy, slightly firm, yet nutty creamy cheese. He preserves his dried cheese in wine or olive oil and black pepper.
Like everywhere it is difficult for small farmers to survive, but Rikardu has diversified and found a way through his small vineyard and Ta' Rikardu – his restaurant in nearby Victoria where his speciality of homemade Maltese ravjul, filled with Gbejniet and egg is well received by the locals. Rikardu encourages the restuarant guests to visit his farm and partake in a milking the long-haired Maltese goats and a cheese-making session. Find Ta' Rikardu on Facebook.
The oil man
Set within a small terraced valley in Xaghra is Ta' Mena, a family-run estate with olive, lemon and orange groves as well as a vineyard. One side of the business sells the farm's produce to local restaurants and shops; the other is agri-tourism, which provides insight into to what goes on in the world of farming, showcasing their proud arable farming traditions, learning about crops, trees and time-honoured food production.
Margaret Spiteri happily breaks off from work behind the farm shop counter to chat with me. She thrusts a generous taster of dangerously drinkable Almond liqueur at me. ​"Visit is September and October and you can be part of the grape and olive harvest," she said. Margaret is front of house, running the shop; Joe, her husband, is in charge of tours and tastings. She spoke at length about their cooking classes, guided tours around the estate's vineyards and olive grove, which are followed by wine, olive oil and food tastings. They produce some of Malta's best wines – ten have been certified with ​'Gozo DOK' accreditation.
According to Joe Spiteri, Gozo's olives oil is amongst the best in the world. ​"This has been proven through official blind tastings held by olive oils ​'grandmasters'." Joe then elaborately demonstrates his olive oil tasting ritual by taking a glass and fiercely rubbing it warm, he then adds a glug of his own olive oil before warming the glass some more – then he downs it.
"This is so pure," he announces proudly. ​"So pure I can do this with it." He then proceeds rubbing it onto his tanned hands. www​.tame​na​-gozo​.com
While the country's rocky and semi-arid terrain is less lush than other Mediterranean enclaves, the abundant sun and long-held farming rituals mean it's bursting with delectable traditional Maltese food. From floral Maltese olive oil to piquant sun-dried tomatoes and wild capers, sun-sweet figs and hobz-biz-zejt (tomato paste) sandwiches, there's plenty of produce to sample, whether you're at farmers' markets or gearing up for a culinary shopping spree.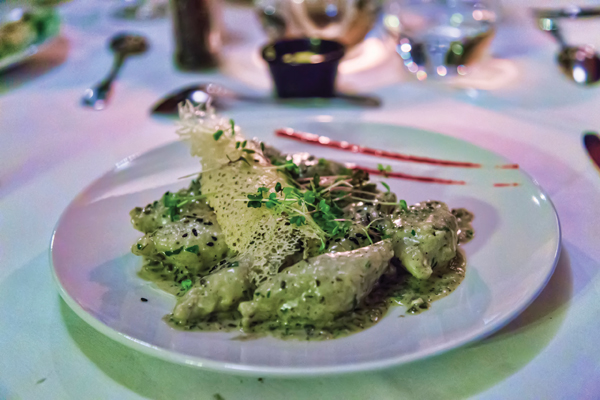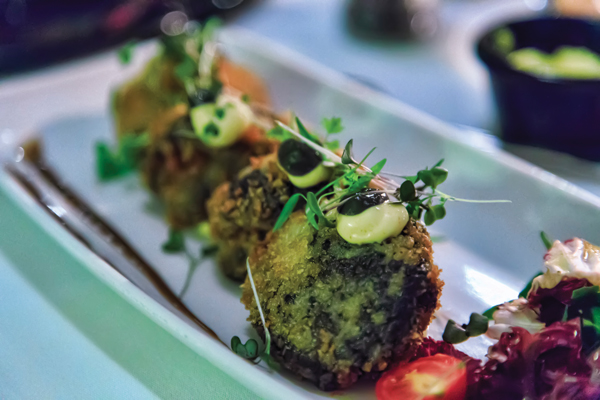 Eat Malta
For a real treat lunch at Kartell on the water's edge overlooking Marsalforn Bay (Gozo). Their antipasto spreads are a generous mélange of Mediterranean flavours.
Dinner at harbour-side Caviar and Bull in St Julian, Malta, is a must. Their truffle and wild mushroom croquettes starter is an assault on the senses.
The rural location of Rogantino's (ten minutes outside Rabat, Malta) makes it an ideal escape for those seeking tranquility. Try their goats cheese ravioli served with parmesan shavings, olive oil and fresh parsley.
Guze Bistro (Valletta) encapsulates culinary perfection in their warm tart of mushrooms and chèuvre with red onion chutney, aragula and aged balsamic.
Enjoy afternoon tea in the opulent gardens of Palazzo Parisio's Café Luna.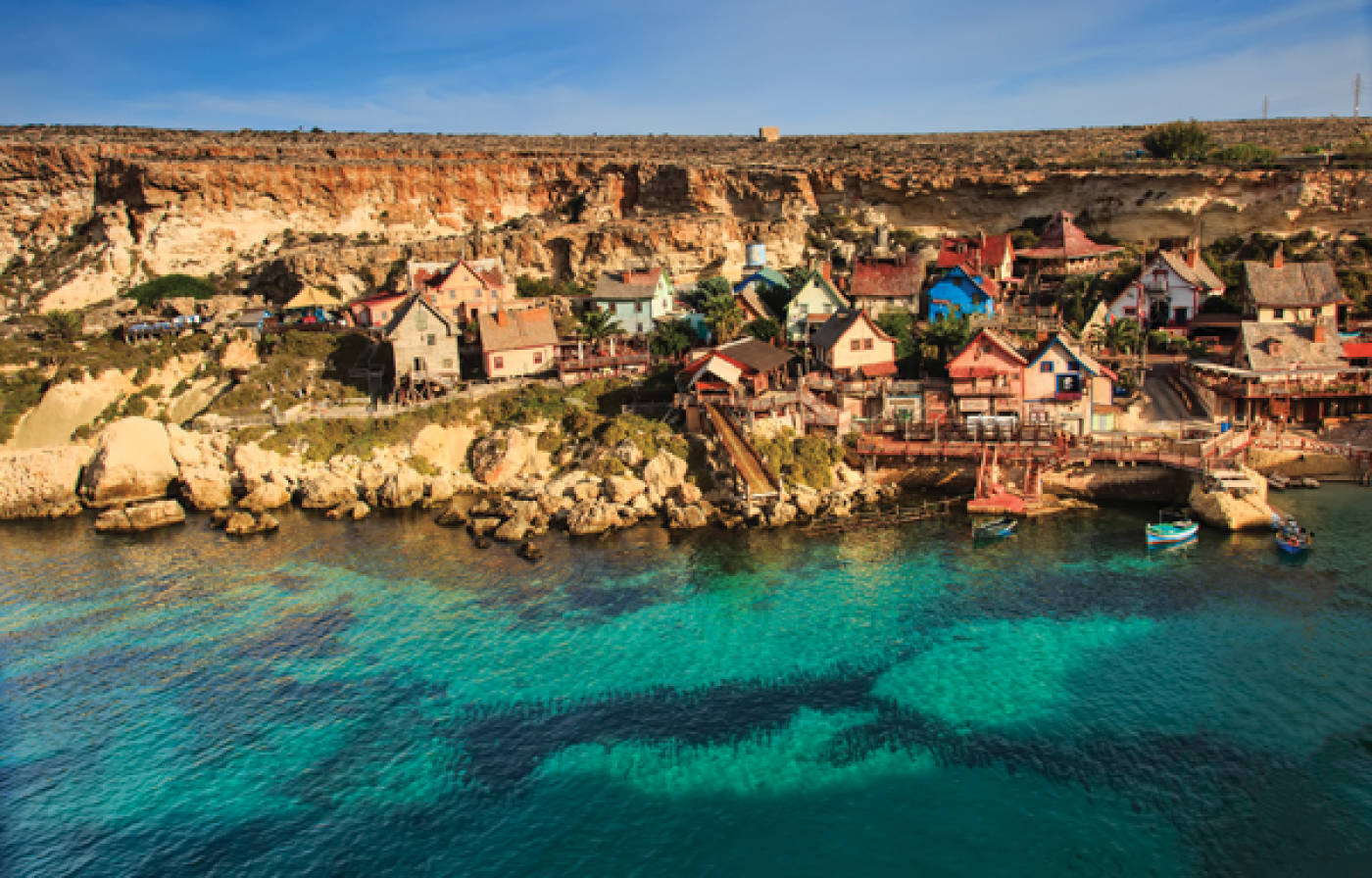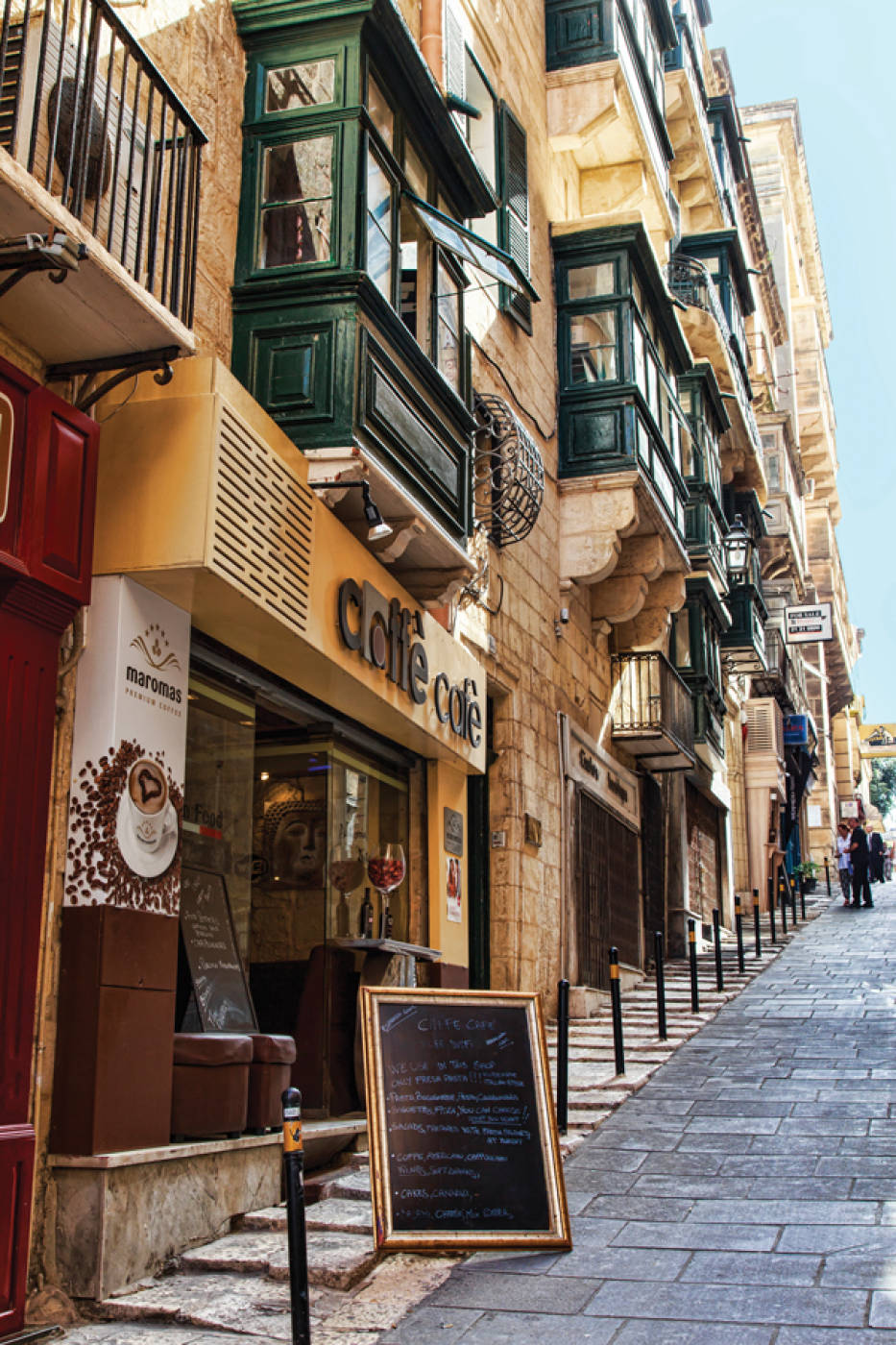 See Malta
Arrive early at the picturesque fishing village of Marsaxlokk with its small and brightly coloured fishing boats that float gracefully in the bay. Every morning there is a bustling fish market.
Seek out a pastizzi stall and sample traditional Maltese savoury pastry filled with either ricotta cheese or peas.
Bring home a couple of jars of wild capers and some kunserva (a concentrated tomato paste) – the cornerstone of Maltese cooking.
Sleep Malta
Fully sated, head back to the 5‑star Corinthia Palace Hotel & Spa and relax in the chic Caprice Cocktail Lounge . Since Happy Hour lasts until midnight, there's every excuse to indulge in a nightcap before bed – a perfect end to a Maltese gastro trip. www​.corinthia​.com
Getting there
AirMalta is the national carrier and flies from Heathrow and Gatwick twice a day. They also operate from Birmingham, Manchester, Bristol, Cardiff, Exeter International, Edinburgh, Leeds, Newcastle and Norwich. www​.air​mal​ta​.com
To arrange your trip to Malta see www​.vis​it​mal​ta​.com