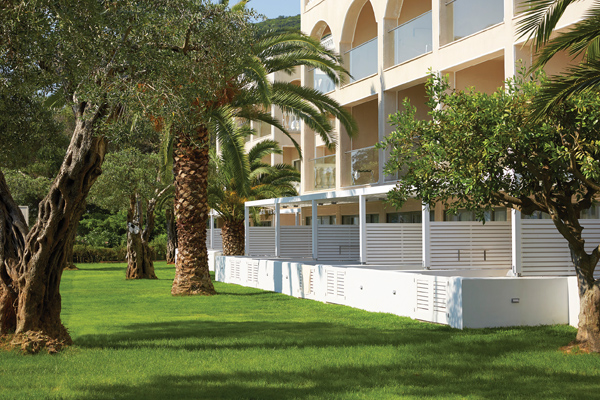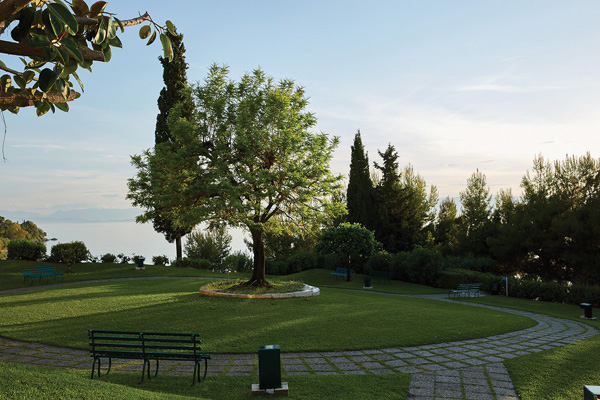 Looking for a sun drenched holiday rich in history, architecturally fascinating with all the famous foodie trappings the Med has to offer? It's not as far away as you think. Corfu is the closest of the Greek islands to Britain and has a vast amount to offer, whether you are looking for a romantic couples escape or an action packed cultural/activity family holiday.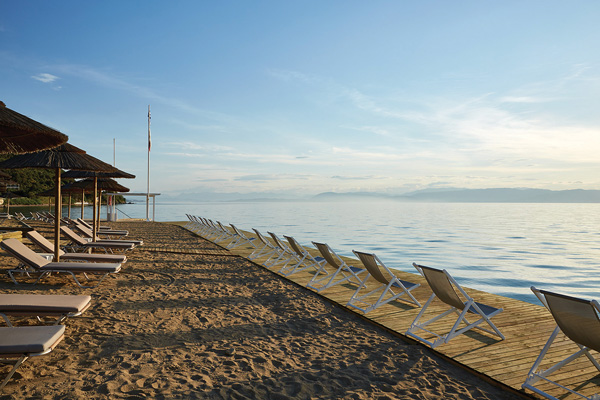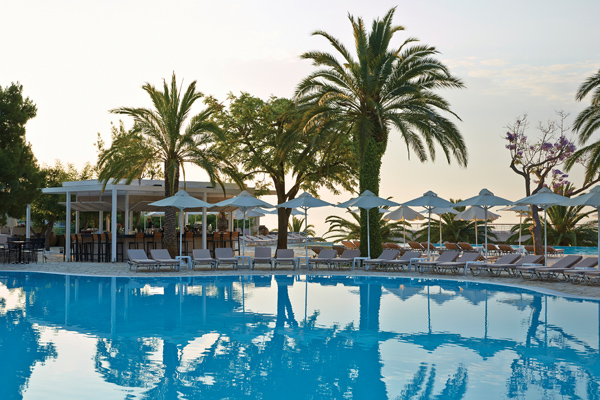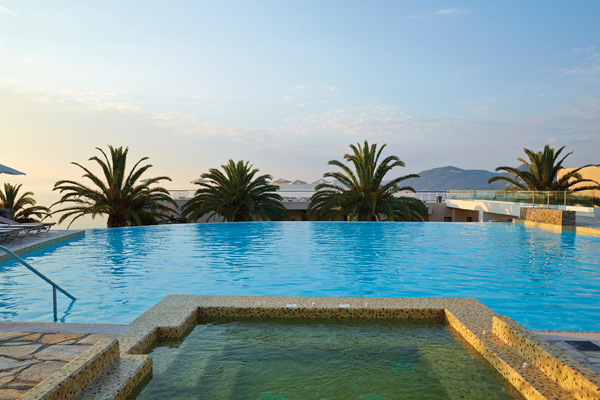 Situated at one of the most beautiful points of the island is the MarBella Corfu (www​.mar​bel​la​.gr) Taking its name from Mare Bella or ​'beautiful sea', MarBella Corfu's name reflects the beauty of its spectacular setting close to Agios Ioannis Peristeron, which offers stunning views of the crystal clear Ionian Sea. This has been a big year for the family run hotel, in addition to celebrating 40 years as one of the leading hotels on the island; it reopened its doors this summer after an incredible transformation. The entire hotel's accommodation offering of 384 rooms has been overhauled and re-designed. With a neutral palette throughout, the rooms are spacious and elegantly furnished, designed to make the most of the spectacular panoramas on offer. Floor to ceiling windows allow uninterrupted viewing of the beautiful turquoise waters and surrounding islands.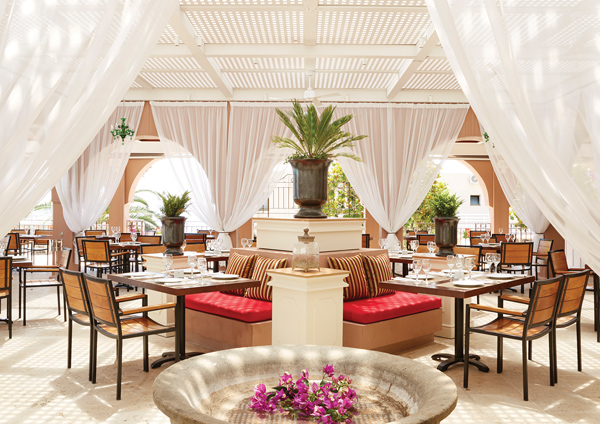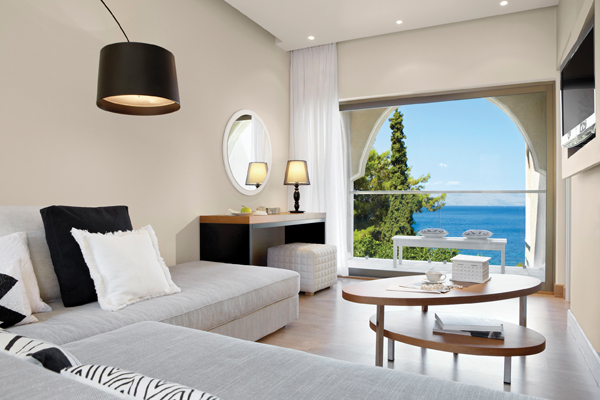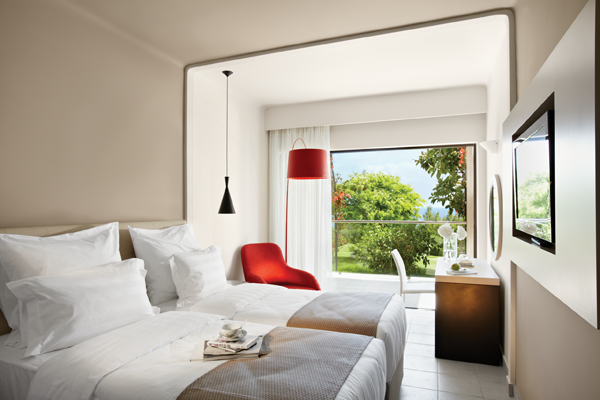 MarBella Corfu has created the ideal environment for the perfect family holiday by focusing on their intrinsic needs. The variety of accommodation, including luxurious two-bed family suites and interconnecting rooms, offers all the space and comforts any family group could require whilst away from home. The outdoor spaces and facilities are also carefully thought through, with many of the rooms enjoying direct access to the gardens, creating a safe family environment for little ones to enjoy. If you need a break or simply an afternoon to enjoy the spa, the brand new, purpose built Crèche & Kids Club, managed by Worldwide Kids, the leader in hotel childcare management globally, offers fun and games in a safe, structured and professional environment. Unusually, they also look after children from the tender age of 4 months.
Incredibly flavoursome Greek delicacies are available in abundance on the island. MarBella Corfu has several restaurants including a brand new Greek Taverna restaurant, offering a vibrant array of traditional Greek dishes, from delicious pastitsada to tender lamb kleftiko, in a charming atmosphere. This tempting, authentic cuisine is a great way to try the local food! With a beautiful array of restaurants to choose from in the Old Town, any foodie will be more than satisfied with the local offering.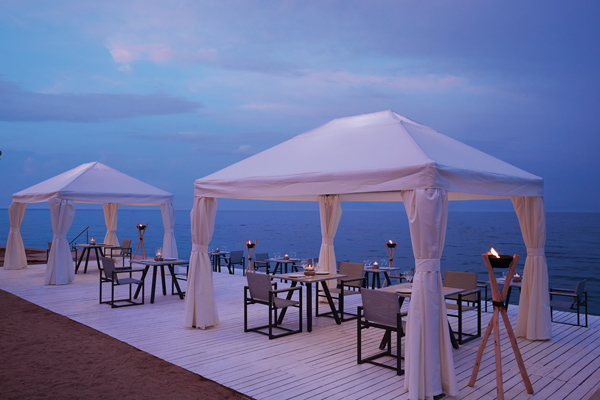 Exploring the island is an absolute must and the hotel also offers a range of excursions, which are a great way to see the island and start appreciating the rich cultural heritage on which the island is founded. There is still a strong Venetian influence obvious in the buildings and lay out of the compact ​'Campiello' or Old Town, which is a recognised World Heritage Centre. Although many cultures have left their mark on the island, the most influential in many ways were the Venetians, whose graceful architecture is still present and worth a closer examination even today. Pass through the winding streets filled with local vendors offering liqueurs, jewels and every Olive based product you can imagine. Stop by and visit Saint Spyridon Church, where the saint's shoes are replaced yearly in-line with local legend! Another must see attraction is ​'The Old Fortress or Castle', the most well-known of the castles on Corfu, it has become a central tourist attraction and every year hosts international and local artists as well as housing a part of the Ionian Academy. If culture is high on your holiday wish list, don't miss the Palace of St. Michael and St. George, a veritable hub of art and design which houses Corfu's Municipal Art Gallery and the Museum of Asiatic Art, which exhibits thousands of pieces dating from the Neolithic Age to the 19th century.
For those who tire of culture and long for a good old adventure, set sail and jump on one of the many ferries leaving from The Old Town. There are several nearby islands to explore including Pondikonísi or Mouse Island, which is a beautiful wooded island, home to a tiny Byzantine chapel. Classical Greek mythology runs deep in these parts and locals believe this island to be the ancient ship of Greek hero Odysseus.
Vidos is another island which is well worth a visit, due to its colourful history of a more recent nature. Vidos has been used over the centuries as a quarantine island, prison and escape island for fugitives. There are said to be under sea tunnels between the two islands which may exist even to this day. Thankfully the island is now uninhabited apart from the local wildlife which includes tame rabbits and pheasants. Now less Alcatraz and more picnics on the beaches, you can enjoy the view back to Corfu with some live music and a drink in hand at Menios's Outdoor Taverna.
Although summer is an ideal time to visit due to the guaranteed sunshine, those in the know tend to head to this beautiful island in September/October. Not only can you grab a bargain as prices will have dropped after the school holiday rush, but the weather is still glorious and the island itself is a lot less crowded than in peak season. This means you can take in the art, museums and islands at a more leisurely pace and enjoy your pick of the restaurants. When considering your next holiday in the Med, I would advise taking a look at Corfu, it may just surprise you!
Classic Collection Holidays (0800 294 9318; clas​sic​-col​lec​tion​.co​.uk) offers 7 nights at Marbella Corfu Hotel, Corfu from £799/£693 per person in Sept/Oct. Price based on 2 adults sharing on a half board basis and includes return flights from London Gatwick (other UK departure airports available) to Corfu and private transfers.