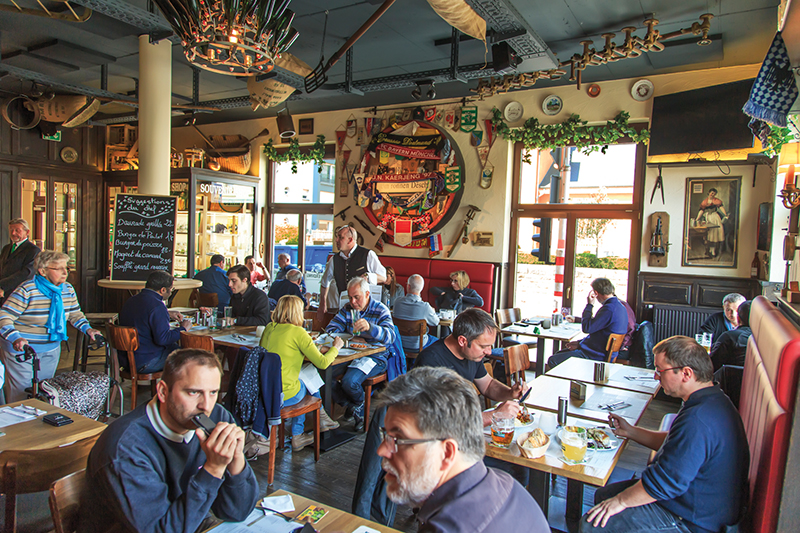 Luxembourg City is primarily known for three things: castles, banks and booze – although its reputation for food is growing. It does, after all, have more Michelin-starred restaurants per capita than anywhere else in the world.
Yet it's not all amuse-bouches and painstaking presentation. Traditional Luxembourg cooking combines vast portion sizes that reflect German heartiness, and a flamboyance which demonstrates a Franco-Belgian finesse. The preparation of local freshwater fish, trout, pike and crayfish is almost universally excellent, as are the pastries and cakes. And for a extra gourmet excitement, delicious desserts are prepared with local liqueurs, with an added dash of Kirsch, Quetsch, or Mirabelle.
Dining with the locals
Bistro Podenco (5 Allée Pierre de Mansfeld) is small, unpretentious and homely in its presentation of delicately smoked Spanish Iberic ham, prawn fritters, squid, anchovies and comes complete with genuine Spanish service, great atmosphere and hocks of ham hanging in the window.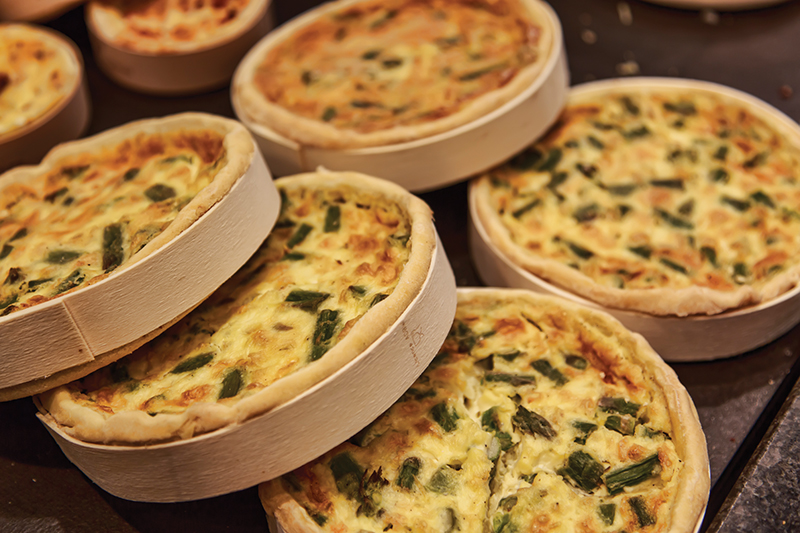 The preparation of local
freshwater fish, trout, pike
and crayfish is almost
universally excellent, as
are the pastries and cakes.
For vegans and vegetarians there's Glow, a health food restaurant-cum-coffee-shop (2 rue Xavier). Their celery-apple soup is something else!
Slow Bread
​"Bread is the first product you notice on a good table," says Jean Kircher of Pains & Tradition – Luxembourg's creator of gourmet ​'slow baked' bread. ​"For me, there is only one kind of bread: good, true and authentic – the bread that's made traditionally and according to the rules of natural fermentation. The crust is crackly, the inside is soft and pleasant to chew, with extraordinary flavours and tastes."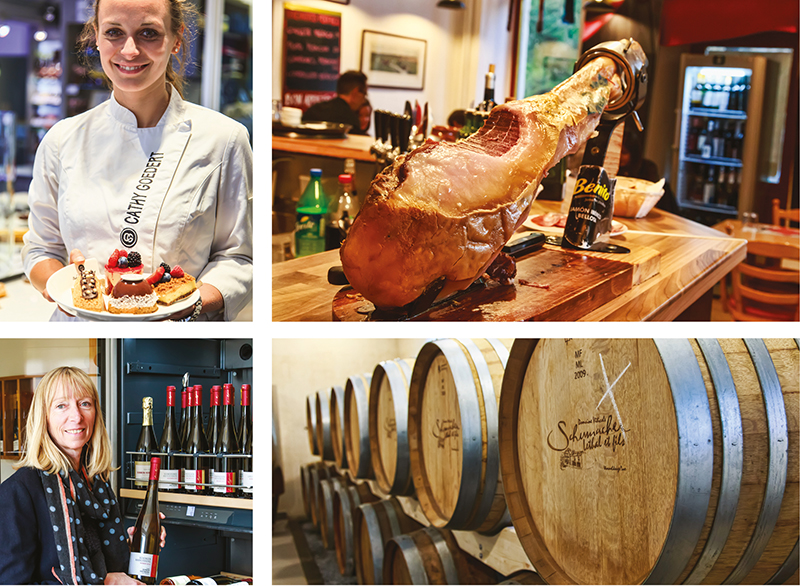 When making bread, Pains & Tradition don't cut corners. ​"The dough must be sufficiently moist which is important because the balance of the bread depends on the link between water and flour. A dough too moist gives you a rubbery crust. Too dry and it's just wrong in every respect – the starch and gluten is not right." Kircher uses a slow kneading process so to not blanch the crumb of the bread, allowing the flavours to rise. ​"Fermentations is at room temperature, because it is here, at this stage, where the taste is given. Our cycles are slow and natural, we do not stop or postpone the fermentation. Our sour-dough is soft and the yeast content is ten times less than modern bakeries."
Sunday brunch
Most eateries remain shut on Sunday mornings, but Cathy Goedert's contemporary minimalist patisserie-café (8 rue Chimay) makes a statement in American, French and Health Food brunch and breakfast options. But first and foremost, are her patisserie – a gleaming temple to sumptuous cake and pastry art. Cathy's love of pastry was formed when she was a child, when baking cakes with a neighbour. After completing her baccalaureate, she attended a hotel school in Belgium, then attended the Bellouet Conseil gastronomic school in Paris for intensive pastry training. ​"I had exceptional teachers who, every week, would lead me to a new discovery – like ice cream, chocolates, then pastries. My desire has always been to own my own shop." She glances at the queue threading out of the café door. ​"Taste is everything."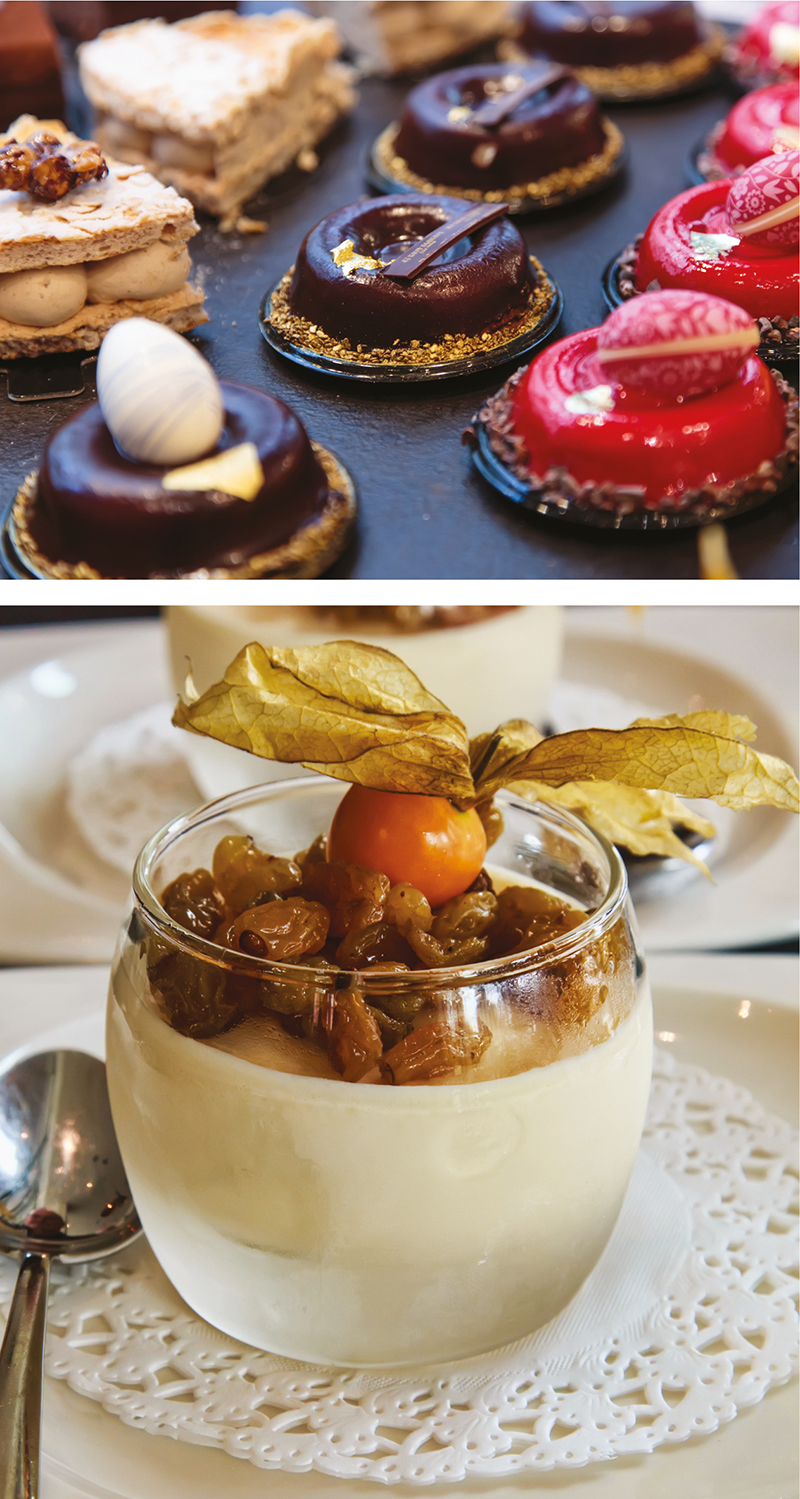 Icing on the cake
Purveyors to the court, Kaempff-Kohler, a family business since 1922, is an upmarket deli-cum-café selling cheese, patisseries and confectionery. Says Guill Kaempff: ​"We have a long history and design mouth-watering pastries. My grandfather created the original Pâté Riesling, which other patisseries across Luxembourg attempt to copy."
Gourmet dining
Half an hour's drive outside of Luxembourg City is a fine dining experience not to be missed. The Pavilion restaurant (9 Rue Dicks, Remich) sits at the foot of the Desom wine cellars, on the tree-lined sunny left bank of the Moselle river. It's a modern destination restaurant for the educated palette with grey interiors emphasized by black slate and a wall of glass with views of the terrace and river boats gliding by. Behind the restaurant is the Desom family's wine cellar.
​"We have 45-acres of family owned vineyard," says winemaker, Marc Desom. ​"The wines benefit greatly from the regions microclimate, as well as the south-east to south-west slopes; the terroirs provide a delicate and a sophisticated freshness to the wines."
The ambition of their French chef is to astonish dinners, which he does with excellent (and often difficult to cook) basic foodstuff – like monkfish served with a sparkling white wine sauce and wild rice, perfectly paired with a pale-yellow Riesling ​'2015 Wormeldange Koeppchen', which has a subtle bouquet and elegant mouth feel.
Other places to visit
Beer: Bofferding is a family business that's been developing beer for ten generations. They do a‑hands on multi-media brewery tour introducing you to the vats in which the master brewer skilfully mixes their pure water, malt, hops and yeast; the froth floatation tanks where the young beer matures for serval weeks; and finally, the factory floor where the filling and labelling of bottles and barrels take place. The tour concludes with a beer tasting in their unique bar, which also do terrific food.
Wine: For a particularly interesting Moselle wine, visit the town of Remerschen, and the cellars of Sunnen-Hoffmann (rue des Prés). Says Corinne Kox-Sunnen who runs the winery with her brother, Yves: ​"The Domaine was founded in 1872, and although the winery has been in our family for five generations, Yves and I have made our personal mark by becoming Luxembourg's first official organic winery in 2001." They have 23-acres of organic vineyards, which produce just 40,000 bottles a year. Book a tasting tour and see what you think of the Riesling Wintrange Hommelsbierg.
Liqueurs: Just 26km outside of Luxembourg City is Diedenacker, a family owned distillery since 1862, run by its now 6th generation, Camile and Mariette Duhr-Merges. ​"We have 40-hectares of fruit trees, just behind our farm house," says Mariette. ​"We produce around 40-tons from 400 trees – cherries, apples, pears, which all go into making fruit brandy, cider and whisky." After a sip of their 45-percent proof Quince Liqueur you'll understand why you've never heard of it as Luxembourg is selfishly keeping this one for themselves. There's a new tasting room above the distillery – booking is essential.
Hotel: The Hotel Parc Belair is a 4‑star city centre hotel with picture windows and a terrace backing onto a tranquil park. The reception area has a gloriously rich Moroccan theme running through it.
For further information and advice visit
www​.vis​itlux​em​bourg​.com
Written and photographed by
Cindy-Lou Dale