AN ALTERNATIVE KIND OF ENTERTAINMENT
The Bavard Bar is billed as ​'A delightful blend of TED, comedy and Radio 4, and that is a pretty accurate description. On the 3rd Wednesday of every month at the Kino-teatr in St Leonards, three people take the stage and speak for 15 minutes each on something they're passionate about.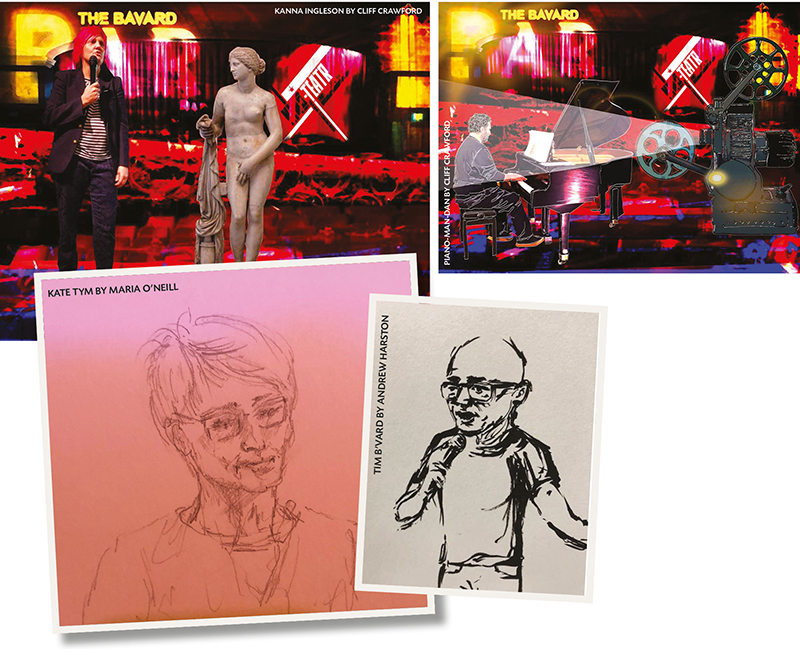 Subjects have ranged from Crop-circles to Frukons, pedal steel guitars and pretty much everything in between. According to Tim B'vard, the genial and funny compere of the Bavard Bar, no subject is too niche.
In amongst the talks, Tim has introduced a number of improv wild-card games that members of the audience can play if they wish. The ​'Oojah Kappivvy' (a Hastings Old Town expression meaning ​'thingummy-bob') is a take on the TV panel show ​'Would I lie to you', whilst the ​'KP Lite' is a mix of aspects of Mock-the-week and Pecha Kucha. And then there's ​'Bohemia Road', which apparently is based on Radio 4's ​'Mornington Crescent', although no-one really knows for sure.
Plus there's Piano-Man-Dan who plays songs before the show starts and in the two intervals themed around the speakers' passions. Aside from Tim, only Dan knows the speakers' subjects in advance, which adds to the mystery and excitement of the monthly show.
And every month local artists draw and sketch the speakers as they talk. The work of these Bav-artists is displayed on the night for all to see, and also posted on the Bavard Bar website, along with films of all the talks. Bav-artists who regularly feature include Andrew Harston, Maria O'Neill and Cliff Crawford.
Attracting interest from across the country, people have travelled far and wide to share their passions with the audience of ​'Bavarians', as Tim affectionately calls them. In July, Dr Ljiljana Fruk, a lecturer in bio-chemistry at Cambridge University, shared her love of ​'Frukons' with a fascinated audience, whilst in June, Japanese actress Sachi Kimura told how she reads peoples' bottoms, and what they reveal about our past and future.
To find out more, visit www​.bavard​bar​.co​.uk and come along to a show. In the words of Tim B'vard, ​'you just never know…'