The new cinema experience
"Ergonomically designed to recreate the highest qualityfilm-going experiences of the glory days of movie theatres."
For many lovers of film, the phrase ​'catching a movie' has become a depressing truism – as utilitarian, uninspired and flavourless as catching a train.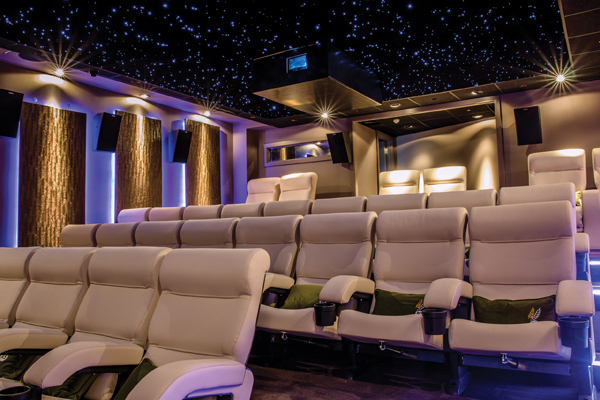 The cinema experience has been reduced to a choice between the factory presentations of cheek-by-jowl multiplex screens or the art-house independents worthily struggling to maintain the ghost of cinematic grandeur on peppercorn budgets and Scotch Bonnet dedication.
But one unique enterprise in East Sussex is seeking to revive the total experience of movie-going in a bespoke environment. The new cinema at The Sussex Exchange (SE) restaurant and conference venue, in Hastings, has been ergonomically designed to recreate the highest quality film-going experiences of the glory days of movie theatres.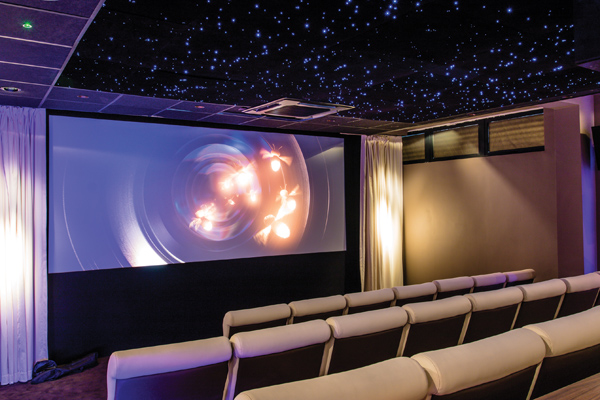 Cinema at The Sussex Exchange is no B‑movie project with C‑list aspirations and a black-and-white budget. It features just 30 seats and while more might have been installed the SE resisted that temptation to ensure that leg room and head height would never be issues. One need have no fear if the seat in front is suddenly occupied by a professional basketball player – the view of the screen will not be impeded. The seats are fully articulated, too, with adjustable leg-rests and plenty of arm rest.
For those who really want a spot of luxury, there are six VIP seats at the back of the theatre, all fully reclining, that provide their own mini-fridges for pre-ordered cocktails, wine or champagne from the cinema's own bar.
The plush, luxurious and air-conditioned environment is more redolent of first-class airline travel than the modern cinema and has been realised specifically to aid the immersive ambience that the cinema experience should offer but so frequently fails to deliver.
A screen designed proportionately for optimum viewing from the auditorium, a top of the range projector accompanied by 7.1 surround-sound brings the movie to life in a way that one rarely experiences in cinemas today and there's a genuine sense of anticipation as the fibre-optic ​'night sky' above the viewer slowly dims and the curtains part as the programme begins.
The experience can be further enhanced by enjoying a meal in the SE's restaurant alongside the main feature – and with a handy 15 per cent discount on dinner when meal and movie are booked together – with the ​'double programme' offer of dinner and film or film followed by dinner.
The technology required for simulcasts and live links-up for such prestigious presentations as National Theatre productions and opera is already in place and the Cinema has already had a hit by showing the latest in the Bourne franchise, Jason Bourne, with more Hollywood blockbusters lined up in the coming weeks.
In a competitive market, The Sussex Exchange has opted to invest in quality over quantity and in experience over event. Thus far, audiences are responding.
And the popcorn's good, too!
Queensway,
St. Leonards-on-sea,
East Sussex TN38 9AG.
Phone: 01424 858461
www​.the​sus​sex​ex​change​.co​.uk