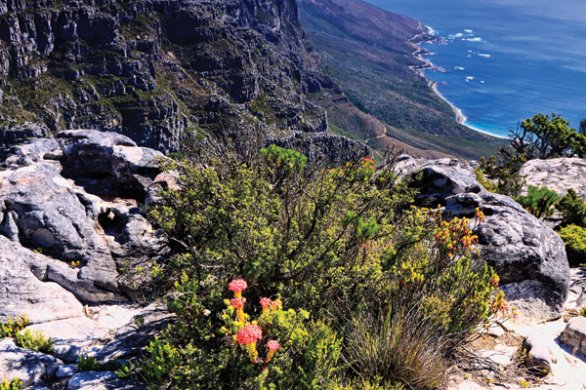 Cape Town is South Africa's holiday city. Few urban centres could match its picturesque setting along the mountainous Cape Peninsula spine, which slips into the Atlantic Ocean. The most striking of its sights is Table Mountain, rearing up from the centre of the city and often draped in a thick white cloud. Standing on the top of Table Mountain, beyond the mountainous rock faces of the Twelve Apostles, the drop to the ocean is sheer with Africa's priciest real estate tacked to the slopes. On the opposite side of the mountain, forested slopes are peppered with historic vineyards; and beyond the oak-lined suburbs is False Bay which curves around towards Cape Point. Turn some more and you're looking down into the city, its docks lined with matchbox ships.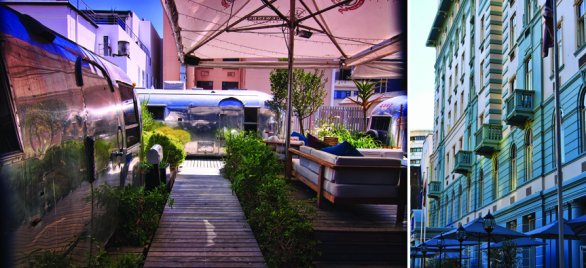 In the centre of the Mother City is Long Street, Cape Town's oldest streets stretching from the harbour's Waterfront to the foot of Table Mountain – 3.8km end to end. It's renowned for its vibrant ambience, irrepressible spirit and easy multicultural groove – this is where Cape Town's rich urban textures are immediately apparent. Along its significant length, you will find restored Victorian buildings with delicate wall murals, each converted into a boutique, a theatre or café. Like New Orleans, most of these historic buildings have Victorian verandas and are embellished with wrought iron lace. The whole street is a living design legend which at Mardi Gras time (Cape Town Carnival in March each year), turns into an all-singing, all-dancing costume parade that includes giant puppets and a cavalcade of Harley Davidson motorcycles.
In just one of its cosmopolitan block's you'll find bohemian fashion and food vendors; a couple of quaint bookshops, a tailor, and a scooter hire shop; an interesting Second Time Around clothing emporium, a vinyl record hole-in-the-wall, a narrow art gallery whose façade is adorned with gargoyles, and equally intriguing a bead shop. It's a colourful and vibrant strip that demands time to explore. Like the Victorian tiled lobby of the Pan African Market found in the art-and-antiques precinct, where you can enjoy a coffee or a Swahili-infused lunch on the oh-so-quaint first-floor terrace of the Timbuktu Café.
There's an assortment of cuisines, all coexisting with an appealing clash of cultures. Long Street Café itself an institution is perfect for sundowners and karaōke. Mama Africa has wonderful jungle inspired décor, complete with a snake-print bar counter (try the ostrich steak or Mozambican peri-peri prawns). For something more exotic, pop into Mesopotamia – a Kurdish kitchen on the corner of Long and Church. Another great favourite is Masala Dosa, a southern Indian restaurant that brings a touch of Bollywood to the strip.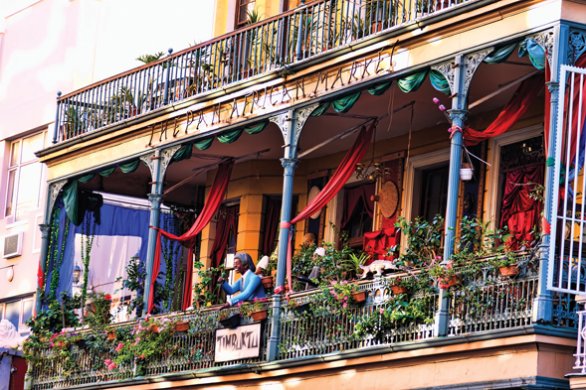 Long Street is Cape Town's party capital. It has wonderful energy and is where the locals come to play. After dark, great bars and nightclubs start happening. For an evening out, The Dubliner with its mellow jazz is the place to start. Zula Sound Bar is a fantastic venue for live music and comedy, as well as the odd poetry reading, whilst the Purple Turtle is for alternative and heavy-metal music.
Fittingly, Long Street, is where you'll find the Grand Daddy Hotel. Originally built in 1895 and then called The Metropole, this gorgeous hotel has had numerous reincarnations, but you'll be sold on the most recent. It has four stars and four walls and that's where the similarity with other hotels ends. This is a creative designer space with 26 bespoke rooms, two grand suites and a ​'penthouse' trailer park, providing luxury with a little fun. There's a creative surprise at every turn – like the upholstered wheelbarrows in the lobby, the vintage elevator (the oldest operating elevator in Cape Town), corset wall art made from maps, and the open-air rooftop cinema.
With Table Mountain as a backdrop, the seven vintage (Florida licence plates) Airstream trailers sitting on Grand Daddy's rooftop is a conversation starter. Each of their Airstream suites have been created by local artists (the Love of Lace trailer for example, is an ultra-feminine lacy pink boudoir) making the Grand Daddy an accommodation destination like no other.
Although they look great, with lots of shade and green space, you'll only want to sleep in a trailer for one night's novelty value as there's no real substitute for the space and comfort offered by their Sugar Daddy suite.
If you are looking for a traditional holiday experience with less culture shock stick to the Waterfront. If you want to visit the Soho of South Africa, this is the place to be. And the hotel you'll want to stay at is definitely the funky Grand Daddy.
Grand Daddy Hotel, 38 Long Street, Cape Town, 8001​grand​dad​dy​.co​.za (special offers available linked to their sister properties)
Cape Town Tourism: tourism​capetown​.co​.za