Since my wife Rose enjoyed the ​'Heidi' books when she was considerably younger and I was a colossal fan of the ​'Adventures of William Tell' series on TV in the late 1950s, we both feel a sort of connection with Switzerland. Ignore a mild aversion to cuckoo clocks and yodelling, but factor in a mutual fondness for Toblerone and you can perhaps begin to see why a trip to this famously neutral state has considerable appeal.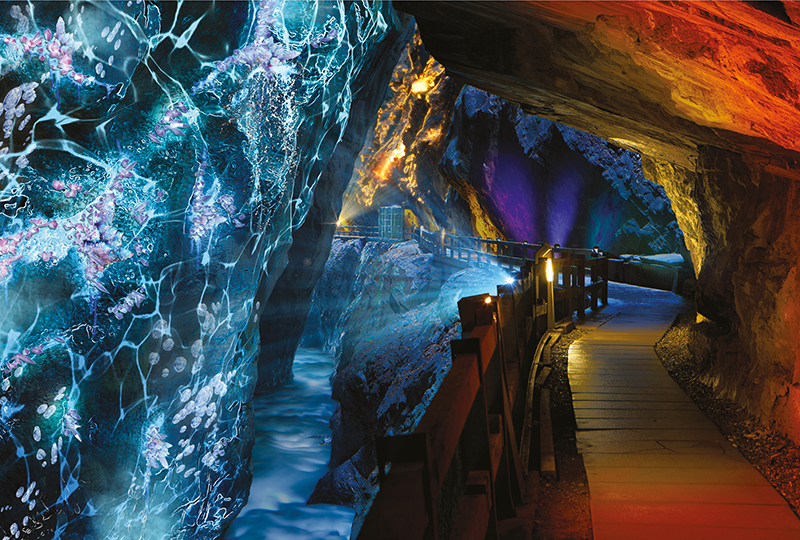 As winter sports are no longer a practical option for a couple with a list of ailments longer than the Cresta Run, a gentle few days somewhere peaceful and with a decent view is all we seek. A cousin of mine, who knows about these things, recommended the Grand Resort Bad Ragaz and so we fly to Zurich, catch a perfectly punctual train from the airport to the main station and connect with a perfectly punctual train to Bad Ragaz. Catching two perfectly punctual trains reinforces that pleasant feeling that we must be abroad on holiday.
Some Swiss trains have an upstairs and the views out of the first-floor window are glorious as we speed south-east along the banks of the Zurichsee, Obersee and Walensee. Providing an impressive backdrop to all three lakes are steep craggy mountains but, sensing my wife's growing weariness of my ​'A'-level geography lecture on ​'Classic Glacial Features', I switch from truncated spurs, ribbon-lakes and U‑shaped valleys to pose the seemingly unanswerable question, why can't British trains run on time?
The pretty little town of Bad Ragaz is 1700 feet above sea level and close to the border with Liechtenstein. Apart from the sparkling autumn air, the first thing we notice as we step off the train are the spectacular jagged peaks of the surrounding Glarus Alps. The highest is just shy of 10,000 feet and there is a very light dusting of snow on the top. The snow line will gradually descend over the course of the next few weeks and the town will probably experience its first snowfall around early November.
Although it's only a few hundred yards from the station, the resort has kindly sent a smart limo to pick us up which enables us to arrive in style. And style is clearly important at this evidently stylish resort.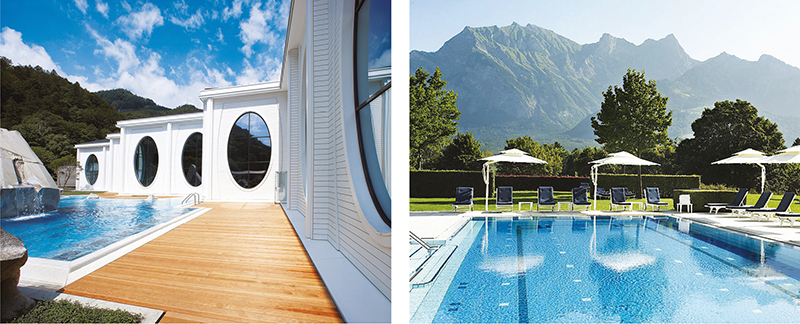 All under the same ownership, there are four hotels in the complex and we're staying in the Grand Hotel Quellenhof and Spa Suites. Our spacious suite on the third floor is hugely impressive with a magnificent marble bathroom that has ​'his' and ​'her' basins on opposite sides and one of the first things I do is irritate Rose by inadvertently using ​'her' basin. ​"Sorry, darling."
There's an enormous bed and a delightful balcony, which we both step out onto to breathe deeply and admire the spectacular glacial scenery. Undoubtedly one of the most comfortable rooms we have ever stayed in, we would have been perfectly happy here had we not been treated to a tour of the hotel and shown the 440 square metre Penthouse Suite. So if you find that a little cramped, there's a 600 square metre Presidential Suite.
Ever the probing journalist, I try to elicit from our guide the names of some of the celebrities, oligarchs and billionaires who have rested their famous heads here, but she remains loyal to the renowned respect the Swiss have for confidentiality. All she is prepared to reveal is that if I wanted to stay here during the World Economic Forum in nearby Davos next January, it's already booked. In the somewhat unlikely event that the publisher of this magazine is invited to attend the annual bash of the world's most powerful and influential people, can't go and asks me to deputise, I would be content to stay in our beautiful room on the third floor and let Donald Trump, Jean-Claude Juncker, Angela Merkel, King Felipe VI, His Majesty King Abdullah II Ibn Al Hussein et all fight over the Penthouse and Presidential suites.
After unpacking, Rose and I wander around town. Not only is it exceptionally pretty but it's also remarkably neat and tidy. Probably inspired by the beauty of it all and affected by the altitude I have a brainwave; why don't we send everybody caught littering in the UK on a seven-day, no-expenses paid course to anywhere in Switzerland to learn an appreciation of civic pride and respect for the environment? Plus it's not only the fact that the streets are completely devoid of beer cans, Coke bottles and crisp packets, but also the fields are well-ordered, the gardens are properly maintained and the houses look immaculate.
Strolling alongside a tumbling stream, we discuss the practicality of moving permanently to Bad Ragaz. Provided there's live Premiership football on TV, I'm up for it. However, looking in the shop windows makes us realise the cost of living could be an obstacle. Another major stumbling block is that neither of us speaks German, let alone Schwyzerdütsch.
Despite my linguistic limitations and ever eager to endear myself to the natives, I mutter ​"Guten tag" to everyone we encounter. But they all respond with something which is entirely unfamiliar to my English ears. Slightly paranoiac, I wonder if it could be along the lines of, ​"Go home you lager-swilling, Englischer litter-lout. We don't want you messing up our neat country." But it's far too short for that and is, in any case, delivered with a credible smile.
Following the stream downhill takes us to the River Rhine, no less. Displaying precisely the sort of instinct of which I've been complaining, I contemplate chucking in something, biodegradable of course, in the hope it might float through Basel, Bonn, Cologne and Amsterdam before crossing the sea and ending up on a beach in East Sussex. Meanwhile, Rose is thrilled to discover that it was in Bad Ragaz that Johanna Spyri was inspired to write the Heidi books.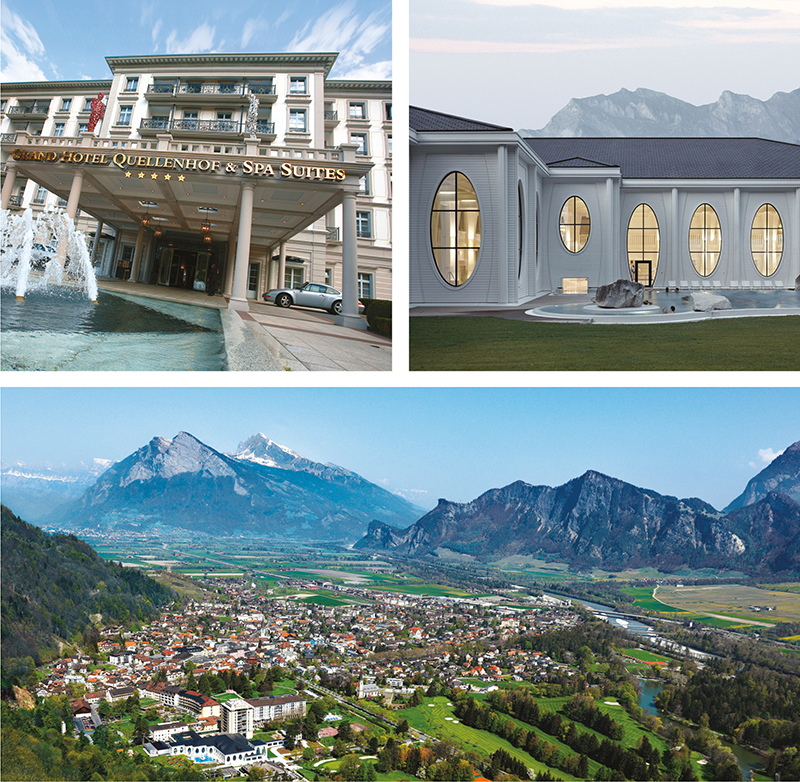 Deciding in which of the resort's six restaurants to eat dinner is the next challenge. One boasts a Michelin star but we opt for Namun, which serves first-class Asian cuisine. Not only do we enjoy the meal enormously but also learn from our charming waiter that the people who responded to our ​"Guten tag" earlier were saying, ​"Grüezi mittenand", a sort of all-purpose plural ​'hello'. Rose and I can hardly wait to test out our rapidly expanding Schwyzerdütsch vocabularly.
Because we slept so well in our amazingly comfortable bed, we miss the ​'Aquafit' group fitness class in the main indoor swimming pool at eight the next morning. Shame. Instead we get stuck into a glorious breakfast but, feeling a tad guilty, concentrate on the impressive range of healthy options. Wellness is the dominant theme throughout the resort, which is literally connected by four kilometres of pipe to a unique water source further up the mountain at Tamina gorge. Discovered by Benedictine monks in 1242 and providing an endless supply of spring water at a constant temperature of 36.5 degrees Celsius, it has significant healing properties and is the foundation upon which the whole place has been built.
When cooled, the water can be drunk and is the drink of choice for discerning guests. You can also swim in it at the magnificent Greco-styled pool that is the centrepiece of the superb thermal spa. There is also a steam room, samarium, solarium and hydro-massage showers as well as a range of saunas to cater for all tastes and varying degrees of modesty. On the subject of degrees, if you've had enough of the heat there's always the ice grotto. On top of all that there are numerous treatment rooms where all manner of massages are on offer.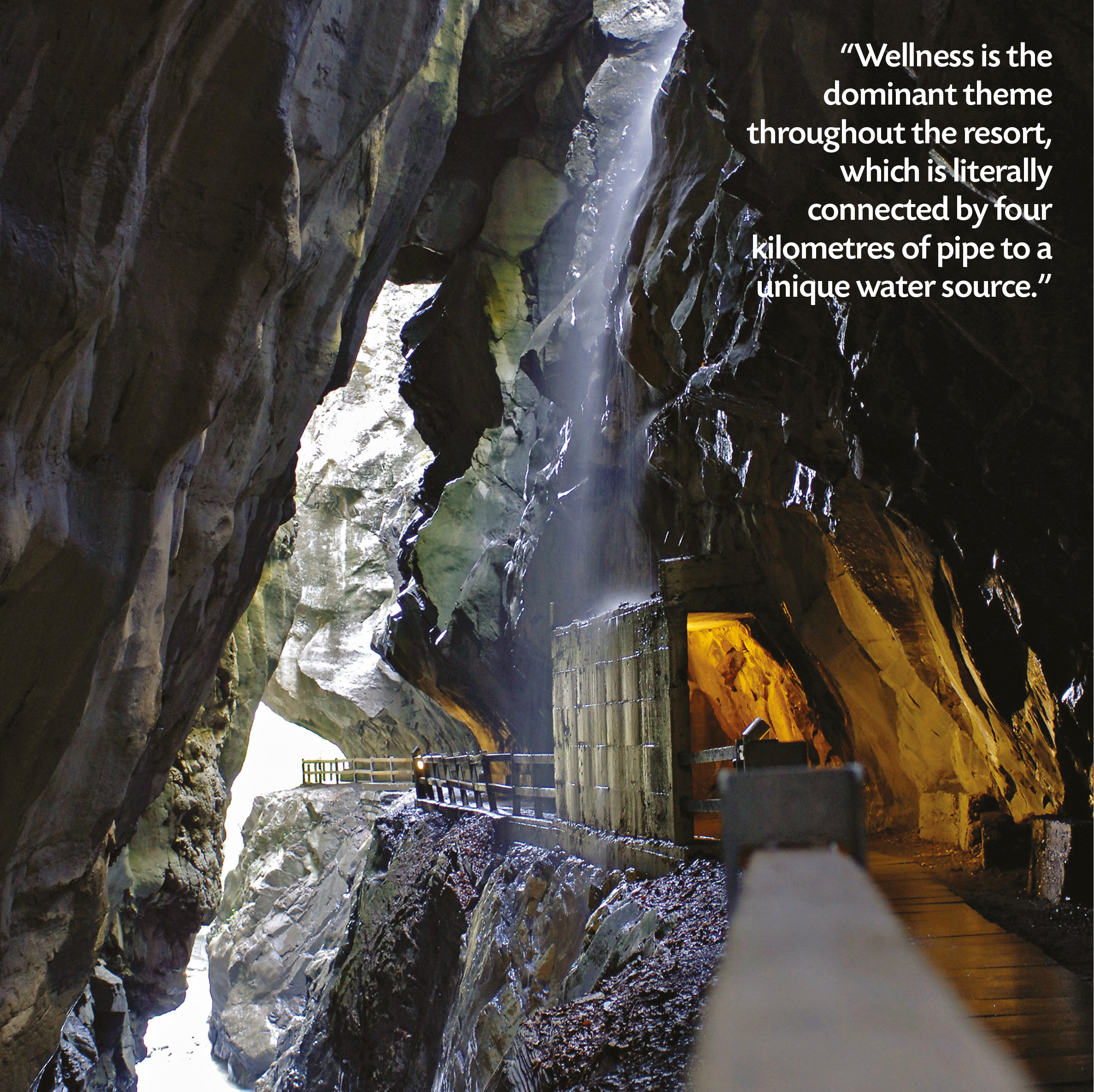 If, as I do you believe in a sensible life balance, there are some smart bars in the resort where you can ​'retox' and a cosy casino where you can try and recover the cost of the holiday. And there's a superb championship golf course which is the regular venue of the Swiss Seniors Open.
A modern medical block offers a comprehensive range of treatments most of which, gynaecology apart, would doubtless do me good but it would take at least a few weeks to sort my body out and, sadly, we're heading home after just a couple of wonderfully restful days.
Surprisingly, our train back to Sussex from the airport isn't late at all … it's cancelled.
Written by Clive Agran.
www​.resor​tragaz​.ch