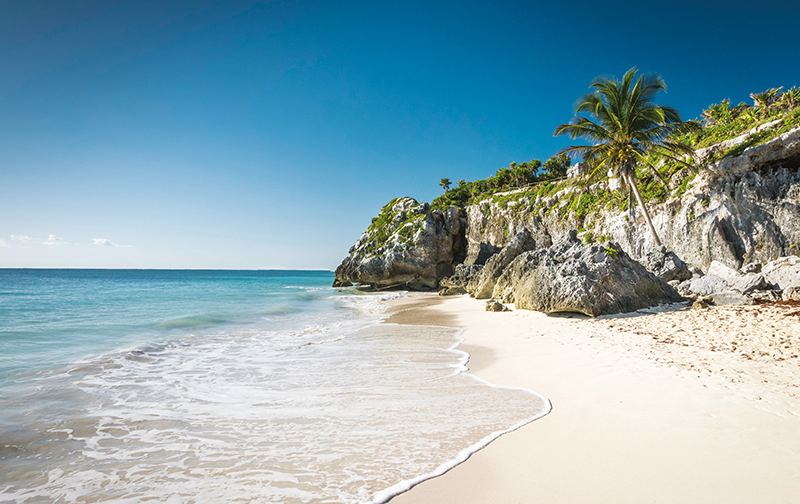 Cancun
Cancun is home to luxurious beach resorts, designer malls and incredible nightlife. The Hotel Zone or Zona Hotelera is a buzzing strip of bars, clubs and live music venues – and the area steps up a whole new energy level from mid-March to early April during ​'spring break', so only choose this time of year if you're ready to party. Between Cancun and Isla Mujeres, off the east coast of the Yucatán Peninsula, there's an underwater paradise of magnificent reefs, coral gardens, freshwater caverns and wrecks. There's even a vast underwater sculpture museum. Whale sharks, dolphins and turtles are just some of the incredible marine life that can be spotted here.
Where to stay: try Secrets the Vine Cancun for an adults-only stay with cutting-edge luxury.
Riviera Maya
Riviera Maya stretches south of Cancun along the coast of the Yucatán Peninsula. It's renowned for its miles of white-sand beaches, dramatic clifftop ruins and ecological parks. Quieter than Cancun, the Mayan Riviera is great if you're looking for peace and relaxation, while soaking up the natural beauty, history and culture of the region. Some of the most popular adventure activities in the region include diving, rappelling into cenotes and zip-lining though the jungle.
Where to stay: choose Zoëtry Paraiso De La Bonita Riviera Maya for a romantic stay at one of the world's best hotels.
Playa del Carmen
Try the laid back, European-influenced town of Playa del Carmen. Sample the local catch-of-the-day at one of the beachfront restaurants, stroll around the cobblestone streets and shop for traditional handicrafts, jewellery and folk art on Fifth Avenue. You can later dance until the sun comes up at one of the lively bars and open-air clubs. The sleepy island of Cozumel is the perfect day trip destination. It is just half an hour away by boat and a great place to enjoy world-class snorkelling and scuba diving.
Where to stay: if you're travelling with kids and love fine dining, take a look at Paradisus Playa del Carmen La Esmeralda.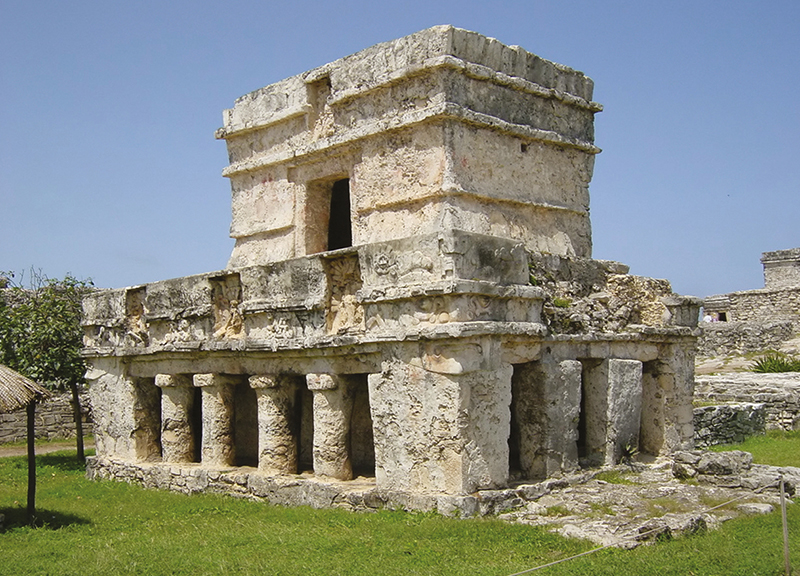 Tulum
The Mayan ruins of the walled city of Tulum date back to 1200 – 1500 AD and are perched dramatically on a limestone cliff, overlooking the beach. Highlights at the ruins include El Castillo, which is believed to have served as a temple and a beacon for boats approaching the shore, and the Temple of the Frescoes which features murals and sculptures depicting Mayan gods. Tulum is a laid-back resort close to Xel-Ha, an ecological park home to beautiful lagoons and cenotes, colourful marine life and ancient ruins. You can float down the lazy river, snorkel or enjoy the thrill of zip-biking through the forest.
Where to stay: Dreams Tulum Resort & Spa is an incredible all-inclusive resort close to the Mayan ruins.
Inspired?
You can visit a local Baldwins Travel branch across Kent & Sussex to create your next Kuoni holiday to Mexico. See www​.bald​win​strav​el​.co​.uk for all the details and look out for next month's issue when you can win a stay in Mexico!.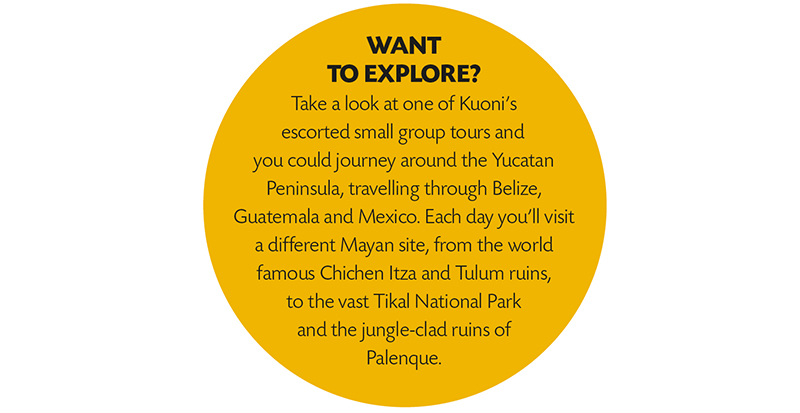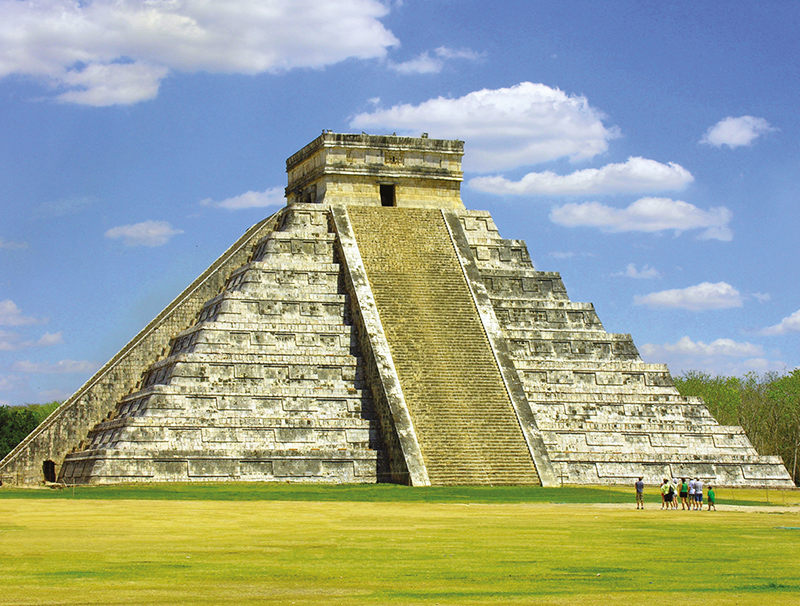 Don't miss…
Chichen Itza
Around two hours inland is Chichen Itza, one of Mexico's most famous archaeological sites. Chichen Itza served as a ceremonial centre between 550 and 800 AD and was mysteriously abandoned for 100 years before being resettled in 900 AD. The remarkably preserved ruins include the iconic El Castillo, the Temple of the Jaguars and the Mayan Observatory; and you can easily visit on a day tour.