It's easy to take for granted just how cars have changed. 30 years ago, they were much less economical, less powerful and slower. Diesel cars were very rare, but not unheard of. Everyday cars still didn't necessarily have power steering; they might have a manual choke; they almost certainly didn't have air conditioning. They might have a radio, but it was probably retrofitted, possibly with a cassette player as well. Generally, cars were smaller and lighter, lacked the impact zones and safety systems that abound today. They were fun to drive, but long journeys on hot summer days could be exhausting, while condensation was a problem through most of the long, wet winter. Controls were distinctly analogue.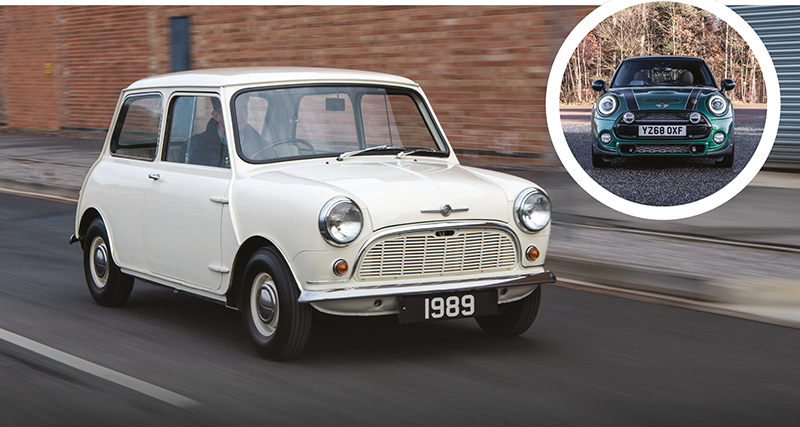 Mini
In 1989 you could still buy a Mini Cooper that looked fairly similar to the 1959 Issigonis original. In 2019 Mini is offering a limited edition run of its 60 Years special edition. The exterior design features a new British Racing Green IV paint, black exterior trim, black roof and anniversary design bonnet stripes. The 3‑door Hatch Cooper S accelerates from zero to 62 mph in just 6.7 seconds.
Between 1959 and 2000 more than 5.3 million classic Minis were built. Since the brand's rebirth in 2001 under BMW ownership, global sales have increased to nearly 400,000 in 110 countries. The first Mini Electric is due to arrive next year.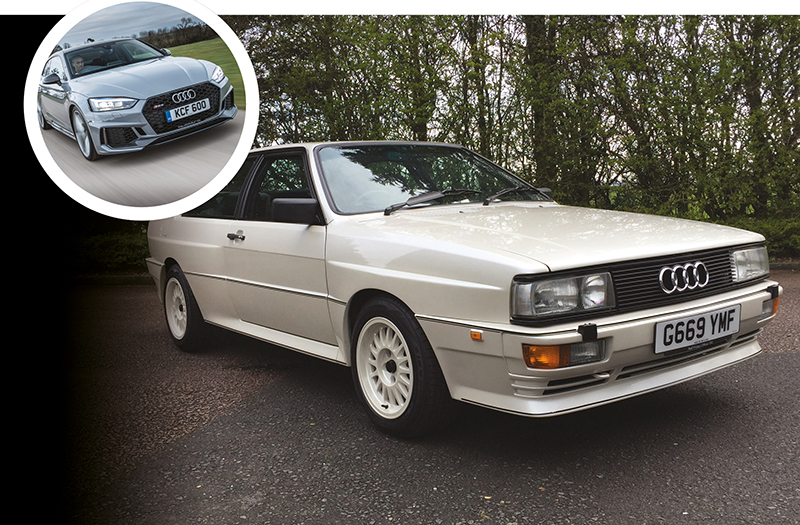 Audi Quattro
Thirty years ago Audi was a relatively unknown brand in the UK, with a limited model range. It introduced the 20-valve version of the iconic Audi Quattro in 1989, the final, most powerful and most refined of the standard wheelbase models first unveiled in 1980.
Known today as the Ur-quattro, the 20-valve model produced an astonishing for its day 220PS of power at 5900 rpm from its 2.2 litre five-cylinder engine. This was enough to power it to 143 mph, with −0−62 mph acceleration coming in 7 seconds thanks to its four-wheel drive. This was a top performance car that many hot hatches will out-perform today.
Fast forward to 2019 and you can still find a five-cylinder engine zzzzin Audi's top-end TT-RS and RS3 pocket rockets.
Arguably the spiritual successor to the Ur-quattro is the RS 5 Coupé. Its advanced 450PS V6 biturbo TFSI engine delivers 600 Nm of torque and sprints from 0 to 62mph in just 3.9 seconds.
The eight-speed tiptronic transmission offers super smooth optimised shift times – whereas the 20v Ur-quattro was a four-speed manual.
Lighting technology has also advanced hugely in recent years, with the RS5 featuring standard LED headlamps with dynamic scrolling indicators. Optional Matrix LED units are capable of intelligently diverting high beam around oncoming and leading traffic for maximum illumination.
Electronics and infotainment in today's cars have transformed the interior and driver experience and the perceived quality of premium interiors in appreciably higher. The RS5 has a customisable display incorporating information on tyre pressure, torque and g‑forces. The list of driver assistants that feature as standard also includes the Audi side assist blindspot monitoring system, Audi hill hold assist and the Audi drive select adaptive dynamics system.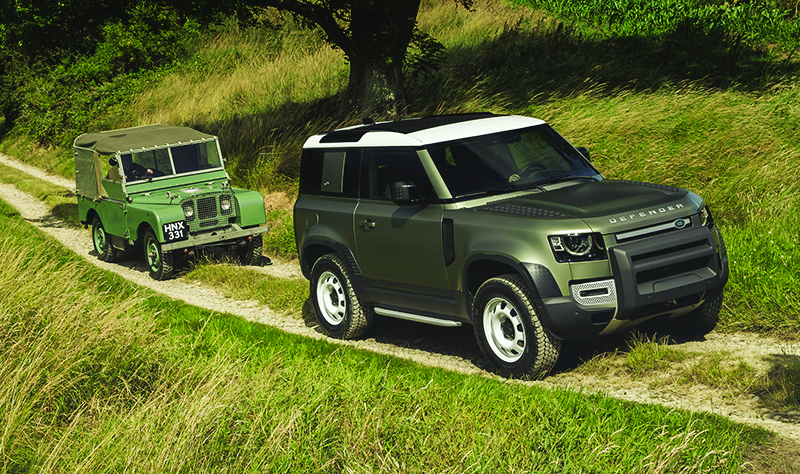 Defender
Another iconic British brand celebrating its anniversary is the Land Rover Defender. Arguably the original go-anywhere 4×4, the 2019 Defender offers incomparable luxury and technology that could never have been dreamed of 70 years ago.
Software-Over-The-Air updates will be available for up to 14 electronic control modules, while the new Defender's next-gen infotainment is based on JLR​'s new Pivi Pro software, which makes it faster and easier to use while allowing you to connect two smartphones at once. A 10-inch touchscreen with Apple CarPlay and Android Auto delivers enhanced user experience and broader range of functions.
The full colour Head-up Display provides on and off-road information with new video capability putting important information directly in front of the driver. Using an app on a smartphone, you can remotely track fuel level, location and journey history as well as heat or cool the new Defender before you get in it. A waterproof and wearable Activity Key watch works independently of the key fob, allowing you to lock and unlock the new Defender from your wrist.
Like the old defender commercial versions will be available and while most drivers will choose alloy wheels, retro rugged steel wheels are still available. Powertrains including Plug-In Hybrid Electric Vehicle (PHEV) and Mild Hybrid Electric Vehicle (MHEV) technologies and a range of advanced and efficient petrol and diesel engines.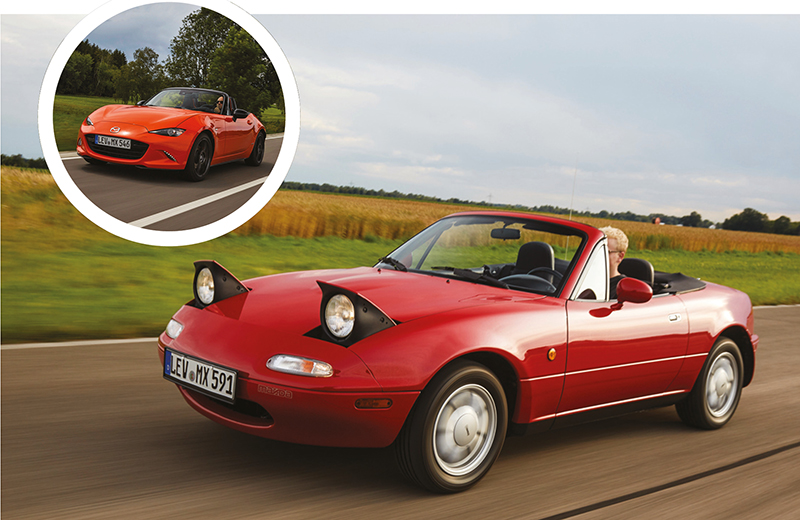 Mazda MX‑5
In 1989, Mazda unveiled its MX‑5 2‑seater sports car at the 1989 Chicago Auto Show. Arguably it was a successor to cars like the MGB produced from 1962 to 1980, except it was Japanese, well made and reliable. The car was an immediate success and after three decades and four generations, it still dominates the roadster market. Unlike many cars which have put on a bit of weight over the last 30 years, the two-seater has remained true to the original principle of an affordable, lightweight and above all fun-to-drive roadster.
After selling more than 1 million MX-5s Mazda has launched a 30th Anniversary Racing Orange limited edition, with forged aluminium wheels. The interior features heated RECARO seats detailed with orange stitching and piping which co-ordinates with orange trims and stitching throughout the cockpit. The seats also feature built-in headrest speakers which complement the Bose 9‑speaker sound system.
Driving in 2049
What can we expect from the motor car by 2049? Electric and hybrid cars are already becoming commoner on our streets. By 2049 we can expect the combustion engine to have disappeared. Manufacturers have also been talking up driverless technology, although nobody knows for sure how soon this might arrive. My guess is at least fifteen years, possibly longer. How do you feel about buying a car you don't need to drive?
Written by Doug Bentall.