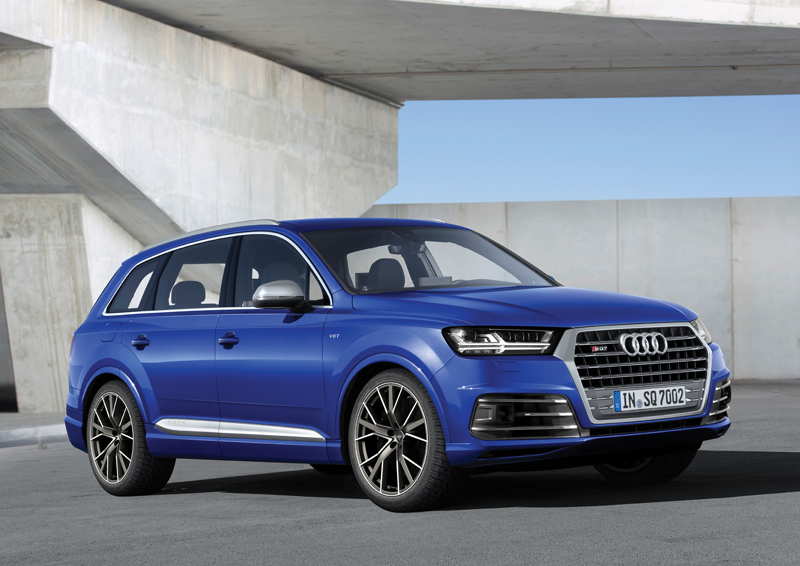 Audi SQ

7

: beauty and beast combined
The new Audi SQ7 is first Q7 SUV ever to feature the S moniker, signifying a sports model in Audi speak. Over five metres in length and weighing over two and a quarter metric tonnes, the Q7 required Audi to produce a prodigiously powerful engine to earn that S designation.
Like the previous generation of its smaller brother the SQ5, Audi has chosen diesel power in the form of an all-new four litre engine that generates 435 PS of power and 900 Newton metres of torque from as little as 1,000 rpm. If those numbers don't mean that much to you, consider that this behemoth can accelerate from 0 to 62 mph in less than five seconds. That is monstrously fast and this car is perfectly capable of pinning you and up to six passengers into your seats. Its ability to deliver massive torque from such low revs means you can do so almost effortlessly too.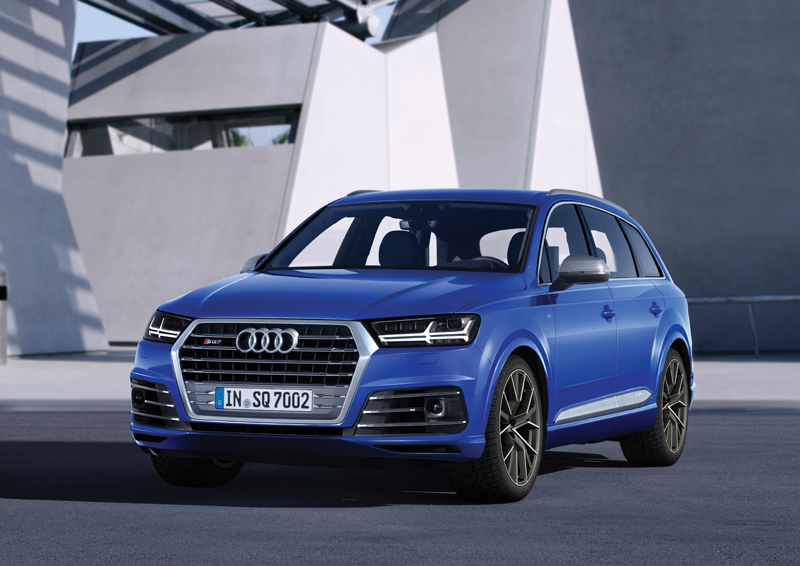 A push of the red-rimmed starter button and the V8 diesel comes to life with a deep rumble that promises real power. There may be some electronic trickery at play here, but this engine has a gloriously hearty burble, which in hand with its startling performance becomes slightly addictive after a while. Audi has managed to virtually eliminate turbo lag thanks to an electric powered compressor that supports its two turbochargers at low engine speeds. The compressor is powered by the 48-volt electrical subsystem, a new technology in this segment.
It is not just powerful performance that has earned this car its S, it also has the handling to match. The 48-volt system powers the SQ7's electromechanical active roll stabilisation, which means the car corners more comfortably and stably than you can imagine is possible for such a hefty automobile. All-wheel steering also improves agility and stability, the rear wheels turn a few degrees in the same or opposite direction of the front wheels, depending on the situation. This helps to reduce the turning radius by up to one metre, which is quite noticeable and useful when parking.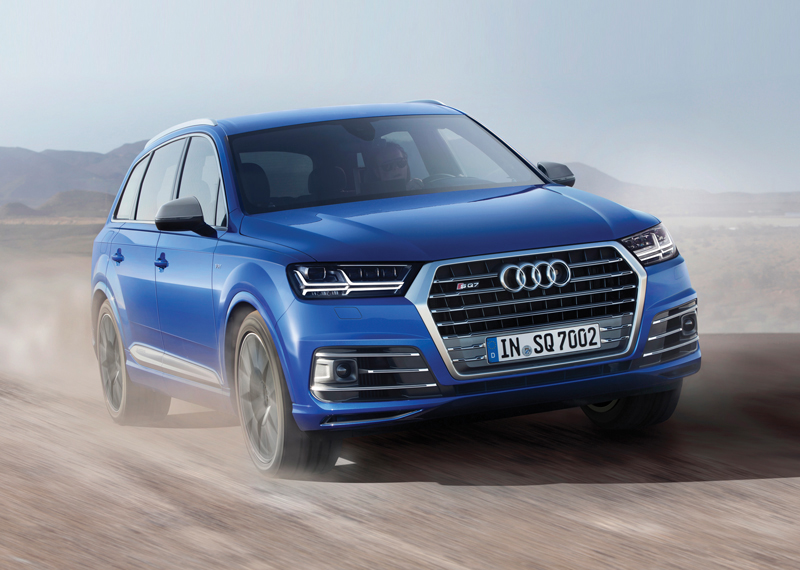 Audi is famed for the quality of its interiors and as one of the most expensive models in its range, the SQ7 does not disappoint. Depending on the size of your family, it comes with a choice of five or seven seats. The optional third row of seats can be lowered into the vehicle floor electronically. The sport seats for the driver and front passenger offer a wide range of power adjustments. Customised contour seats with seat ventilation and optional massage function offer even more comfort.
LED headlights and dynamic rear turn signals are standard. With the optional Matrix LEDs 30 individually controlled light-emitting diodes in each headlight illuminate the road without blinding oncoming traffic. They also include intelligent cornering linked to the car's navigation system so you can almost see round corners. What will they think of next?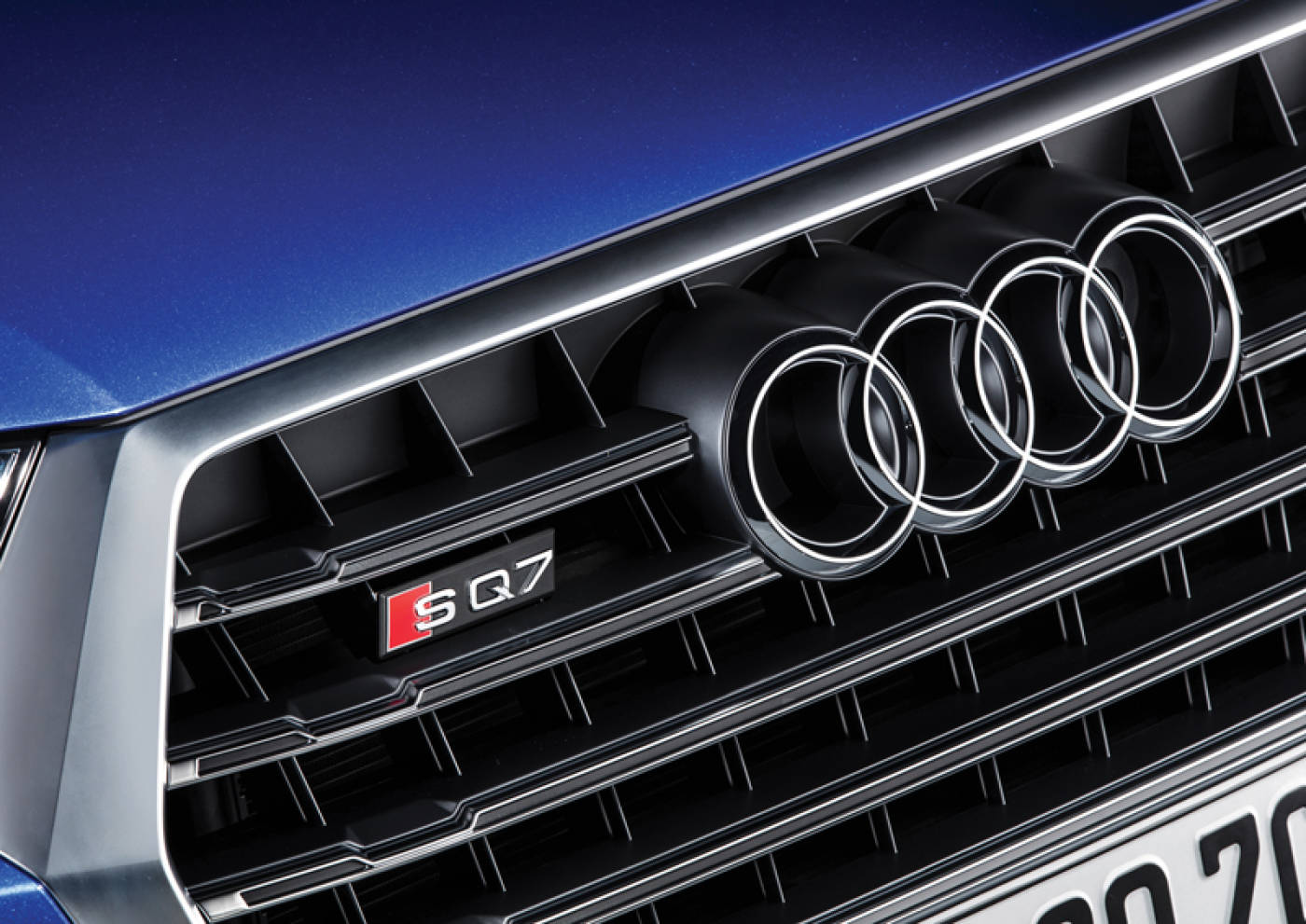 Audi offers a choice of some 24 assistance systems on the SQ7. In slow-moving traffic on well-paved roads, traffic jam assist can take over the steering at speeds up to 40 mph – a pre-stage of piloted driving. On top of that, the SQ7 TDI helps to stay in the lane, brakes in hazardous situations, monitors oncoming traffic when turning and detects pedestrians and animals in the dark.
This car could prove to be the zenith of diesel technology in road cars, with many now asking just how clean and efficient diesels are. While no lover of diesel myself, this car is so powerful and charismatic, I would find it difficult to let the fact that it drinks from the black pump put me off. Average miles per gallon is claimed at around 37, although you might find yourself struggling to get over 30 if you enjoy its performance. Carbon dioxide emissions are 190g/km on the standard 20 inch wheels, but 199g/km if you opt for the 21 or 22 inch upgrades. It all adds up to very respectable economy and emissions for a super-sized performance car. The SQ7 is also EU6 compliant for nasty NOx and particulate emissions, although that does also mean you will have to top it up with AdBlue from time to time.
The Audi SQ7 starts from £72,895 on the road. Even though it is very generously equipped, you are bound to want to add a few extras to the specification. It's not hard to nudge the total price towards or even beyond six figures. If that sounds expensive, consider this is the same chassis and engine as the Bentley Bentayga Diesel, which starts from £137,050, or roughly twice the price. Makes it almost sound like a bargain.
Doug Bentall, Editor of audi​carnews​.co​.uk