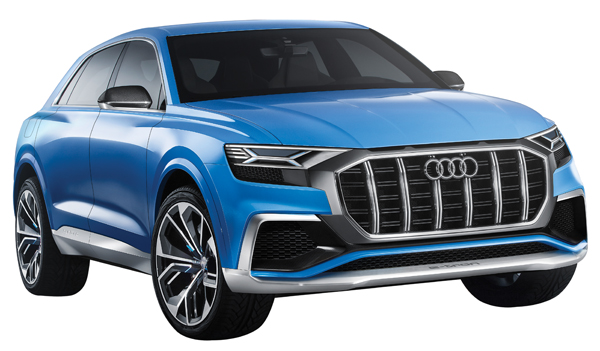 Audi unveils Q

8

Coupe

SUV

Concept
Audi is surely on to a winner with the new Q8 concept car it unveiled at the North American Auto Show in Detroit last month. On the face of it a large SUV and a high-performance coupe seem somewhat contradictory demands of a car designer. However, we love the comfort, practicality and road presence of SUVs, so why not have a high-performance version with haunched wheel arches reminiscent of Audi's famous Ur-quattro coupe of old?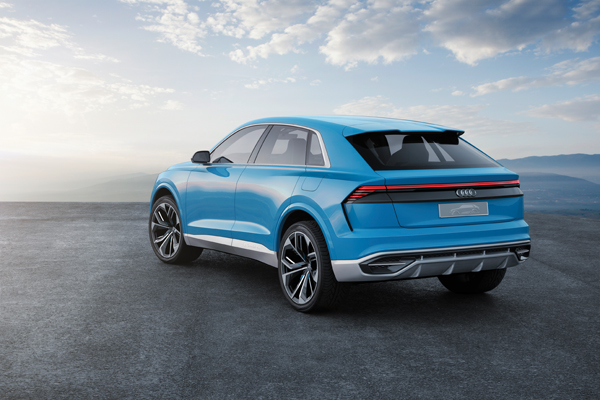 As well as looking drop-dead gorgeous from the outside in electric Bombay blue with rich aluminium touches and sleek LED lights, the new Q8 concept appears to première Audi's future interior designs, with electronic displays as minimalist as any smart phone and a near buttonless cockpit. While many concept cars are show-stealing flights of fancy, it seems Audi is deadly serious about the Q8. It says the concept is the basis for a production model that will launch in 2018. Just how much of the design makes it into production remains to be seen.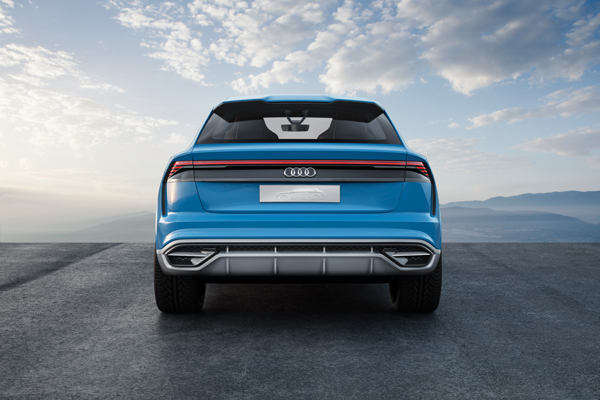 At just over five metres long, the Audi Q8 concept is an impressive presence in the full-size SUV class. Thanks to a wheelbase of three metres, it offers plenty of space for passengers and luggage. Despite the sloping, coupe-style roofline, rear-seat passengers enjoy ample head and shoulder room. Rear passengers are treated to two individual seats rather than a single bench, while the boot has a capacity of 630 litres.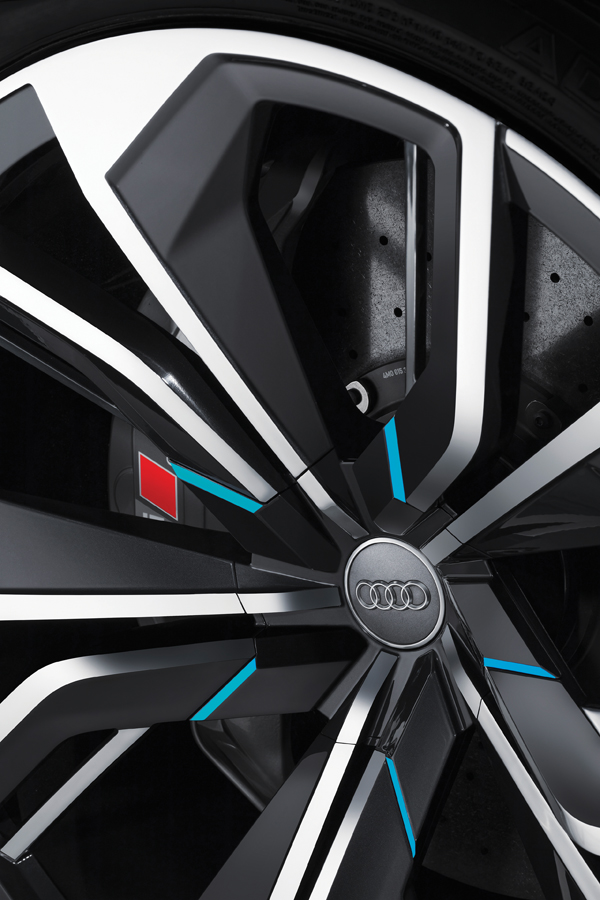 Like other Audi coupes, the Q8's doors do not have window frames, contributing to the flat roofline. The doors are also opened via touch sensors rather than handles. As soon as the door detects hand contact, it opens and swings to a pre-defined opening angle. It looks and feels futuristic, but probably won't make production.
Large touchscreens in the cockpit are rounded out by an expanded version of Audi's virtual cockpit and a contact-analogue head-up display that uses intelligent augmented reality technology to merge the real and virtual worlds.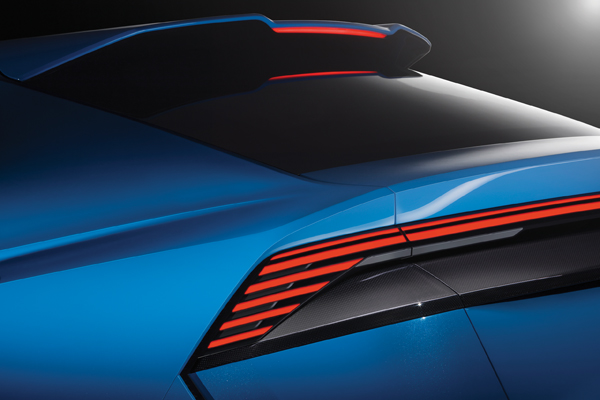 The Audi virtual cockpit has a resolution of 1920 × 720 pixels to display sharp graphics with more detail than ever before. In auto display mode, the 12.3‑inch TFT display offers generous space for maps, lists and additional information. All other monitors in the Audi Q8 concept are touch displays, reducing the number of buttons, switches and levers for an even neater and cleaner view.
The central control and display surfaces are integrated into a gloss black strip framed by aluminium. When switched off, the monitor looks invisibly embedded in the surface and the lines flow harmoniously. When the display is on, it assimilates into the design line.
The colours and materials in the Audi A8 concept provide for a cool and sporty ambience. The instrument panel, doors and floor feature a three-dimensional, engineered grain with high-gloss carbon, abstract fabric and aluminium strip accents. Interior brightness increases gradually from the headlining to the centre console in graduated shades of grey from steel grey to pastel silver. The seats are covered in a combination of Fine Nappa leather and Nubuk leather, both in pastel silver.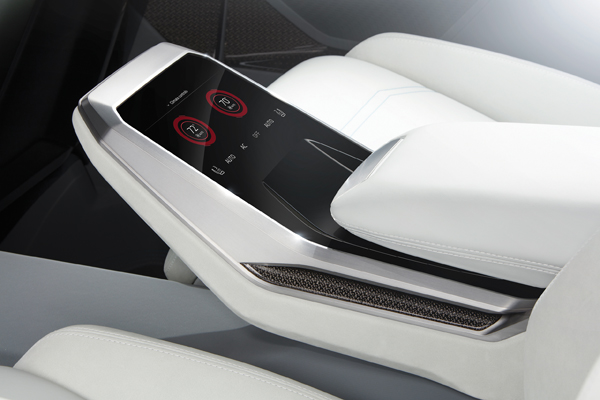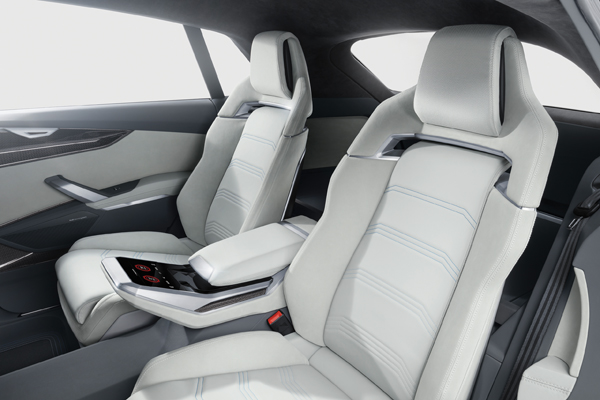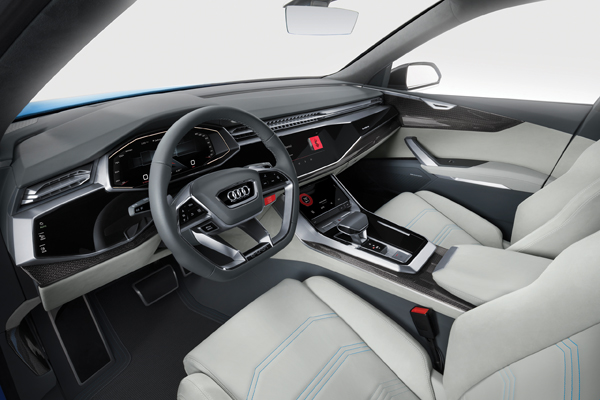 The hybrid drive Q8 e‑tron concept uses production technologies for the drive system and suspension. The plug-in hybrid combines performance with efficiency. The combustion engine is a 3.0 TFSI producing 245 kW (333 PS) and a maximum of 500 Nm of torque. The electric motor generates 100 kW of power and 330 Nm. Together with a decoupler, it is integrated into the eight-speed tiptronic transmission. The complete system produces 330 kW (450 PS) and 700 Nm of torque. The hefty looking Audi Q8 concept accelerates from 0 to 62 mph in just 5.4 seconds on its way to a top speed of 155 mph. Expect production versions of the Q8 to offer a range of diesel and petrol engines as well as a hybrid option.
The lithium-ion battery has a capacity of 17.9 kWh, enabling an electric range of 37 miles, and the total range with the TFSI engine is claimed to be up to 620 miles. A full charge with 7.2 kW output takes about two and a half hours.
The production Q8 is likely to start from around £60,000, but a top specification performance model loaded with extras will likely cost six figures.