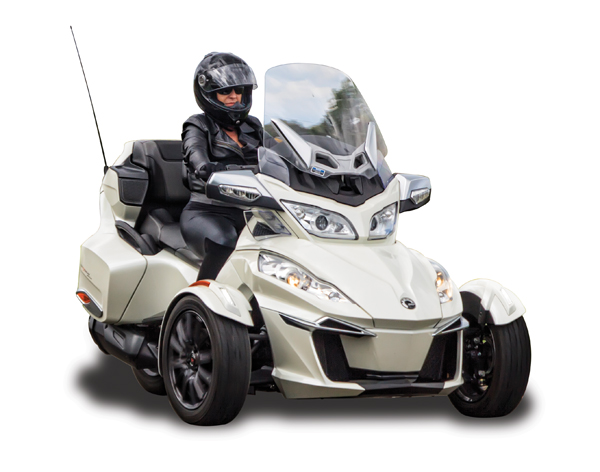 Easy Rider
What the heck is that? It's the Can-Am Spyder RT‑S, a sort of three-wheeled, mutant trike thing that sits somewhere between a Goldwing touring rig and a Snowmobile. It's made in Austria by appropriately named Bombardier Recreational Products; a Canadian company with a history of making groovy playthings.
Some may consider the Can-Am to be a wrong-way-around trike but, as a motorcycle rider, I can tell you there is more to this machine than a bike that doesn't fall over; and as a car driver, I can tell you it's not a car with only one rear wheel. This is a hair-on-fire experience!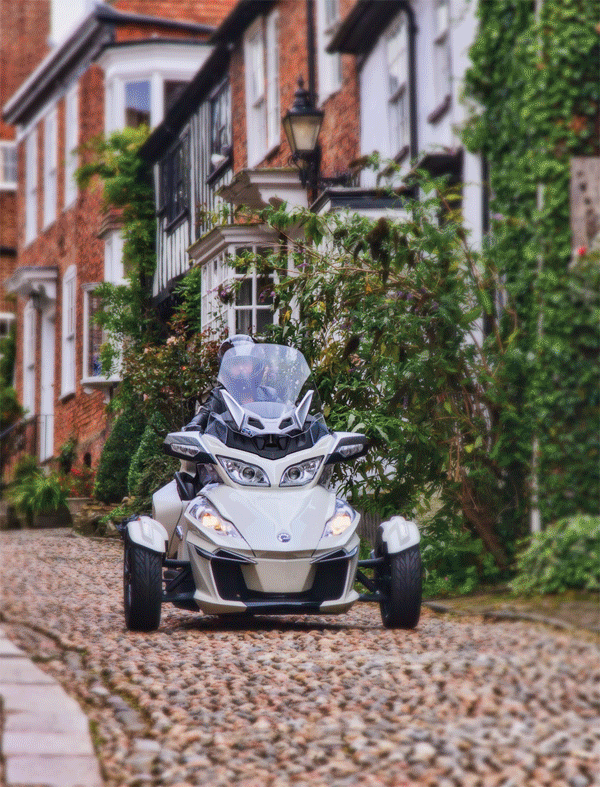 Once you get past the longish start-up drill you'll find the handling (as with any vehicle you sit on top of) tends to depend more on the rider's courage and experience, rather than the vehicle's abilities, which at 0 – 60mph in 4.5 seconds, the Can-Am has plenty of.
How hard you corner also depends on the rider's confidence as unlike a motorcycle, the Can-Am doesn't want leaning into bends, you don't counter-steer to make a turn – instead, you simply turn the handlebars (assisted by dynamic power steering). Initially I found steering to be a bit of a work-out as I would tighten my core before cornering hard, then lean slightly into the turn.
The RT‑S under my control is a six-gear semi-automatic. With no clutch lever on the left handlebar (electronics take over the clutch) or left foot-shift lever, changing up is a slick thumb pushbutton affair on the left grip. While the rider must always upshift, the transmission will do the downshifting, although this could also be operated manually. A big plus is the addition of a reverse gear, requiring zero brute force when getting in and out of parking spaces. The RT‑S' tyre contact patches are enormous for the vehicle's size and weight and it comes standard with great traction and stability control.
The braking is very un-bike-like as the Can-Am uses a single foot pedal to stop all three wheels. It took me some time to stop reaching for a brake lever that isn't there and not pressing hard enough on the foot brake for fear of locking the back wheel.
Okay, it might be a few decades since I've last ridden a big bike so initially, I felt a lot more comfortable on long straights and less confident on winding roads, but when no-one was looking and I ditched my pillion passenger, I did push it hard enough to get one wheel off the ground which was when the Vehicle Stability System with ABS stepped in!
So, you might ask, what was it really like? It is great fun. In fact, it's bottom clenching terror fun. With its luxury-car-inspired composition you may tire of the constant attention it gets you on the road. I love the cruise control and electronic windscreen which lowers for some breeze or raises, allowing the volume of the 4‑speaker sound system to reach the rider. I also like the fact that you don't need a motorcycle licence to ride it and yes, it is oh-my-god-fast. You won't hear me complain if this appeared on my drive at Christmas, but I would rework the exhaust note to sound more convincing of its 1330cc as it's not nearly as deep or loud as it should be; that way at least I'll be heard going through the Pearly Gates.
There are only two draw backs: you have none of the benefits of a car (roof) and all the disadvantages of a bike (weaving through traffic). With a price tag of £24,099 you could buy a fully equipped compact car, but then the same money could buy a high-end motorcycle. If you're in the market for a weekend toy, this is it. In fact, I defy anyone to ride this and not immediately want to own one.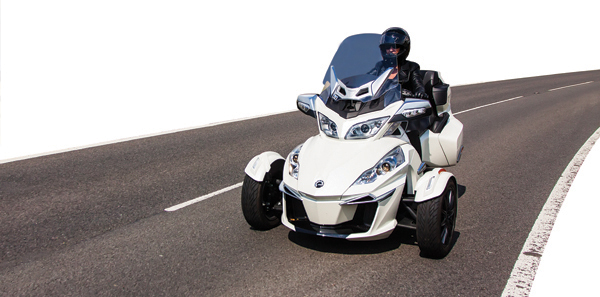 Technical Stuff
The Can-Am Spyder RT‑S has a rear-wheel drive, liquid-cooled Rotax 1330cc ACE engine, which uses three inline cylinders, six gears to produce 115bhp and 96lb ft of torque and weighs in at 459kg. It has electronically adjusted rear suspension on a set of big SACHS shocks; ultra-comfortable armchair-type touring saddle; a backrest for the passenger; an iPod connection; loads of storage space; and heated handgrips for you and your pillion.
Try Before You Buy
Through the Spyder Club and BRP partnership, riders will be able to enjoy a luxurious three wheeled open air ride on the Can-Am with an ordinary driving licence for a weekend, on a self-guided trip or use the hire as a test ride to make an informed buying decision before purchase. Day hire starts from £200 or £400 for a weekend rental. BRP will refund the hire cost for anyone purchasing a bike after hire – for more details see spy​der​club​.co​.uk
For more information visit BRP.com