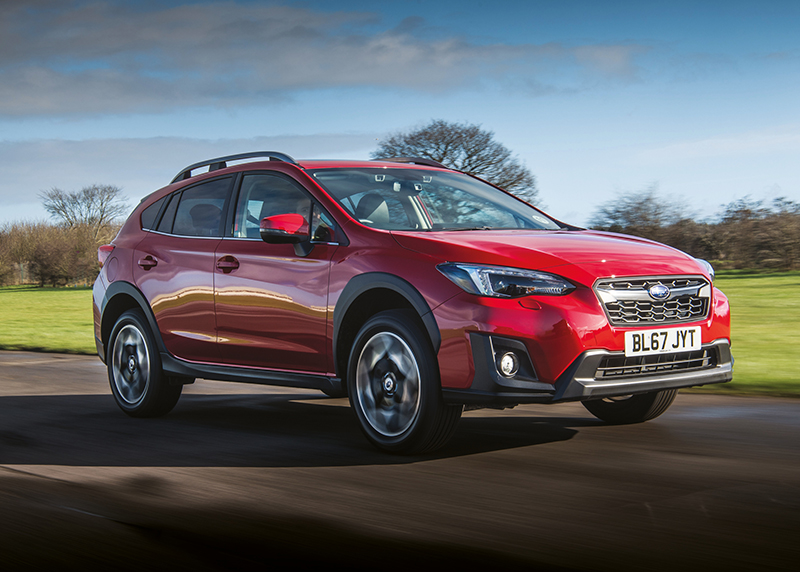 Equipped with the legendary Subaru AWD, XV is going to be surefooted on the trickiest incline or boggiest of hills, but what about those devilishly difficult country roads? To find out I took the XV on a dry(ish) run on the twist-turny roads of Sussex and Kent.
Double take
First reactions leave a lasting impression. The latest styling is certainly bold and striking, giving the XV a rugged, muscular posture. The front end is sharp and sleek, whilst the sculpted wings and side profile accentuate its sporting demeanour. The 18" alloys on the 2.0 litre I'm driving are ready for anything. I'm guessing Subaru are after a younger outdoorsy demographic as well as appealing to active families. I think they've pitched it just perfect.
Double-take over, I wanted to know what new actually means. Quite a bit it seems.
New platform and function
The XV is built on Subaru's brand-new global platform, only the second model in the UK to do so. In everyday language, it means that the body and chassis has been re-designed to improve performance, deliver superior driving capability and be even safer than before. All working in tandem with its famous horizontally opposed Boxer engine and symmetrical all-wheel drive.
Inside, form is added to function and there are new technologies throughout, including EyeSight (Subaru's advanced driver assistance system) as well as X‑Mode & Hill Descent Control for extreme driving conditions. It all sounds impressive, but the proof of the pudding is in the driving.
Out and about
It's a miserable old day when I take it for a spin. Damp and grizzly, not much fun to be in to be honest. Except, in the XV it is. I chose the 2.0 litre to tackle all the twists and turns of the country lanes (1.6L is the other choice) and the ride is both controlled and dynamic. Straight line stability when cornering is exceptional and ride comfort a joy with little noise and vibration.
Paired with Subaru's Lineartronic transmission, the boxer engine responds quickly to the throttle and the acceleration is just what you need around these parts. The handling is effortless and all-wheel drive puts you in road hug heaven.
Safely does it
Safety is a key focus of the new XV, with a stack of new driver assist systems incorporated. EyeSight is new technology that gives me a second pair of eyes thanks to a camera mounted either side of the rear-view mirror that monitors for any hazards on the road ahead. EyeSight is now standard across the Subaru SUV range and includes a host of safety features including Adaptive Cruise Control, Pre-Collision Braking, Pre-collision Throttle Management, Lane Sway and Departure Warning, Lane Keep Assist and Lead Vehicle Start Alert.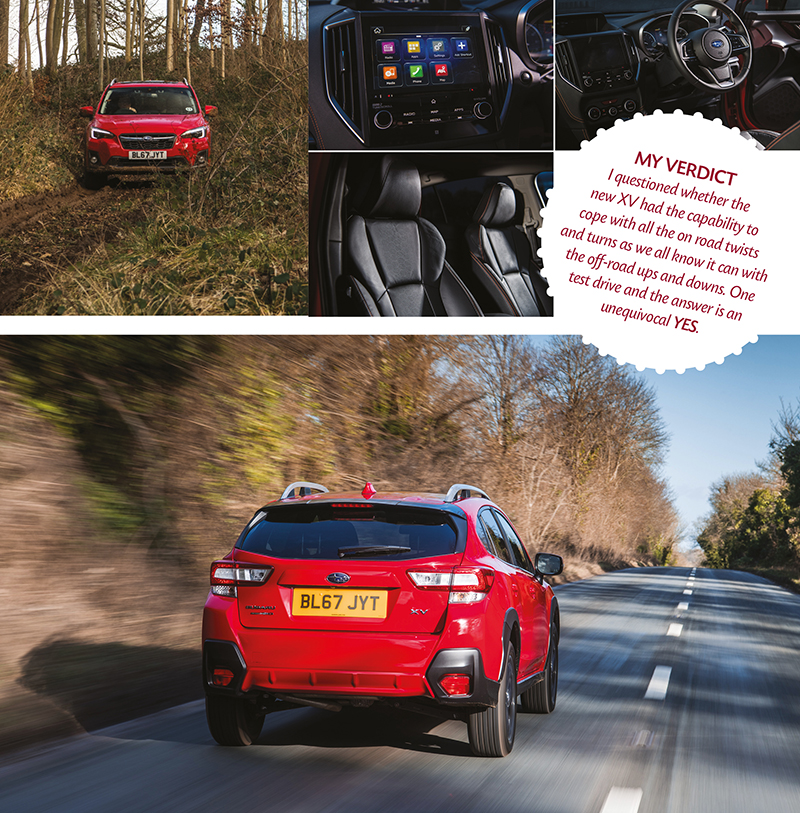 High Beam Assist and steering responsive headlights let me fully focus on the dark village rat runs and to complete XV's all-round safety, it even has Subaru's Rear Vehicle Detection System to keep an eye out for any problems behind as well as onboard technology to monitor blind spots.
It's no wonder that XV was rated Euro NCAP​'s Safest Small Family Car and had the highest safety rating in the Child Occupant category at its launch.
The X‑Mode factor.
Now this is neat, too. The XV uses X‑Mode to take control when I'm struggling to navigate slippery surfaces, rough roads and steep hills. And when I'm looking down into the abyss, there is yet another safety feature which means I only need to focus on steering as Hill Descent Control will maintain a constant speed when travelling downhill.
Slip into something more comfortable
Would the wife and kids get on board with it? Definitely. There's plenty of storage space, loads of legroom and tonnes of boot space for all our hiking and camping escapades. Inside it looks and feels smart and classy, yet hardwearing enough to cope with all the rough and tumble.
Media-wise, it has an 8" touchscreen and an infotainment system that boasts anti-boredom Apple CarPlay, Android Auto and a DAB radio. Another information display screen provides all the gen on fuel economy, driving conditions and outside temperature.
It's got the lot with so much tech and spec coming out of its trim interior.
Test Drive Spec
PRICE: Subaru XV 2.0i SE Premium Lineartronic Pure Red £29,060 (range from £25,310)
ENGINE: 1,995cc, 156PS four-cylinder Boxer petrol with Lineartronic transmission
PERFORMANCE: 0 – 62mph – 10.4 sec; top speed 120mph MPG: 40.9 combined CO2 emissions:155g/km.
Local Dealership
Culverwells, Station Road,
Robertsbridge.
Telephone: 01580 363077