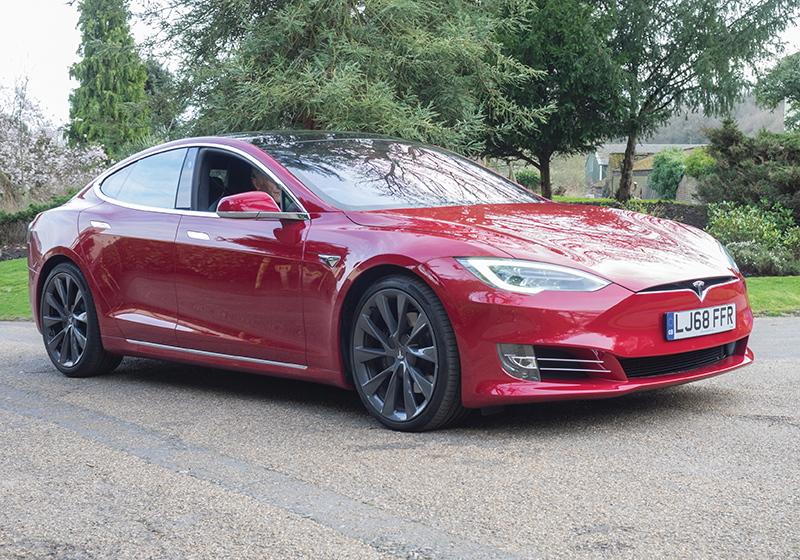 If like me you've never driven an electric car and you're wondering what they might be like, read on. If your vision of electric cars is dominated by worthy if unexciting vehicles like the Nissan Leaf or Renault Zoe, rest assured the Tesla Model S is something completely different.
Moving off for the first time in a Tesla Model S is spookily quiet. No engine noise, no gear changes, just effortless off-the-line acceleration. If you floor the accelerator, you will hear an electric whine, but that is all. For a performance car, the lack of a sweet V6 or burbling V8 engine was a little disappointing at first, but I quickly grew to love the charms of electric power. – no turbo lag, just constant, seemingly unending torque. Zero to 60 mph comes up in just 4.1 seconds. Not many luxury coupes can beat that sort of performance and if anything, it feels faster. Tesla also offer the Model S in Ludicrous Performance guise, capable of the 0 – 60 sprint in just 2.4 seconds. Quite frankly that sort of acceleration is bonkers and largely unusable on the public highway. Unless you are the sort of person who simply has to have the ultimate model, save your money for whatever else you fancy and stick with the Long Range, you won't be disappointed.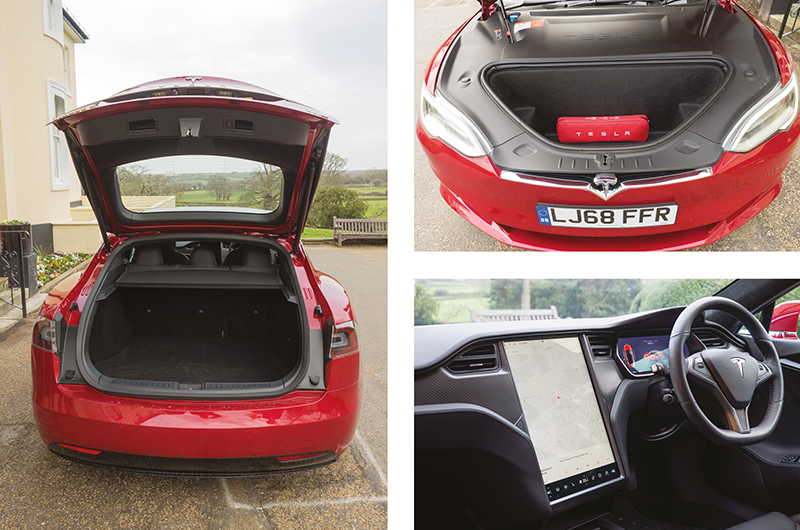 Like the Jaguar I-PACE, the fact that Teslas were designed from scratch as electric cars allows them to escape some of the compromises of nose-heavy combustion engine cars. The added weight of batteries is one compromise, but by packaging these across the car floor, weight is kept as low down as possible for greater stability. The The lack of engine, gearbox, drive shafts and a petrol tank, also means the Model S is incredibly spacious and comfortable inside. The boot is capacious and has a handy underfloor section where you can store the rear parcel shelf when folding the back seats down. There is plenty of room to get a bike or two in the back and access via the large rear opening is also excellent, especially for a coupe. There is even extra storage space under the bonnet. I doubt you'll need it often, but it could be handy for that long road trip.
Of all the Tesla models, the Model S definitely looks the best from the outside, being a fairly classic five door coupe shape. The flush door handles that pop out when your hand approaches are an elegant innovation. I found the lack of exhaust pipes and a radiator grille slightly disconcerting visually. From the front the car just doesn't smile or growl without a ​"mouth". But these features aren't necessary on electric cars, so perhaps we won't miss them in a few years' time.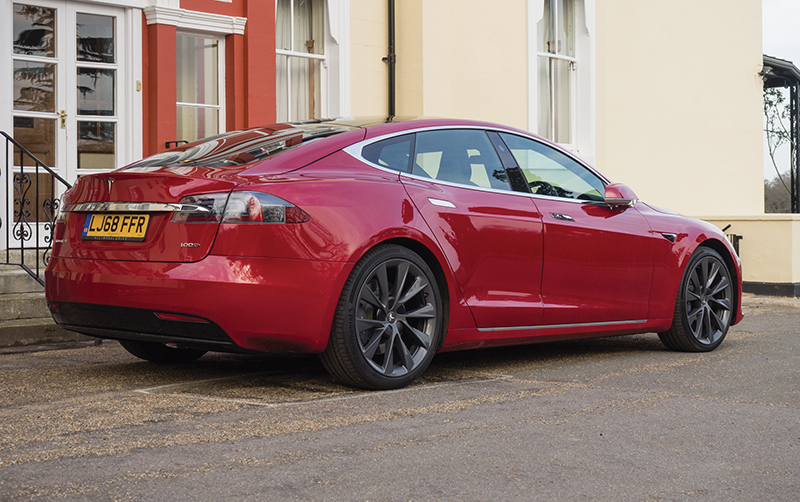 The interior design is a little underwhelming. The upholstery is ample and comfortable, but the interior lacks visual drama. There is no ignition switch and in fact practically no switches or buttons at all. Virtually all aspects of the car are controlled via the huge 17-inch touch screen. I started my week at the wheel of the Model S convinced I would find this irritating and distracting, but it proved to be intuitive and very easy to use.
For a big car that weighs around 2.2 tonnes the Long Range Model S handles very well, certainly comparable to most of its competitors in its luxury class. Even on 21-inch wheels the ride is comfortable. Permanent four-wheel drive ensures plenty of traction, whatever the weather. In town it is virtually noiseless, but on the motorway wind and tyre noise mean it feels much like any other car in its class. It is very relaxing to drive, whether on short or long journeys.
The Long Range model has a 100kWh battery offering up to 393 miles on a full charge according to the NEDC cycle. Take that with a pinch of salt, but suffice to say that your fully charged car can take you as far as you want to drive 99% of the time. Install a home charger and you can recharge the battery overnight and relax in the knowledge that you will never have to visit a petrol station.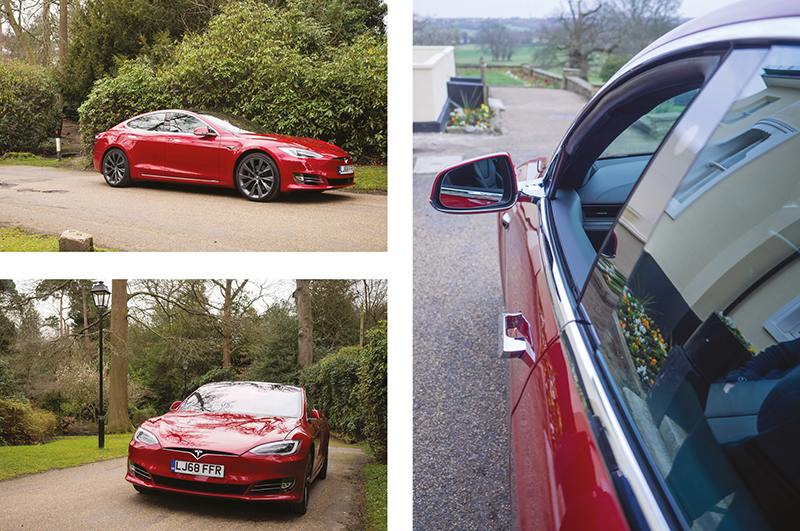 For the occasional longer journey, there are of course Tesla Superchargers dotted up and down the UK (and European) motorway network. Tesla has plans to upgrade the speed of its UK superchargers, but I visited the one in Maidstone to see how quick and easy the existing ones are to use. Open the near invisible charging port, plug in the charging cable and that's it. I went off to get something to eat. Even though the battery was under quarter full, less than 40 minutes later the Tesla app messaged me to say it was already 80 per cent charged. It was time to head back to the car before I overstayed my welcome and was penalised for leaving it in situ fully charged. You can also charge the car using non-Tesla charging points, but you'll probably find it takes a bit longer. If you get really stuck you can even charge it with a conventional 3‑pin plug, but this adds less than 10 miles of range per hour, so isn't exactly ideal. If you are on a very long journey and know you are going to have to stop somewhere to charge, the navigation screen clearly indicates the location of supercharger stations and even shows how many charging bays are currently free. All this goes a long way to assuage any range anxiety.
The Tesla Model S Long Range starts at £76,850 on the road. You can order one online and delivery takes between one and eight weeks. Unusually, Tesla lets you return the car for a full refund of after 7 days or 1,000 miles, if you decide you don't like it. I don't think they take many back.
Doug Bentall
editor@​audicarnews.​co.​uk
Photo credit: Donald Schwartz