Lamborghinis have always been up there on the list of the world's most desirable cars, but those dramatically styled super sports cars have never quite done it for me personally. They just aren't practical enough, with room for only a single passenger and very limited luggage.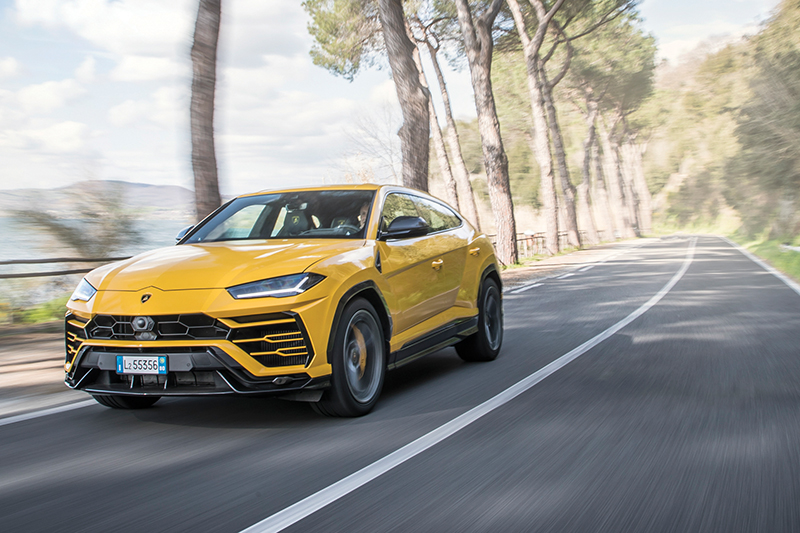 When Lamborghini announced the Urus though, I took note. Here is a true Lamborghini that you can drive in the snow, sand, mud or gravel, take a family on holiday, or a group of friends to Goodwood. Is it a real Lamborghini though?
Lamborghini is a subsidiary of Audi and thus the VW group, along with Bentley, Porsche and Bugatti, not to mention Seat and Skoda. So, it may be no surprise to hear that the Urus shares its platform with the VW Touareg, Porsche Cayenne and Bentley Bentayga. Some would have you believe that means it is no more than a lumbering VW SUV with a souped up engine. Don't believe a word of it.
Known as a super car brand, Lamborghini had to find a new term to distinguish the Urus from all the other high performance SUVs available today. So, it chose to call it the world's first SSUV, Super Sports Utility Vehicle. Is that just a bit of marketing hype?
Get in the Urus, make yourself comfortable in the sumptuous leather sports seats and start the car. Most new cars don't require the turn of a key in the ignition these days. Many feature starter buttons, which are a bit retro, but I still prefer them to a key for some reason. There's a bit more drama. Aston Martin upped the game with their lead crystal start button, but the Urus, being a Lamborghini, gets a Tamburo drive mode selector with fighter-jet red metal cap to flip up before you press Start. It tickled me very time. A nice little touch that made an SUV feel like a million-dollar drive. It is true that many aspects of the interior and controls will look familiar to an Audi driver, but that is not a bad place to start. The standard of finish is appreciably higher than you will find in any Audi though, with many characteristic Lamborghini styling elements.
When you press start button, the thunderous V8 biturbo engine barks into life. Put it into Sport mode and there's a decent chance you might wake half the street. If they are petrolheads, I am sure they won't mind. Purists might bemoan the lack of a screaming V12 or V10 as befits Lamborghini tradition, but a biturbo V8 delivers a thumping 850 Nm of torque from as little as at 2,250 rpm as well as 650 PS of power at 6,000 rpm. That's just what you need to deliver 0 – 62 mph acceleration in a very unSUV-like 3.6 seconds. This car apparently tops out at 189mph. At launch this was fast enough to make it the world's fastest production SUV, although it has recently been pipped to 190 by the Bentley Bentayga Speed. The Bentley still can't match the Lamborghini's acceleration, nor is it so sharp in the handling stakes.
This car is phenomenally fast, and faster than you'll ever have much chance to exploit. No, it isn't as fast as a Huracan or Aventador, but it is faster than you could reasonably expect of any SUV.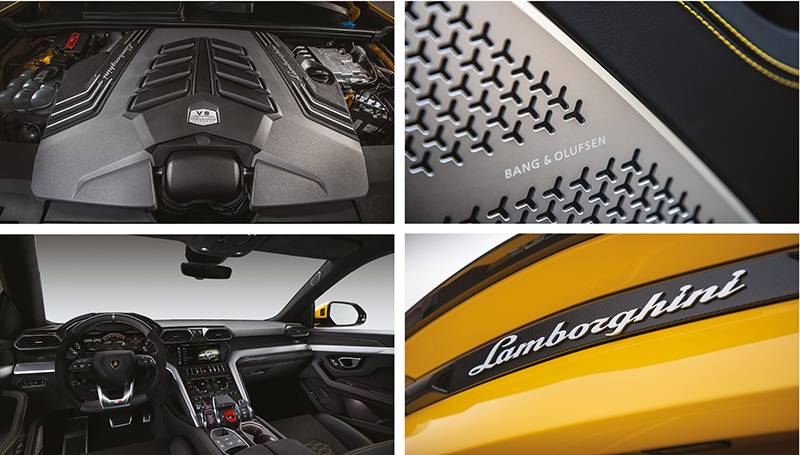 With powerful engines in many of today's top end SUVs, many can offer fast acceleration, but when it comes to handling, their massive bulk means they simply can't handle like a sports car. Lamborghini has used practically every technical trick in the book, to make the Urus the sportiest SUV by far. It truly belies its considerable weight, width and length to drive like a much smaller and nimbler car. Standard equipment includes four-wheel steering to reduce turning circles at low speed and increase stability at high speed. You also get carbon ceramic brakes at no extra charge for arresting retardation.
Torque is split 40⁄60 as standard, with maximum 70% to the front or 87% to the rear. The Urus also features active torque vectoring via a rear differential, enabling power to be distributed to each individual wheel for enhanced traction. In Strada, Terra (off-road) and Neve (snow) driving modes torque vectoring reduces understeer for safe and simple driving. In Sport and Corsa (track) it allows the Urus to become more agile with a more oversteer. There is also a Sabbia (sand) mode for precision on low grip terrains.
Depending on the driving mode selected via the Tamburo, the V8 engine varies the sound and feel of the Urus from the quietest and most comfortable low-frequency sounds in Strada mode, to a sportier and more exciting Lamborghini sound in Corsa. A specially-developed exhaust system also customises the sound output dependent on engine speed: at high acceleration, the Urus emits a more guttural tone.
The Urus has luxurious space for up to five occupants, or four in real comfort. Our test car came with the optional four seat option, which means much better seats for your rear passengers. Unless you really need to carry five, I'd tick that box on the options list. It makes the back-seat ride even more luxurious.
When the man from Lamborghini came to take the Urus away, I very reluctantly handed back the keys. List price is around £165,000. The press car I drove would set you back more like £210,000. Worth every penny, I say. Buy one and cherish it before electric cars take over the world.
Lamborghini Tunbridge Wells, Dowding Way, Tunbridge Wells. TN2 3UY
Telephone 01892 250206
www​.grange​.co​.uk/​l​a​m​b​o​r​ghini
Doug Bentall
editor@​audicarnews.​co.​uk