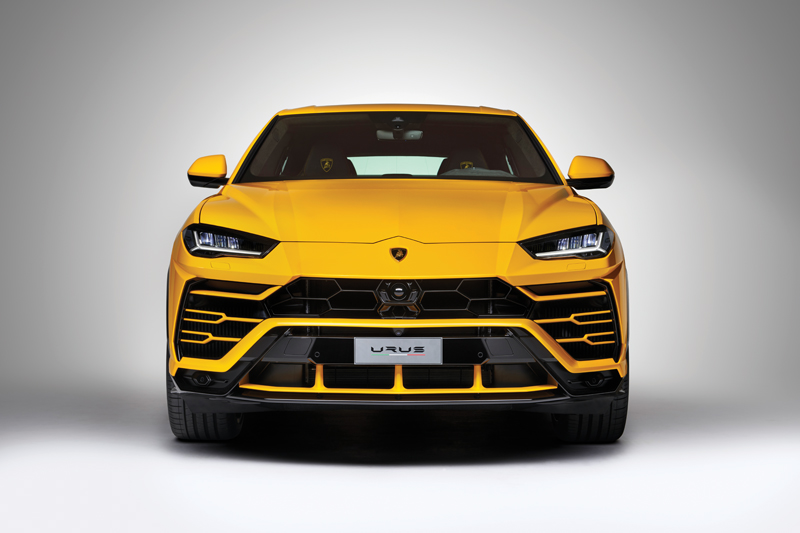 The most desirable Lamborghini ever?
Do you remember when car makers like Range Rover, Mercedes, BMW and Audi first launched performance SUVs? Quite a few people were bemused at the time as to why anyone wanting a performance car would opt for a heavyweight 4×4.
Anyone who thought those cars would not sell, could hardly have been more wrong. We now have two Jaguar SUVs, Audi has its monstrous SQ7, sister company Bentley has broken sales records with the V12 petrol and V8 diesel Bentayga. Rolls Royce have an SUV in the wings and Ferrari are rumoured to be launching one. Step forward the monumental Lamborghini Urus SSUV, or Super Sport Utility Vehicle.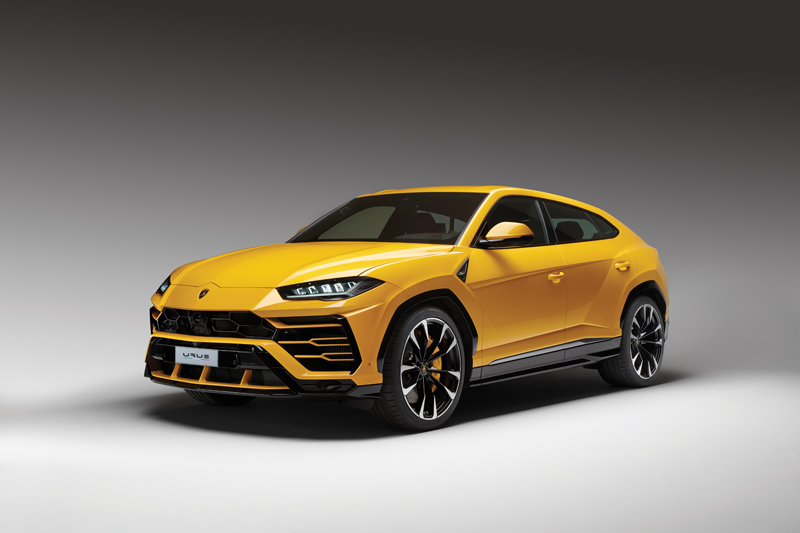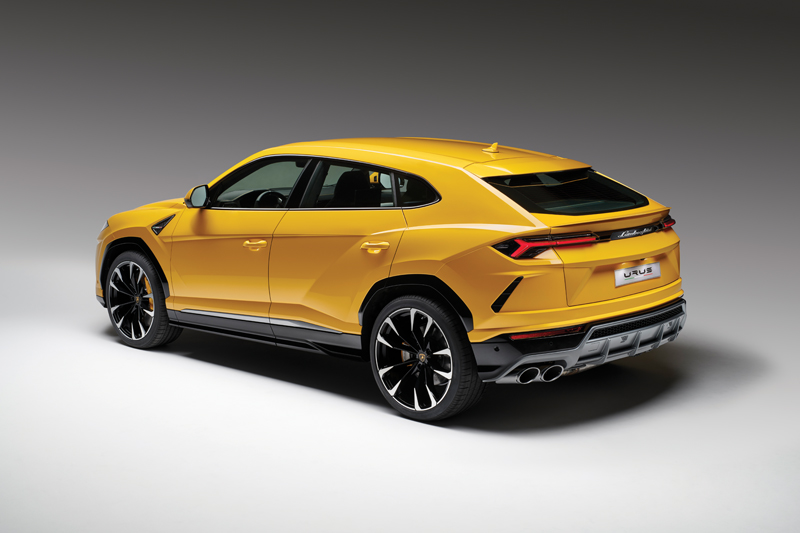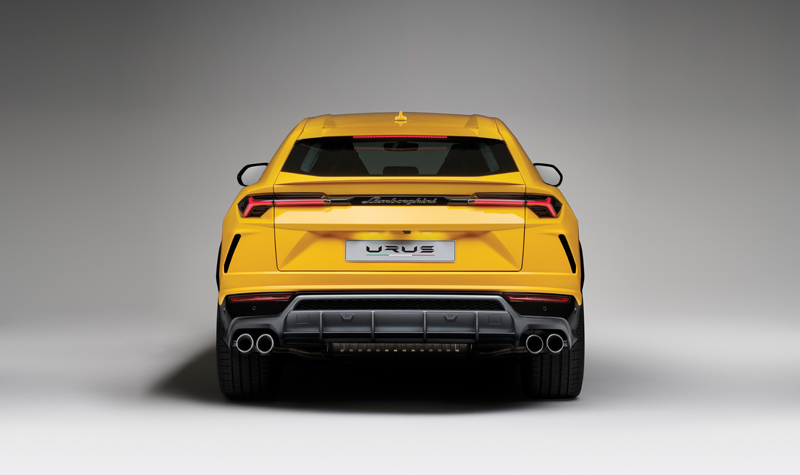 Manufacturers love dreaming up new versions of the SUV, but perhaps Lamborghini can rightly claim to have broken into a unique new category. The Urus combines power, performance and driving dynamics, unparalleled design, luxury and daily usability. Surprisingly though this isn't the first SUV Lamborghini has ever built. First was the agricultural LM002 of the late 1980s. While it boasted brutal Lamborghini architecture and a powerful V12 engine, performance and handling were rather shy of what today's discerning SSUV buyer can expect.
The Urus has a 4.0 litre V8 twin-turbo engine delivering a mighty 650 PS at 6,000 rpm, and a whopping 850 Nm of torque from as little as at 2,250 rpm. It accelerates from 0 – 62 mph in just 3.6 seconds and tops out at 189mph, making it the fastest production SUV you can buy.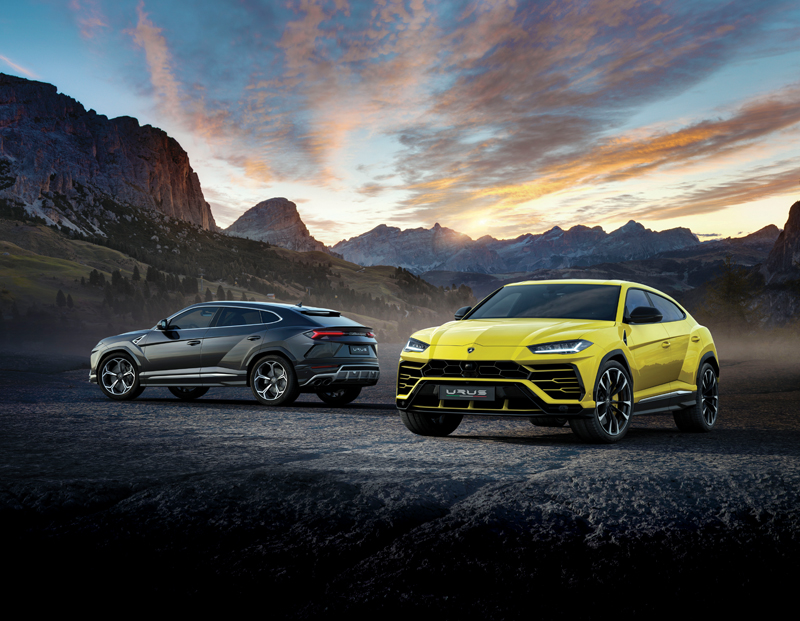 Urus is a luxury SUV with a super sports car power and dynamism. Its low-line coupé styling and commanding road position belie the surprisingly comfortable ride, elevated ground clearance, and luxurious space. The Urus provides easy driving around town, maximum comfort during long journeys, thrilling super sports car dynamics on the road and track, and versatile off-road abilities. What more could you ask for?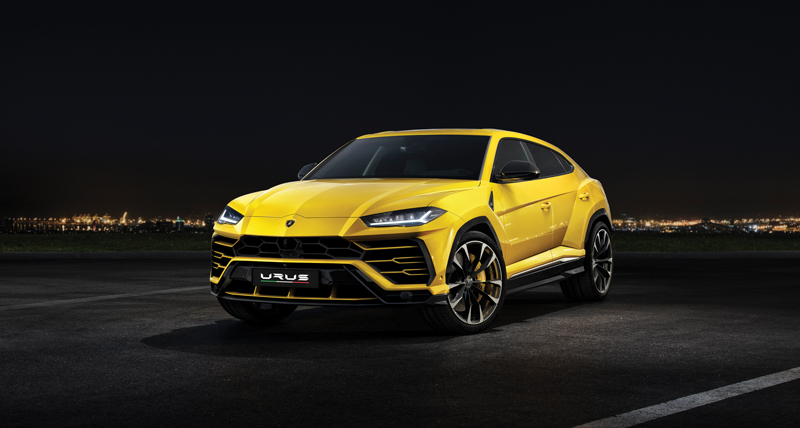 The Urus' four-wheel drive system delivers safe, highly-responsive driving dynamics on every road and surface, in all weathers. Torque is split 40⁄60 as standard, with maximum 70% to the front or 87% to the rear. The Urus also features active torque vectoring via a rear differential, enabling power to be distributed to each individual wheel for enhanced traction. In STRADA, TERRA (off-road) and NEVE (snow) driving modes torque vectoring reduces understeer for safe and simple driving. In SPORT and CORSA it allows the Urus to become more agile with a more oversteer. In SABBIA (sand) mode, the system is calibrated to guarantee agility and precision on low grip terrains.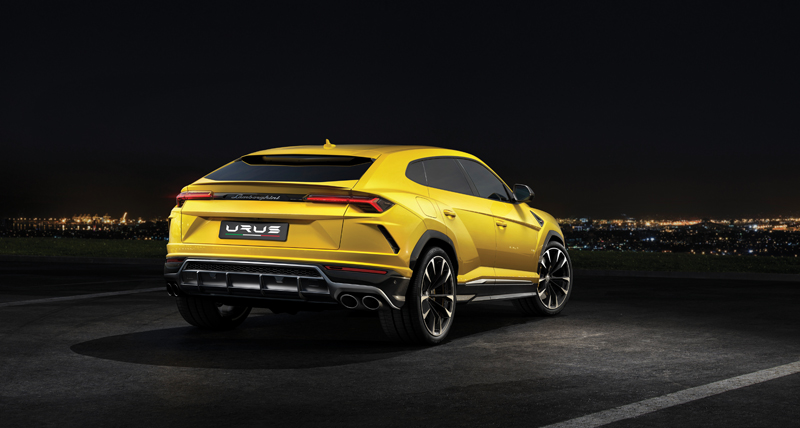 Depending on the driving mode selected via the Tamburo, the V8 engine varies the sound and feel of the Urus from the quietest and most comfortable low-frequency sounds in STRADA mode, to a sportier and more exciting Lamborghini sound in CORSA. A specially-developed exhaust system also customises the sound output dependent on engine speed: at high acceleration, the Urus emits a more guttural tone.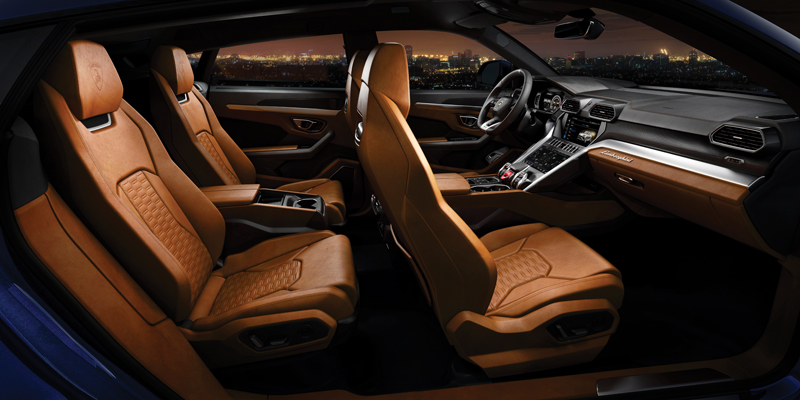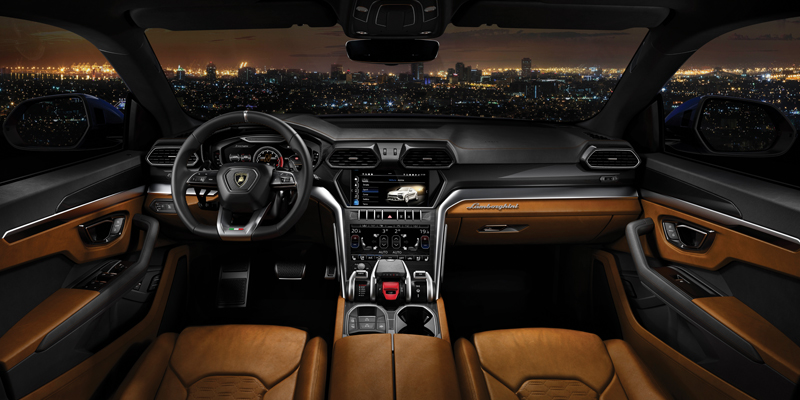 It has luxurious space for up to five occupants, or four in real comfort. Its short overhangs give it strength, muscularity and a commanding road position. The low front is underlined by the substantial front bumper. Large hexagonal air intakes are linked by a low-level front spoiler, further emphasizing the car's aerodynamic efficiency and performance. The front lights are sleek, slim and sporty with LED headlights in the Lamborghini Y shape.
The low roofline and position of the frameless windows allude to the low seating inside the car. The sharply-inclined windscreen and strongly-angled rear windows with glass-on-glass replacing the C‑pillars are suggestive of the Lamborghini Huracán and emphasize the Urus' super sports silhouette. The hexagonal wheel arches house massive 21 to 23 inch wheels: The rear diffuser is inspired by Lamborghini race cars, with integrated double round exhaust pipes.
The Urus is as much a luxury SUV as a superlative sports car to be enjoyed by both driver and passengers. The interior design and finish echoes that of the exterior and is unmistakably Lamborghini in design, colours and individuality. Oriented around the driver, the slim Y design of the dashboard is inspired by the LM002 and current Lamborghini super sports cars. The hexagonal theme echoes throughout the interior, in elements such as air vents and door handles, and even the cup holders and air bags. Luxury Italian style and craftsmanship resonate throughout the car. Its cabin features the finest leather, Alcantara, aluminium, carbon fibre and wood.
Starting price for the Lamborghini Urus is around £165,000, but realistically you are likely to be paying north of £200,000 after you've dipped into the options list. First deliveries are expected in the Spring.