They're not fashionably late to the SUV party, they've been theorising about it for years and have now perfected the concept, delivering a reconstructed luxury SUV – vehicles of choice of kingmakers, powerbrokers and high net-worth individuals.
These new patrons of true luxury are young and intent on venturing off-grid to do crazy stuff – driving through streams, up snowy mountain passes, across deserts or to tame the worst roads in Asia. And as borne out by orders that go beyond 2019, this is exactly what their uncompromising patrons demand.
Cullinan references the 3,106-carat Cullinan diamond discovered in South Africa in 1905 – the largest uncut flawless gem ever found, which is now part of the crown jewels. Like the diamond, Rolls-Royce's take is big, bold and expensive.
What lies beneath is the unique-to-Rolls-Royce ​'Architecture of Luxury' – a modular aluminium spaceframe with castings in each corner and extrusions in between. A tailored version also underpins the new Phantom, though for Cullinan it's reconfigured into a form that sits higher and shorter on a 30 percent stiffer chassis.
The engine is a recalibrated version of the Phantom's vast 6.75-litre twin-turbo V12 and, despite the 2,660kg kerb-weight, drags the Cullinan to 60mph in five seconds. The car is suspended on vast air spheres which allow the ride height to be altered according to the terrain.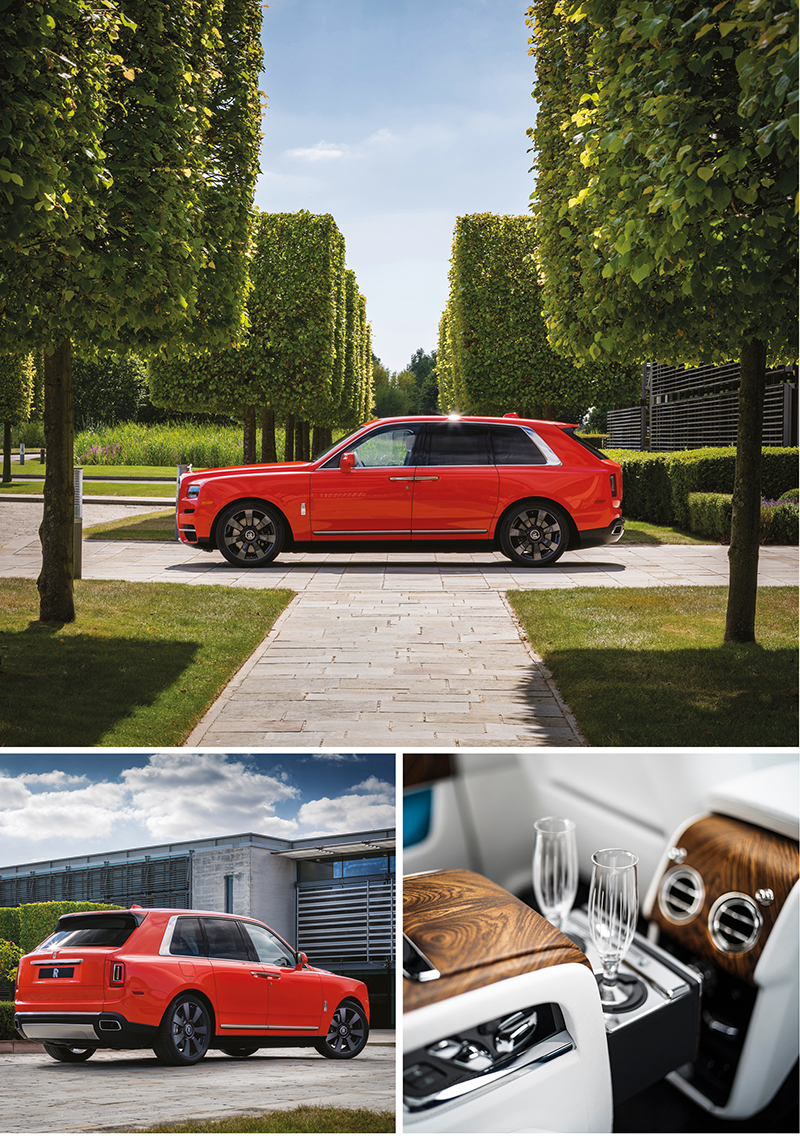 The Cullinan takes ride and refinement to another level. On the tarmac, it purrs along productively, eerily sequestered from its surroundings. The V12 is almost silent (hello 100kg of insulation), the silky ZF eight-speed automatic-only gearbox is magnificently smooth, and thanks to foam lined tyres, wind and road noise is barely perceptible. Regards handling, witchcraft imbeds it into the road – which is all what you'd expect on the tarmac of the world's most refined SUV.
The intimacy of the relationship Rolls-Royce has with its patrons is unquestionable. Rolls-Royce don't do mass crowd-pleasers, instead they take in their clients' eccentricities and work with this. The fact that the Cullinan's first year's production sold out may be testament to this.
There's a perverse pleasure in pointing the Cullinan up a rocky pass and letting it get on with it (whilst keeping the Dom Perignon chilled). Off road it disguises its near 2.7‑tonne heft well and can be confidently hustled along, driving with nothing more than telepathy. On twisting country roads it's particularly able (and delivers a satisfying roar when driven boldly), and on 22-inch wheels it has a surprisingly tight turning circle.
Aided by a camera system that reads the road ahead, it glides over dirt tracks with a self-levelling air suspension which miraculously absorbs off-road ruts and bump. The active roll bar, satellite-controlled gear shifting, and four-wheel steering all do their jobs manfully. But the fun starts with a flick of the ​'Everywhere' switch. This is when the Cullinan tightens its muscles to tackle some off-piste action, including traversing streams up to 540mm deep which, according to Rolls-Royce, is the deepest wading depth of any super-luxury SUV.
Although the Cullinan is graceful and brilliantly crafted, it's no beauty; but there's an energy and modernity to it. The roofline gets faster as your eye travels along its length; there's strong metal touch-points throughout, and big protective spears above the sills that break up the body's side volume. It has heavy coach ​'clamshell' doors that wrap its lower edges around the sills, so there's no dirty trousers on entry or exit.
At 2.1m wide and 5.3m long, the body is stumpy. Add to that a height of 1.8m and you've got yourself a mobile viewing platform, with mean-looking warrior face – laser headlights complete with vertical and horizontal lines. To emphasise the car's tough remit the long bonnet sits higher than the front wings and the traditional hand-polished Parthenon grille sits proud of the bodywork.
Built at the firm's boutique factory in Goodwood, the Cullinan is a heady mix of 21st-century technology and exquisite craftsmanship. Despite prices starting at around £275k most customers will double that by the time they've added their own bespoke extras like the Recreation Module – a motorised drawer which is a viewing platform, complete with folding leather chairs.
There's certain to be a Saudi Prince out there who'd engage with what is the world's greatest automotive achievement and use the Cullinan to its full 4×4 potential; but most of the Cullinan's end users wouldn't see much action beyond tackling that off-road stretch leading from the tarmac to the Alpine chalet, the desert lodge, or the shoot, which means it runs the risk of it becoming massively expensive white elephant.
As you'd expect, the cabin's fit and finish is superb. It's not just the look and feel of the leather, wood and metal controls, it's the fluid movement of cockpit controls.
The moment you climb up into the vast cabin you feel strangely empowered. Sitting very high (in an executive airline-style pavilion seat) you look down the bonnet at the Spirit of Ecstasy mascot. There's a chunky steering-wheel and beautiful instrumentation graphics, with a central touch-screen multimedia display. There's a vast suite of assistance systems, including a cameras with panoramic and helicopter views, and an industry-leading hi-res head-up display.
In the back passengers sit higher than those in the front. Here the pavilion seats theme continues (either in lounge configuration or sumptuous individual chairs), complete with a fixed centre console incorporating a drinks cabinet, whisky glasses and a decanter, as well as champagne flutes and a cool-box to chill bottles. There's even a glass partition that rises behind the rear seats to create a sealed cabin sanctuary.
This is, in so many ways, a ludicrous car. The looks may be challenging, and the price daunting, and whether you actually like it or not is irrelevant – its what Rolls-Royce customers want. Arguably it's the ultimate car oxymoron: a boutique 2.7‑tonne off-roader that's rewritten the SUV rule book.
www​.rolls​-royce​mo​tor​cars​.com
Written by Cindy-Lou Dale