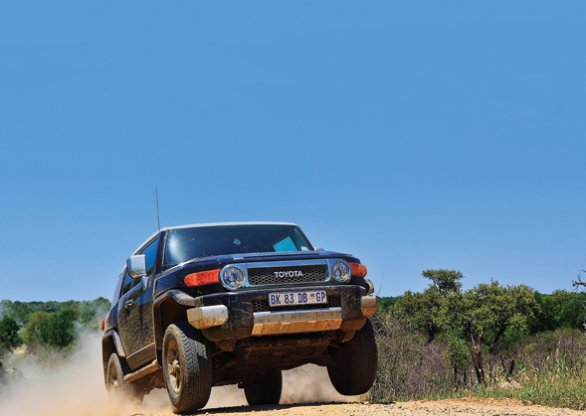 The Toyota
FJ

Cruiser

"It looks like a Hummer and a Jeep had a kid" I proffered as I clambered into the FJ Cruiser for the first time. Seats and mirrors adjusted, we set off out of Joburg's Oliver Tambo Airport and into the nights' traffic, bound for Soweto.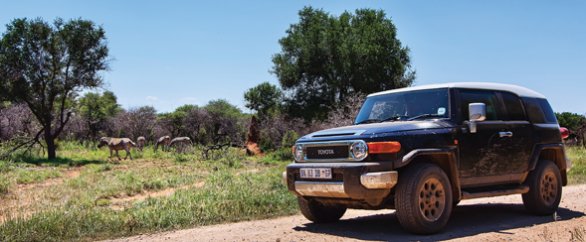 I generally don't like these sorts of car. I've driven enough of them to know that the ​"show to go" ratio is all in the wrong direction and Toyota's new FJ Cruiser looked like just another hairdresser's 4×4 whose idea of ​"off-road" is pulling into Starbucks for a skinny latte. However, looks can be deceptive and this 4 litre V6 automatic turned out to be a bit of a wolf in sheep's clothing. Around town, it was well behaved, almost silent, a real pleasure to drive and for the first 2 days of our African adventure, it drank in as many admiring looks as it did gallons of petrol (17mpg).
On day three though, things got real for this particular motor car as we drove up to the Madikwe Game Reserve on the Botswana border to show the FJ a few holes in the road. ​"We deliberately designed the suspension for ride comfort" said the nice man from Toyota when he first dropped the car off. ​"It's pretty much US style – much softer than the Europeans produce. It does ride well over the bumps but the trade-off is in the corners", which is about as honest a statement as I've heard from anyone with the word ​"Marketing" in their job title. The final 20 Kms of the road into the Madikwe reserve is a dirt track which starts at gravelly but quickly changes to Afghan. I did most of that stretch at between 70 and 80 mph – I kid you not. Had supplies not already been exhausted, my good lady wife would have barely spilt a drop of her G&T as we glided along. With a new found enthusiasm for this oddly rectangular SUV, we ploughed on into the reserve to further explore its limits.
The Toyota Land Cruiser long ago replaced the erstwhile Land Rover as the weapon of choice for people to whom tarmac is a theoretical concept. I've not been on a Safari in the last 6 years where a Land Cruiser was not used and as we drove into camp at Jaci's Lodge, the owner Jan Van Heteren and his assembled rangers looked at the car with that same look Hell's Angels give to people riding pink scooters.
So, game on. ​"Do you have anything challenging that we can drive the car through?" I asked Jan, our generous host. He listed a few areas we could look at and, given his years of off-road experience, offered to drive so I could take some photos. More tellingly, he also offered to have us followed by a couple of his rangers in a ​"proper" Land Cruiser, replete with tow ropes, welding gear and all the other essentials for a trip into the bush with two idiots driving a ​"girls car".
Still set in 2 wheel drive mode and a with a Land Cruiser in hot pursuit, we set off at speed through the winding tracks of Madikwe that Jan knew like the back of his hand. The FJ behaved well enough and although the Land Cruiser kept pace, when we stopped, it turned out that the rangers had lost far more teeth than Jan or I.
Now it was time to engage the 4WD. The FJ in its automatic form comes with 2WD plus 4WD in both high and low ratios, a limited slip differential, traction control and stability control. That the limited slip diff is lockable, should have given some clue as to this cars credentials.
Next up came the swamp. It got in and then got out again. Cue amazed looks from Jan and his rangers and me hanging up the call to Toyota's Press Office to let them know the GPS coordinates for where we'd buried their car. So far, so good.
In the same way that some people get a tattoo after a nights heavy drinking, in our post swamp euphoria, someone (and I'm not sure who) made the suggestion ​"let's see if we can get it airborne!" So, off we go to find a suitable jump and again, the FJ took everything we could throw at it. The approach to our ​"jump" was more winding track and the car sliced through it like it was on rails. On the rare occasions it veered off line, it was quickly and easily corrected. Over the jump the car sailed and it landed on the other side as if it had just gone over a speed bump. Impressive stuff.
If I were to be critical, I'd have to point out that the rear seats are a little cramped, visibility both front and back is not great and fast cornering is not really an option but that's not what this car is about.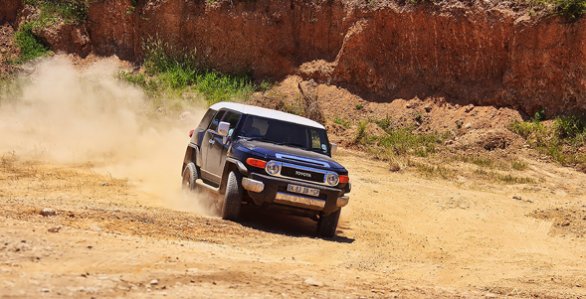 After more pounding around the terracotta dirt tracks of Madikwe, it was time to leave. Having thanked our hosts, we drove back to Jo'burg in quiet reflection. We had just totally abused this car, taken it to places that most normal owners would never think of and done the sort of stupid things that you would only do in a car that is not your own. It laughed it off and even the hardcore game rangers of Madikwe had a new found respect for the well groomed little brother of their beloved Land Cruisers.
Despite its good looks, airco, hugely comfortable front seats and iPod bits, this car is for people who like to go off-road but still be comfortable on it. Its huge fun, has massive GPM​'s (grins per mile) and is highly recommended.