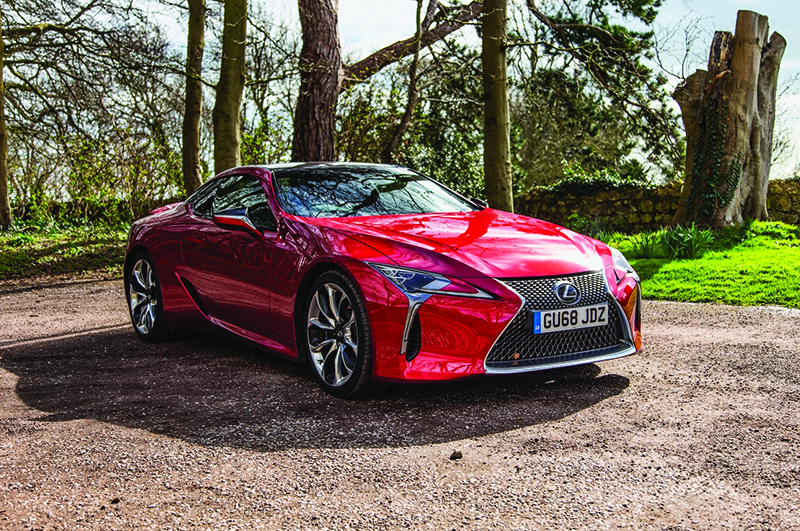 Since they turned out the LFA supercar in 2010. This is the most outrageous machine to roll off the production line at Toyota – their big, luxury coupe – the LC500.
Think Japanese sumo wrestler – in a suit
It's a tasty bit of old school muscle with a naturally aspirated, non turbo-charged, rear-wheeled drive 5.0‑lt V8, delivering 470bhp. Lexus have scaled back on the screaming V10, providing instead a bespoke rocket.
Off the showroom floor the LC500 costs £85k. Add around £5,000 if you want the Sport+ model (which you do) – this brings with it the rear-wheel steer, mechanical limited slip differential, carbon-fibre roof and sports seats, holding you long and low
Less powerful, but better value than a BMW M6; it's on par with a 911 Carrera S – which has two more cylinders; or a half-price DB11, but that's twice as much fun. This is an interesting position for the LC.
Inside, it's an event with a deluge of buttons, touchpads, screens and stalks sprouting from every surface.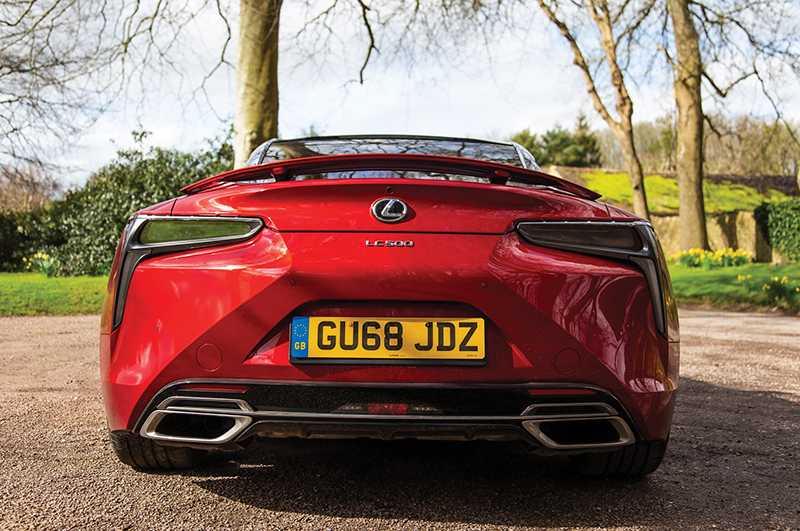 The interior has three-dimensional dash architecture and solid build quality
An easy to operate infotainment system; and a Mark Levinson 12-speaker audio suite that'll have you hear Metallica above the engine's death metal roar. This, in itself, is a feat as Lexus engineers have done some acoustic engineering which amplifies the V8 soundtrack inside the cabin. The LC500 ticks every box. What this car lacks in grunt it makes up for in attitude – delivering 0 – 60 in 4.7 seconds, and a top speed of 168mph, which is slightly slower than the BMW M6. Then there's the triumphant ten-speed torque-converter gearbox which can be switched to manual, leaving you to change gears via the paddles.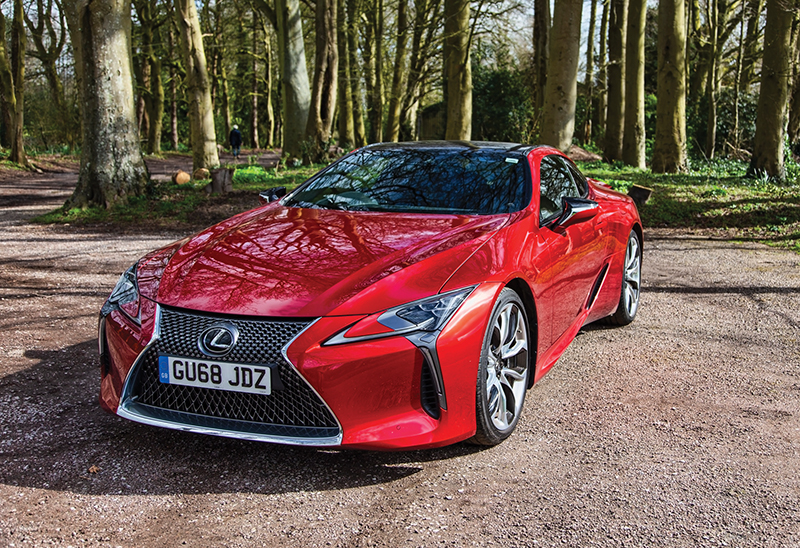 To drive to LC500 you need muscle car mentality
Cruising in Comfort or Eco modes will deliver around 24mpg and have you shuffling along productively; but driving in this mode requires patience. Keep it in Sport+ and turn off the ESP – you'll soon encounter the thug under the bonnet.
You'd think a car this loud and this brutal to be as basic inside as a Capri Parana, but you'd be wrong. The interiors are form-fitting, handsome and well thought out, with loads of legroom.
A terrific sound system, satnav, and adaptive instrument displays, a cabin for two –and space for some luggage on the back seats. It does have a wide boot, albeit a shallow one, but this is nothing in comparison to the exterior – which is one of the best-looking cars ever made.
At first glance you'll catch your breath and have it taken it away simultaneously. But it's no pretty boy either. It doesn't have the classic 007 chiselled good looks of an Aston Martin, think more Jason Stratham-like designer stubble. This is as striking as anything under £100,000 gets.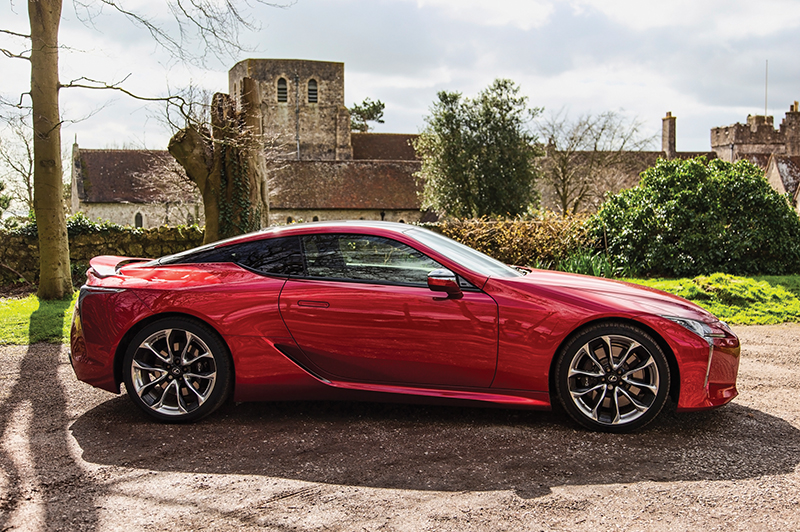 "The harder you drive it, the better it performs – this car demands respect."
Lexus is waving a big flag about the look of its future cars. Safe is out and outlandish is in. Everyone is drawn to this car and do a double take when they see the badge. What gives the LC500 road presence? An aggressive front grille, 21-inch alloy wheels, carbon-fibre roof, boomerang shaped LED front and rear lights, a ridiculously low nose, a super-slender waist, followed by a wide-angle rear end, and a retractable spoiler. It looks better than it's more exotic older brother – the LFA. And it is.
It simply squats and fires down the road like a bat out of hell. This is a missile. On the road this car's cornering ability, especially the way it catapults out of bends under acceleration, is little short of spellbinding.
The harder you drive it, the better it performs – this car demands respect. And at a price that seems to be a bargain by sportscar standards. It's earned its status. It combines extraordinary performance with desirable looks, über exclusivity and uninhibited style, literally sitting on the fringe of the supercar paddock.
Even though the LC500 is twice as heavy as the 911, it's not that much slower, and makes this lusty coupe every bit the performance car compared to its German rivals.
Make no mistake, this is an expensive car. It's easy to push the price close to £100,000 by ticking a few boxes on the options menu. But what you need to ask yourself is: a car that looks this good, sounds this fantastic, and has the gunfighter reflexes of a supercar – does price really matter?
Written and photographed by
Cindy-Lou Dale