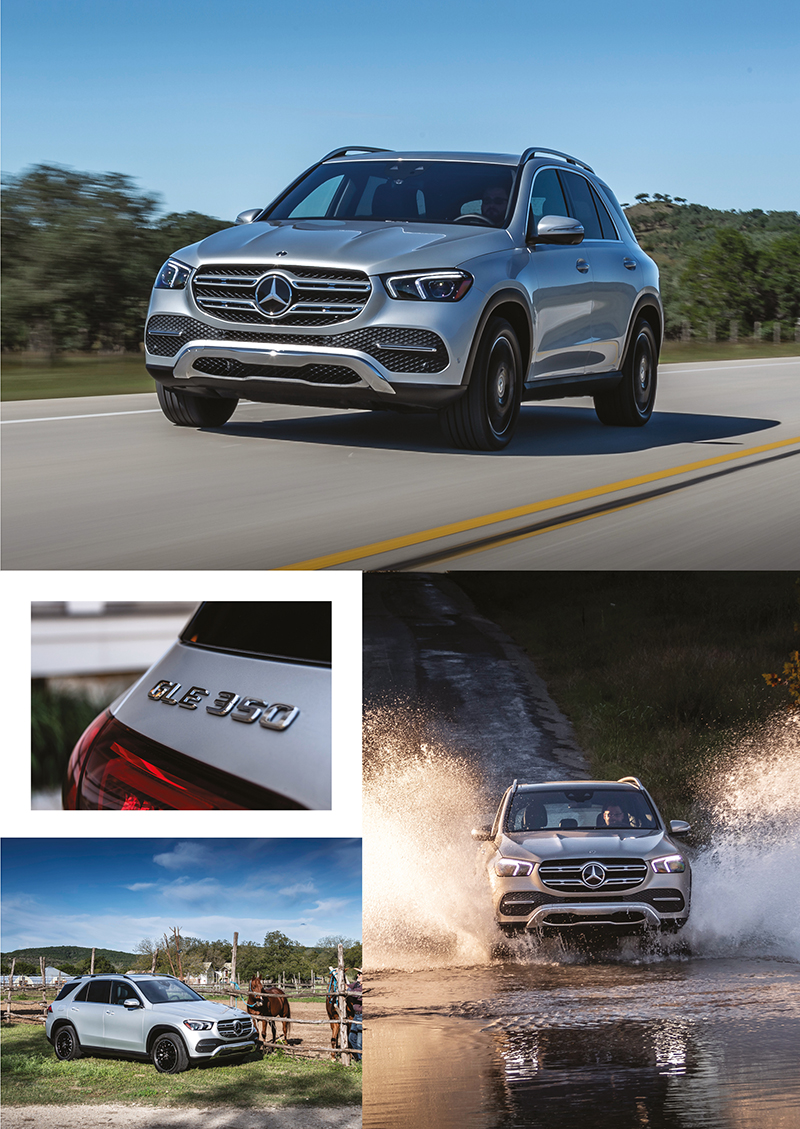 If you know your Mercedes letters, it's an E‑Class SUV, a big one. You might not remember it, but Mercedes-Benz arguably founded the premium SUV segment back in 1997 with the launch of its M‑Class. Since that time the SUV market has grown to become predominant in the luxury car sector. Mercedes itself now offers an SUV of virtually every type and size. The GLE has become its best-seller and we now have an all-new model.
The new GLE will carry up to seven occupants in comfort. Five very roomy seats and a huge boot are standard and an additional two seats are an optional extra – not something every car in this class offers. Its 80 mm longer wheelbase affords rear seat passengers over a metre of legroom. Longer than its predecessor at 4924mm and wider at 1947mm, it is slightly lower in height at 1772mm. This makes it one of the bigger SUVs you can buy in this country. What is impressive is how Mercedes have managed to make it feel much smaller to drive. It is nimble, the steering is light, and it carries its 2,200kg and upwards weight deftly.
The vehicle's proportions with a long wheelbase, short overhangs and large, flush-fitting wheels leave no doubt that it feels at home and cuts a good figure on any terrain. The front exudes presence and power thanks to its upright radiator, the prominent, chrome-plated underguard and the bonnet with two powerdomes. The striking appearance is further emphasised by its distinctive headlamp design.
Three diesel models are currently available. We drove the lowest powered GLE 300d model with a 2‑litre 245PS engine and 500Nm of torque, which does 0 – 62 mph in 7.2 seconds. Above that sits the 350d with a 3‑litre diesel with 272 PS and 600Nm, capable of the 0 – 62 sprint in 6.9. Top of the diesel range is the mighty 400d with a 330PS 3‑litre engine with 700Nm of torque, enough to accelerate it to 62 in just 5.7 seconds. The price differences between each model are relatively small and you could easily add far more to the total price by indulging in some attractive optional extras. We thought the 300d was perfectly adequate in performance, with absolutely no sensation that the car was in any way underpowered. As we were on a private test track, we could test the 0 – 100mph acceleration, and it certainly didn't feel it wanted for much. For all models, power is transmitted via Mercedes' smooth 9G-TRONIC automatic transmission.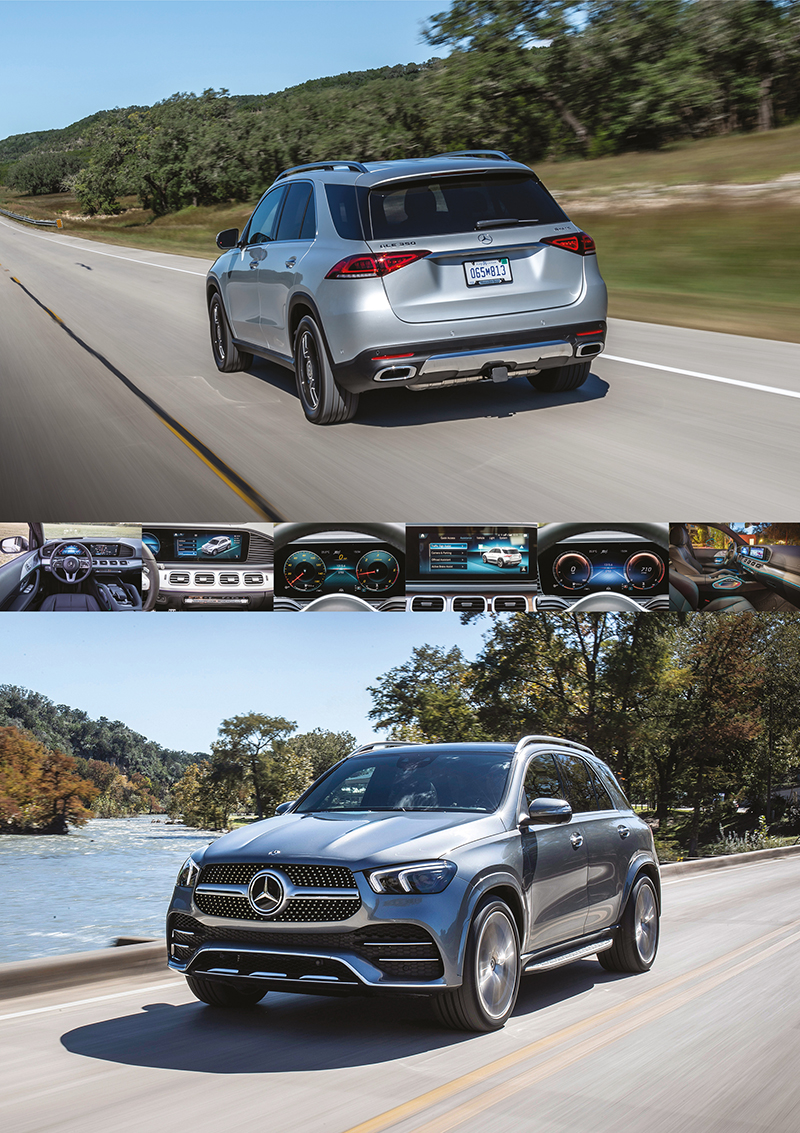 The only petrol-powered model available at present features the range-topping six-cylinder engine with 48-volt technology in the GLE 450 4MATIC. Its offers 367 PS and 500 Nm of torque, with a further 250 Nm of torque and 22 PS available for short periods via its EQ Boost function. The integrated starter/alternator provides the EQ Boost and energy recuperation system. A plug-in petrol hybrid will follow.
While diesels have been demonised, I would definitely plump for one in the GLE: they are so well suited to large SUVs. Mercedes-Benz say the GLE is the very first SUV anywhere to meet the Euro 6d emissions standard.
The active E‑Active Body Control suspension is combined with an air suspension system. This can individually control spring and damping forces at each wheel. Together with Road Surface Scan and the curve inclination function, E‑Active Body Control makes for an exceptional level of comfort.
The interior of the new GLE has the luxurious, elegant ambience of a Mercedes-Benz luxury saloon and the robust, progressive features of an SUV. Sumptuous leather surfaces create a modern, luxurious impression rounded off by a broad area of trim and flush-fitting roller blinds. All the ergonomically refined controls and displays feature a new design. The controls with haptic and audible feedback appear to have been milled from a solid metal block.
The right and left seats can be separately adjusted fore-and-aft by up to 100 millimetres, the backrests are adjustable for angle and foldable in a 40:20:40 ratio, and the head restraints are adjustable for height. The backrest can also be completely folded down electrically, using a switch in the luggage compartment. As in the previous model, three child seats can be installed next to one another in the second seat row.
The optional MBUX Interior Assist allows intuitive, natural operation of various comfort and MBUX functions by recognition of hand movements performed by the driver and front passenger. If the driver reaches over to the unoccupied front passenger seat, for example, the interior lighting will illuminate this area.
The luggage capacity is up to 825 litres behind the rear seats, and up to a massive 2055 litres when the second seat row is folded down. A 72 mm increase in through-loading width allows bulky items to be stowed more easily.
Even more flexibility is possible with the optional, folding third seat row, which provides two extra seats. Thanks to the Easy Entry function of the fully electrically adjustable second seat row, the two rearmost passengers can conveniently reach their seats.
Until you have tried it, it's difficult to appreciate how good the heads-up display is. I recommend it especially to drivers whose near-distance focus isn't what it used to be. Its system of lenses and mirrors projects a full-colour image measuring around 45 × 15 centimetres into the windscreen. To the driver it appears to float above the bonnet at a distance of around 3 metres. It's now more than twice the size compared to the previous model, the virtual image is 20 per cent brighter for better legibility and has space for further information.
On the road prices for the new GLE start from £55,385 for the 300d up to £62,340 for the 450. Add in a few desirable extras and you will quickly add another 5‑figure sum, but nevertheless you are still going to get a lot of car for your money. Definitely one to consider.
Written by Doug Bentall