Buying or Selling a house has never been a straightforward process, and never more so than in the current economic climate. With a general election looming and a constant debate of interest rate rises, it is encouraging to see that property transactions have increased over the past 5 years and so have prices! The review of the Stamp Duty thresholds in the Chancellors Autumn budget statement has already begun to create renewed market interest and we hold an optimistic view that market values will increase in Sussex and Kent over the course of 2015.
Nigel Anderson MRICS and his dedicated team at Consider It Done offers a bespoke personalised service to clients, making the process of buying and selling as stress free as possible, by providing independent pre market appraisals and consultations for vendors to maximise the property's marketing potential. While, at the same time they are able to call upon an in- house maintenance team to assist in carrying out any pre marketing repairs, decorations, furnishings or garden maintenance. All this helps to make your home stand out in its best light, by creating the key all important first impression of your home in today's market for sales to be achieved.
Marketing is tailored to the specific property and client so that the correct target audience of purchasers is maximised, not just through traditional methods of advertising including the internet, local and national press, but also through specific target adverts, such as Aspect County and national property contacts.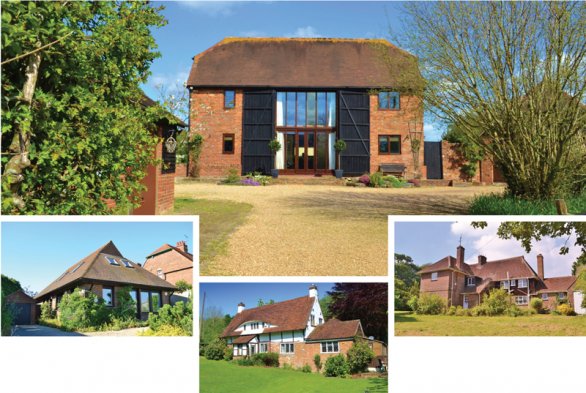 At Consider It Done they understand the specific intricacies of the local area, from transport links, local schools, shops, restaurants through to sports pursuits and clubs whether in the local towns of Rye, Battle, Robertsbridge or Tenterden to the surrounding villages and countryside. They are able to provide clients with independent and up to date information on local issues which can smooth and influence a sale or purchase.
Buying a property can be stressful, the Consider It Done team take time to listen to purchasers requirements in order to match the right property to the right purchaser. By constantly reviewing individual's criteria from style and type of architecture and size, to location and amenities, they can prevent hours of wasted time and minimise the emotional roller coaster of looking at properties that do not match the dream or client requirements.
This localised knowledge makes Consider It Done ideal property finders who can spare you the time and effort of errant searches by offering a tailor made property finding service. Using the Consider it Done personal search service can save you wasting time and energy on unsuitable viewings. This search service is provided through extensive local contacts, Consider it Done can ensure you are aware of all the open and off market opportunities that can then be short listed for you to view and consider.
Should you wish to see your property marketed in Aspect County and want the bespoke personal service offered, contact the Consider It Done team for a free consultation and appraisal. As the name says they will go the extra mile or even ocean in order to make clients feel happy and content with the words – CONSIDER IT DONE!
Contact Consider It Done on 01797 224852 Email: info@​cidproperty.​co.​uk