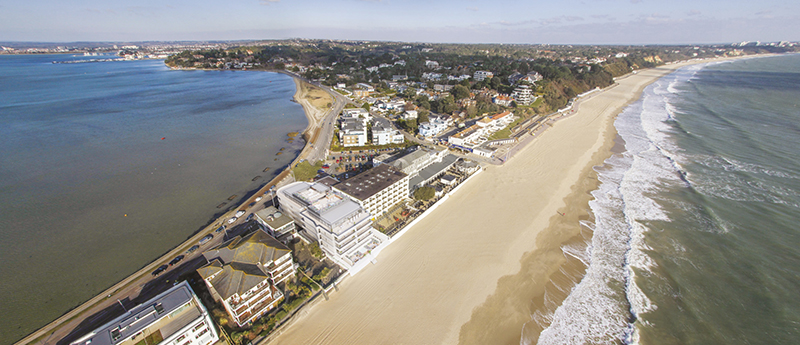 Set on one of the most desirable stretches of UK coastline, Sandbanks has long been a location of choice for those looking to escape the hustle and bustle of town life. There is something for everyone, whether it is a relaxing stroll along the beach or an action-packed watersports experience. It is hardly surprising that visiting mini-breakers are quickly drawn to the idea of purchasing property here – which is what makes ACE an ideal living space.
Perfectly positioned between Sandbanks' vibrant harbour and its renowned golden beach, ACE draws inspiration from the area's yachting heritage. The building has been designed with a curved, panelled façade and contains cleverly-designed spaces that take advantage of the panoramic coastal views.
For those looking to escape the city, there's tranquility when you need it, but there's also plenty of things to do to keep the family entertained.
The welcoming interior at ACE invites owners to step away from the outside world. A calming reception area sets the scene for the wellness area just beyond, featuring a private gym with state of the art equipment, a heated 12-metre indoor swimming pool and a relaxation area complete with sauna and steam room.
Some owners opt to spend their morning on the shared terrace, which offers uninterrupted views of the Jurassic coast and out to sea towards the Isle of Wight, as well as direct access to the beach. The terrace also has a jacuzzi, where owners can take a morning dip whilst watching the windsurfers out on the sea.
Many choose to swing by the multi-award-winning local bakery for freshly baked croissants and hot cups of coffee, so that they can enjoy them back at their apartment and enjoy the views from their private balcony.
After breakfast, why not take a short ferry crossing from Poole Harbour to Brownsea Island. Owned by the National Trust, Brownsea Island offers many tranquil walks, wildlife hides and eco adventure camping.
Following an adventure-packed afternoon, why not amble back to your ACE apartment and recharge your batteries in a nice hot bath, looking out at the stunning views over the harbour.
After a Saturday evening on the local town, there's nothing like an easy Sunday morning in Sandbanks. But, if it's an thrill-seeking adventure you're after, and you really want to let off some steam, ACE is perfectly located within Sandbanks' local watersports scene. Take windsurfing lessons, or take to the waves with a group of professional kitesurfers. With such a variety of activities on offer, Sandbanks really is the ideal place to escape City life.
www​.ace​sand​banks​.co​.uk
or call 01202 618486.