The listed building heating upgrade
Steve Trodd grapples with a precarious project
I must have the greatest job in the world. As a conservation contractor specialising in old buildings I get to see beautiful old structures in their finest and in their most dire. I am able to stand where few have stood and get my hands on parts that have endured the test of time for hundreds of years.

What has become a growing mantra for my company is the ability to sympathetically bring old buildings along with their owners into the new century without compromising the integrity of the building and without interference to the original fabric.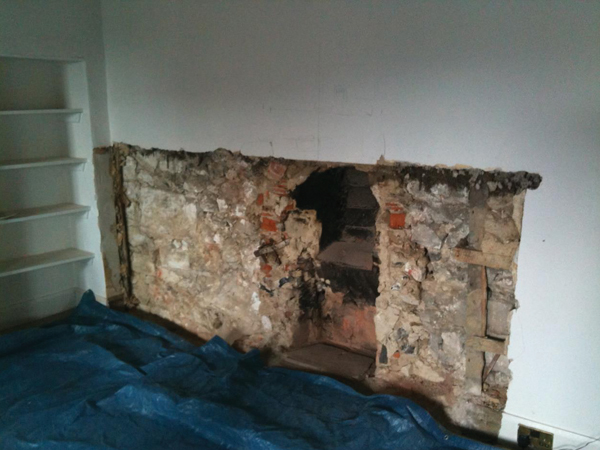 Fireplace out with no dust I promise!
There was no reason to keep the old fireplace it was not in keeping and held no historical significance with the rest of the building.
As part of our service we have to bring old buildings up to date and they have to lend themselves to modern living and that means insulation, double glazing and modern heating and hot water systems. As beautiful as they are just because they are old, historic and listed does not mean they should cost a fortune to heat, therefore it was so nice when I was contacted by a client to upgrade their heating system to include an old fashioned beautiful wood burning stove…. Fantastic!! Or so I thought initially.
The brief was simple. Remove the existing fireplace and install a working flue and put together a wood burner so that they could reduce their oil heating bill by at least 20%.
So first the fireplace has to come out, this beauty was constructed by the previous owner from old bits found in the garden and built with a spoon, it had no artistic or historic quality so would not be missed.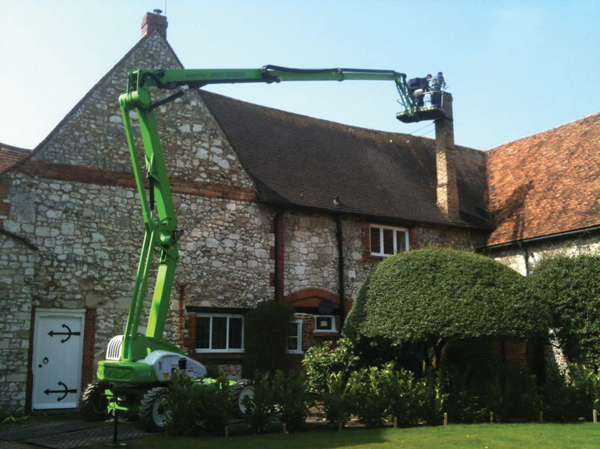 Quiet impressive I thought!
Out on a limb, literally I know but there is no better way to access something that without a lot of hassle would be inaccessible. They take a bit of getting used to and your heart ends up right in your mouth…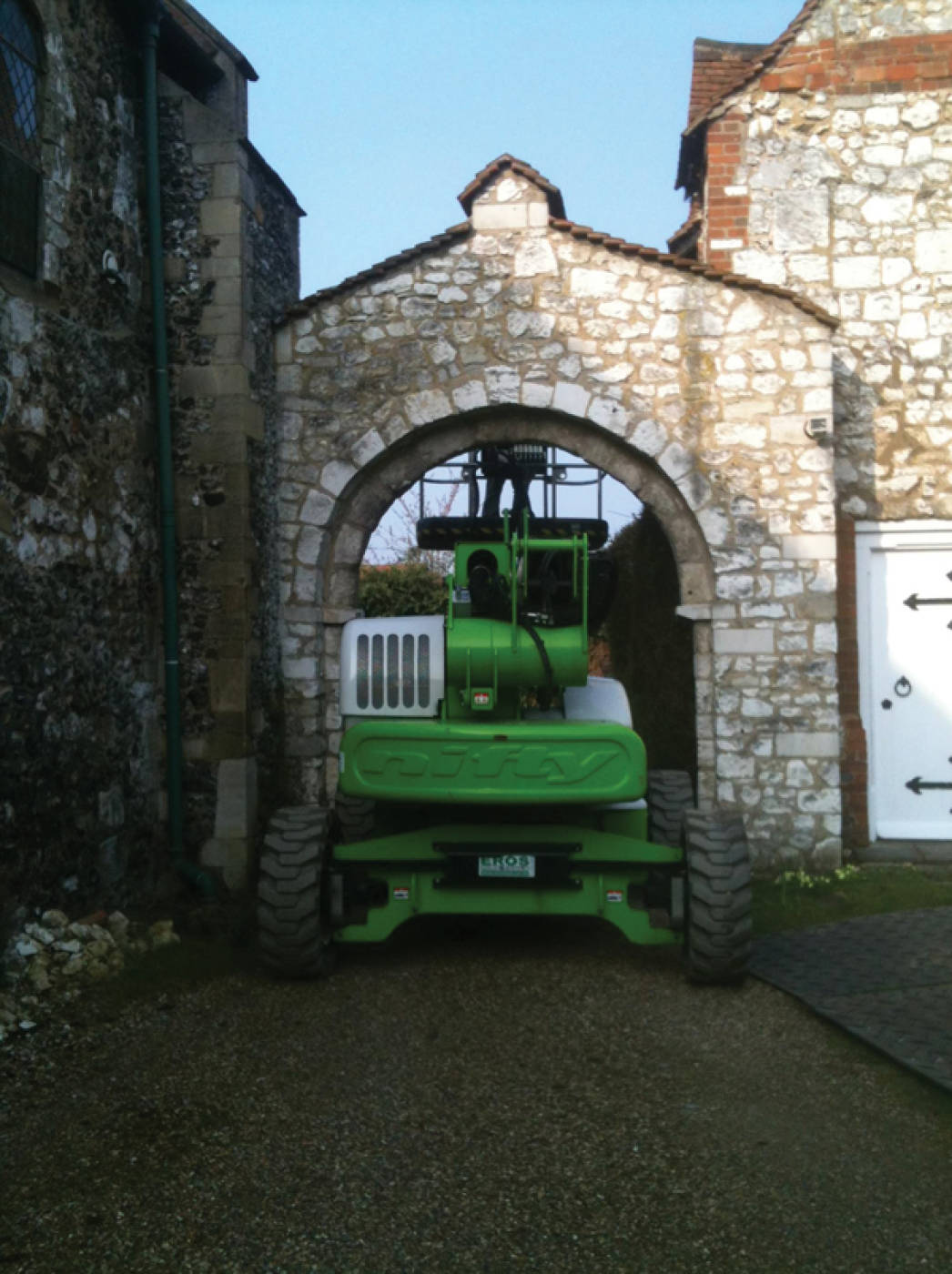 Our hired cherry picker
14 tons and a little under 2.4 metres wide our lifting platform only just went through this listed arch with about 2" either side. Also on the height clearance we only had 8" to spare!!!
Then to deal with the next big issue, to fit a modern flue liner. There used to be a rule that a flue liner had to be as large as possible due to the ineffective way that wood burners work. I think the old equation was that 70% of the heat went up the flue and the remainder into the room. Nowadays that figure has been reversed so building control now allows a smaller flue liner, that does not mean they are easier to fit mind you!!
Access to chimneys is not easy, scaffolding is expensive and as we only needed access for half a day., enter the cherry picker!
With the access platform in position up we went, now let me tell you this is not a job for the faint hearted. Being literally out on a limb exposed to all beneath you is quite an experience. After a few hours the liner was fitted and a new chimney pot secured into place.
I know it's a bit cheesy but we have a saying. ​"We don't have problems, just solutions that we haven't found yet" I must say that the task that we had to fit this wood burner complete with a new flue liners did start with major problems to be solved, but after a great deal of planning it all worked out for the good.
So the moral of the story is…. Don't be scared, everything is possible.
Until next time Love Old Buildings…